Entertainment
Did Ashley Roberts Get Married And Turn Any Of Her Boyfriend Into A Husband? Series Of Dating Affair But All In Vain?
There are only few whose heart wouldn't pound in the rhythm of Pussycat Dolls. The ensemble buzzed from the year 2003 and went off in 2010. One of the dolls, who dispersed from the group due to the reason of finding her identity, is Ashley Roberts.
Ashley is an artist full of life; she is a singer, songwriter, dancer, choreographer, actress, model, presenter and television personality. She is known for her multitalented attribute while some may know her due to her relationship timeline.
The actress is about to turn 36 in few months, and we believe, she has a chain of boyfriends. So, is she dating someone now or has her dating already succeeded her having a husband? The love life of the actress may interest a lot of bachelors who dream of her. We surely have good news for them this time.
What does Ashley's Status Speak for her, Single or Married?
Ashley Roberts hinted her bonding earlier in 2003 when she was just a dancer. She dated an American dancer and actor, Kenny Wormald. They together took part in a popular dance reality show called Dancing With The Stars, where they spent their most amazing moments which we could feel then.
The couple shared a six years relationship together, before breaking up in 2009.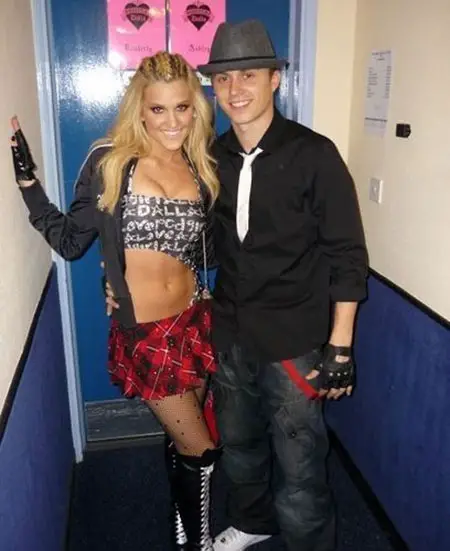 Caption: Ashley partnered with Kenny for their dance performance
Photo Credit: whosdatedwho.com
After this bitter breakup, a couple of rumors made their way to the public. Ashley was bonded with a famous American actor Leonardo DiCaprio in 2009 which didn't have any strong base of support, and the other rumor was her relationship with Mark Wright which came in 2012.
Mark is a reality TV personality, who never confirmed the relationship with Ashley. Ashley is believed to have remained single until the year 2013.
In March 2013, Ashley turned on for another TV personality, Declan Donnelly. She even stepped ahead to speak about the TV star and revealed to Metro saying:
'We're trying to keep it out of the public eye, We're just getting to know each other.'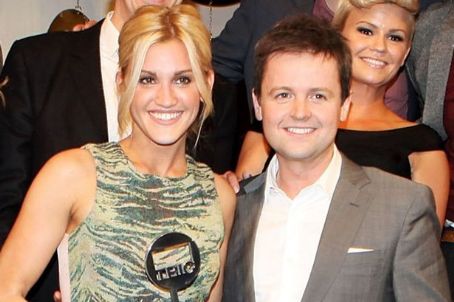 Caption: Ashley and Declan spotted together.
Photo Credit: whosdatedwho.com
She even expressed her desire to date Declan and later appeared on his show Saturday Night Takeaway. However, they kept all their later life happenings secret, including the confirmation of their relationship.
Later in June 2014, Ashley was spotted with Ryan Fletcher, but Ryan had some other feelings for her and dismissed the bonding. However, he opened up about their relationship to the Daily Mirror newspaper later where he said:
"Ashley and I are great - I'm loving it at the moment. It doesn't feel like we're in the spotlight and we see each other when we can. We are both really busy so we make the most of the time we get together... we've not had the serious conversation yet."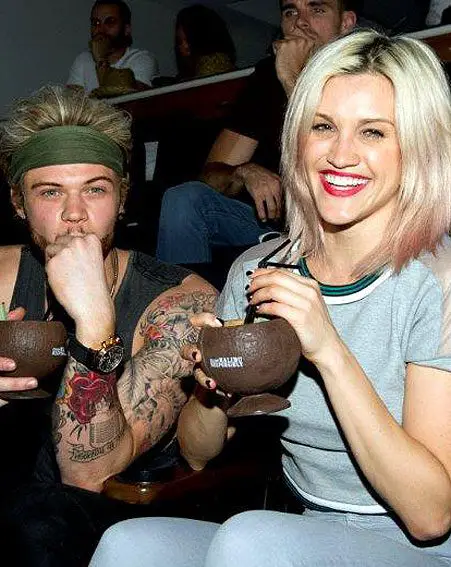 Caption: Ashley and Ryan in the course of their dating
Photo Credit: ok.co.uk
While the relationship got later confirmed by Ashley too, we heard her making a different statement later in a British cooking show, Let's Do Lunch with Gino and Mel in December.
The actress, in reply to a love life question of the show's host Gino D'Acampo, said:
"I am single Gino, yes."
This statement confirms Ashley's single life by the end of the year 2014. The actress seems to be disinterested in love these days as we don't see her involved with any guys.
However, possibilities remain that she is on a hunt for the perfect man, who she could acknowledge as her husband.
Whatever her plans may be, we wish Ashley finds love soon!
Ashley's Appearance on Social Sites And her Net Worth
We view Ashley's media post on Instagram regularly, as she is fond of taking her daily life to social sites. She is popular on Instagram, and her followers seem to be increasing in number daily.
We present you with some of her media posts on Instagram from this year.
In February, she was enjoying her time with Jack Guinness talking about the fashion trends. Jack is a popular model working for famous brands like Paul Smith, Barbour, Nicole Farhi.
One month earlier, she flaunted a funny picture of her with Laura Whitmore, who is an actress. It was meant to wish Laura on the occasion of her great day.
The multi-talented lady has different income resources, concluding a net worth of $600 thousand for the actress.
What's going on with Ashley Roberts in 2017?
As the summer is heating up, Ashley Roberts is presenting herself as a model and teaching how to dress up this hot season. She has tied up with another model Foster Grant to get all of us ready for the sunny season. The two look sizzling in the dresses and the shades are adding up to their beauty.
Caption: Ashley Roberts modeling in summer wears
It is a great start for the actress, and we will surely await the rest of the months to see more from her. The relationship state of the actress will be another part of her life we will be looking forward to.
Well, we'd like to wish her to have a blooming career as well as a longing relationship for the remaining months of 2017.