Entertainment
Is Camille Winbush Dating Anyone Now? Hiding Her Boyfriend From Limelight Or Focused On Building Career?
American actress Camille Winbush is best known for her role in "The Secret Life of An American Teenager." Not only is she famous for her role in that very project, but she has also played some very pivotal roles in her other projects like Ghost God and the Bernie Mac Show.
This shows that professionally, she has been able to cement her place firmly in the hearts of millions around the world. But today, let us discuss her personal life more than her professional life and find out if she has a boyfriend in her life or is just a little too much busy building a foundation for her career.
Winbush Dating Anyone? Or Just Too Focused On Her Career?
Plenty of hearts around the globe are beating for this elegant lady, and the fans often wonder if she has a boyfriend in her life. Well, those fans who follow her over on her social media sites like Instagram might have seen her post pictures with a man who she calls her "bae." The Asian man she calls her bae is Daniel Nguyen.
Both Daniel and Winbush openly flaunt their relationship over Instagram which is clearly evident in the following pictures.
One thing is for sure, the two love hanging out together. Now it is normal for the fans who saw these posts to speculate that these two are dating and by the looks of it, they maybe. But without any confirmation from the pair, it is inappropriate to jump to any conclusions.
Winbush was previously in a relationship with model and actor Nick Denbeigh. However, the couple has been private about further information regarding the relationship, which includes the reason for their split as well.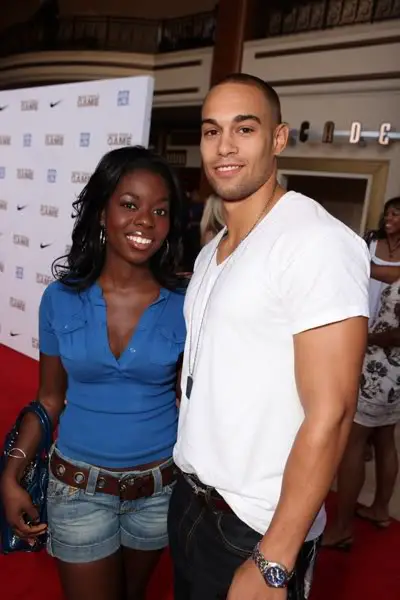 Caption: Camille Winbush and her previous flame, Nick Denbeigh back in 2009.
Photo Credit: lipstickalley.com
Winbush and The Struggles She Faced.
There is no story of fame and success without some struggles and hurdles. The same can be said about the journey of Camille Winbush as she has had her fair share of struggles in her life where she felt like she was on outcast and nobody would make and efforts to talk to her.
The struggles she had faced might also be the reason for her having the amount of success she has acquired, which clearly proves if a person does not give up during the struggle, that person ends up succeeding.
Caption: Camille Winbush on My Life My Power.
Published on Mar 9, 2014.
Despite feeling vulnerable, insecure, and all the other situation that a girl should never go through, Camille stood strong on her ground and now we can see the results.
Born on February 9, 1990, in Culver City, California, United States, Camille Winbush is an American actress and recording actress best known for her roles in Grey's Anatomy, The Bernie Mac Show and The Secret Life of An American Teenager.
Speaking of her parents, she is the daughter of Alice Winbush and Anthony Winbush.
Regarding awards, her works in TV and her dedication has earned her three Image Awards and a Young Artist Award, and that is quite and achievement. Moreover, her financial life has been stable which is a virtue of her hard work and dedication, and as a result, she has an estimated net worth of $4.5 million.