Entertainment
Is Mackenzie Davis Dating? Wants To Turn Crush Into Boyfriend
Having a crush on someone is a different feeling. The mere mention of his/her name makes the heart pound faster, and everything about him/her seems beautiful. Mackenzie Davis shares similar feeling as she has a crush as well. She shares about her crush. Did she turn her crush into a boyfriend? Is she dating? Let's find out.
Is Mackenzie Seeing Someone Or Is In a Dating Spree?
Mackenzie Davis did a movie called "That Awkward Moment," and she did an interview along with co-star Imogen Poots over lunch at the Four Seasons Los Angeles. During the interview back in January 2014, they gossiped about boys and relationship "rules."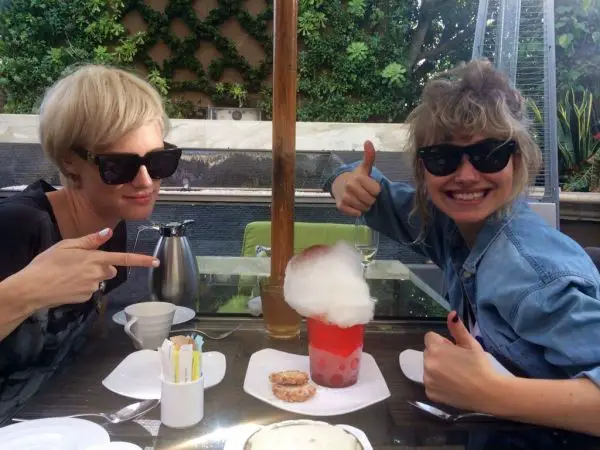 Caption: Mackenzie Davis and her That Awkward Moment co-star Imogen Poots over lunch. (January 2014)
Photo Credit: glamour.com
In the interview, Mackenzie shared about having a crush.
"We're testing the waters. I'm woefully single. I wish I had a crush on someone. We were talking about this last night. I haven't had a crush on someone in so long. I just want that feeling."
Mackenzie further shared more about dating and relationships.
"Movies try to tell you what works and what doesn't, and then you end up thinking, 'Who dates like that?' I tend to not go on defined dates—like first date, or second date—it just ends up where either I'm in [a relationship] or not. I don't have a lot of suitors."
When asked if she would ever inquire her date, what has he told his friends about them, she replied,
"I would. If I'm sleeping with somebody, I would definitely bring it up. Don't play by the rules. If they are hiding me that feels very odd to me."
Furthermore, Mackenzie shared her reasons to start a relationship.
"As soon as you start doing manipulative, tactical things with people, then you're going to go crazy. I don't want to start a relationship that feels like a chess game. I'd rather it be, 'Yeah, I like you,' not, 'Oh, you have these weird times when you can have talks and not have talks? Well, why don't you figure that sh-t out and then we can hang out.' I'm not going to get wrapped up in someone's [baggage]."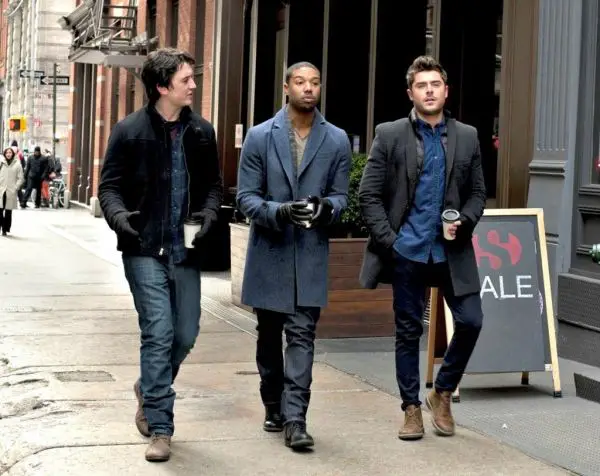 Caption: "That Awkward Moment" boys Miles Teller, Michael B. Jordan, and Zac Efron.
Photo Credit: glamour.com
Moreover, Mackenzie expressed her first impression of the boys in her movie "That Awkward Moment" and shared her thoughts on Zac Efron.
"Zac was comically good-looking. He's almost like a statue. Like sculpted out of marble! I was surprised at just how nice they all really were. I feel like I was exposed to a type of boy that I hadn't been before. They were just all so sweet."
Mackenzie also dropped her thoughts about her male co-stars.
"I was surprised at just how nice they all really were. I feel like I was exposed to a type of boy that I hadn't been before. They were just all so sweet."
Mackenzie further shared the role of Facebook in a relationship and shared an incident of a breakup with her boyfriend.
"Guys totally look up your ex-boyfriends on Facebook. I got off Facebook because of that. My boyfriend cheated on me, and I was like, 'I need to get off of this.'"
She only revealed being in a relationship with a boyfriend without disclosing the name, so her boyfriend remains a mystery for her fans. Also, she has carefully guarded her relationship with the public as the news of her boyfriend has not surfaced in the media. But there remains a possibility of her romancing a boyfriend in real life.
You never know, she may even surprise you with her wedding, where she would walk down the aisle, exchange wedding vows with her man and then officially become a husband and a wife.
Mackenzie talked about the pressure of feminine ideas and men considering women a measuring stick while standing back-to-back and conveyed her irritation over a phone interview in November 2016 as,
"My number one thing about being tall is when my body becomes a measuring stick, I'll say, no, we're not going to use my f**king body that I live in to prove that you've been lying your whole life about how tall you are and I don't think it's fair for you to ask me to do that."
She expressed her opinion on objectifying a female body and said,
"It's bizarre. I think the thing that interested me about my height, was just the comfort people have to comment on my body, just using a statement of fact about my appearance as an opening line: We all own women and so we're all OK to comment on and edit them and implicitly dictate to them whether they are succeeding or failing."
Mackenzie Davis's romantic union remains a mystery, and her ardent fans are eagerly waiting, and they remain hopeful for the revelation of the man in her life in public soon.
Stay with us for the emerging updates on Mackenzie Davis!