Entertainment
Truth Unveiled! Actor Jay Pharoah Talks about His SNL Exit! His Dating and Married History
With four decades on air and 42nd season successfully running, Saturday Night Live has become one of the most loved and watched shows in American television history. SNL has not only entertained viewers but also help built career of a lot of artists, comedians and writers including Andy Samberg, Maya Rudolph, Tracy Morgan, Donald Glover and Jay Pharoah, just to name a few.
Sadly, we won't be able to enjoy the witty impressions anymore, as earlier this year it was announced that Jay Pharoah and fellow cast member Taran Killam would not appear on the 42nd season of the show.
Shocking as it is, it wasn't by choice that the two of them, who were both signed at the same time in 2010, were leaving. In fact, the producers never renewed their contracts.
While Killam went straight in an interview and revealed that it was not his choice, Pharoah played it safe saying that transitions happen all the time on shows.
""I'm not coming back to S.N.L. Transitions on shows happen all the time, but I won't be back."
For the last six seasons, Jay Pharoah has been able to make people laugh with his comic timings and his seemingly effortless impersonations of different celebrities including President Barack Obama. Rolling Stone even crowned him the "Jimmy Fallon of 2 Chainz impressions".
Caption: Jay Pharoah at Saturday Night Live.
The fact remains that we all loved seeing all these great actors and comedians tearing it up on stage, And when Jay Pharoah made his debut in the 36th season, with spot-on impersonations of Eddie Murphy, Will Smith, Jay-Z, and Denzel Washington, he immediately won the hearts of thousands.
Now that he is out of the show, and with a splendid net worth of $3 million, has been busy with other projects, including commercial for Old Navy, hosting American Music Awards 2016 and a new Showtime comedy series White Famous.
Dating and Marriage History:
Comedian Jay Pharoah was pictured with the beautiful Kat Graham at the SNL after party which speculated them to be dating kicking Jay's gay rumors away.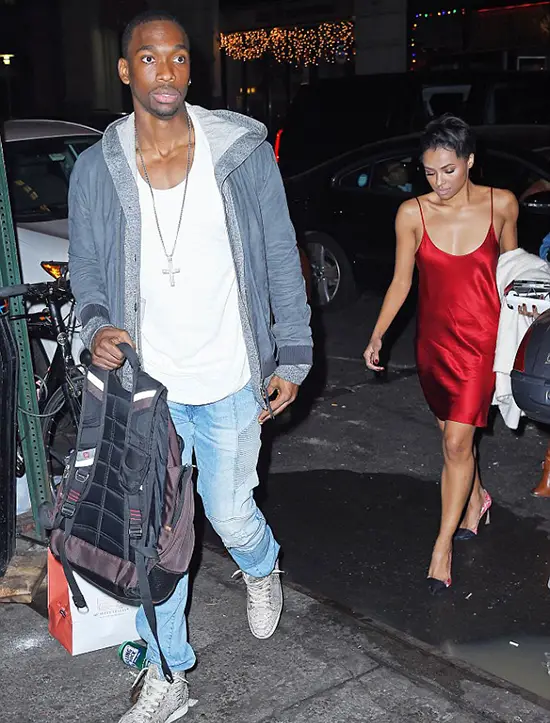 Caption: Out for a hot date night. Jay Pharoah accompanying rumored girlfriend Kat Graham on the SNL after party.
Photo credit: dailymail.co.uk
But recently we have come to know that he is single and considers his career to be his girlfriend as he tweets that he cherishes his girlfriend.
Jay Pharoah has undoubtedly made it clear that in this phase of life, he just wants to focus on his career and has publically taken his career as his girlfriend. Jay Pharoah has recently has done voice jobs in Sing, Call Of Duty: Infinite Warfare, and has The Adventures of Drunky in post-production for 2017. Apart from that he can be seen in Legends of Chamberlain Heights and has White Famous, a TV movie for pre-production in 2017.