Entertainment
Actress Cassie Steele's Dating History: Wondering Who Her Boyfriend is? Also Find Professional Life
Since her first job at a PBS Commercial, Cassie Steele has evolved as a prominent actor and is noted for portraying roles in Degrassi: The Next Generation and The L.A. Complex. The actress is a notable beauty in the entertainment biz, who makes men go weak in the knees with one glance.
But, the question is, does she have someone who makes her heart race? A boyfriend perhaps?
Cassie Boyfriend and Dating History
First, let's get the chicken to the other side of the road here. Cassie is unmarried and also does not have any children, but as per the report, she has had many affairs.
Cassie began dating American actor Drew Roy for about a year in 2009, followed by dating Canadian actor Mike Lobel for about three years.
The three years long relation had its peak, as it was one of the hottest and smitten dating affair around the corner. Sadly, their dating affair did not last to see the altar, as both parted their ways in 2013.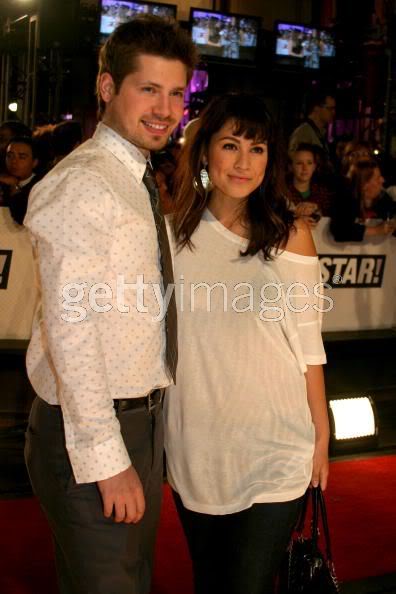 Caption: Mike Lobel and Cassie Steele attending an event e-talk star in 2007.
Source: gettyimages.com
With the continuously unfolding scenes of dating affair in her life, Cassie began seeing Jesse Giddings, an actor by profession who also hosted season two of The X Factor. The couple shared most of their moments on Instagram, whether it be smiling together or having spaghetti.
However, because of some undisclosed reasons, the couple parted their ways as well. Cassie, who would share special moments while dating, did not bother to tell what happened between the couple when things went south.
Has a Boyfriend Now?
Surprising may it seem, but Cassie is dating at the moment. This marks the fifth time, but this time, it looks a little more cuddled up than what fans saw before from her relationships. But here is the catch. Her boyfriend in anonymous!
Yes, Cassie has decided to remain reserved on her boyfriend's identity. Her boyfriend has a beard to gush upon, and a smile that can give butterflies to a girl like a jar of Nutella does, if you know what it means!
Cassie's Short Bio:
Cassie Steele was born on December 2, 1989, in Toronto, Ontario, Canada. She is a classically trained singer at the Canadian Academy of Music and has also been trained in contemporary singing at the New Conservatory of Music.She attended London School of Dance in Scarborough.
Cassie was a 2003 nominee and the 2002 winner of a Young Artist Award for Best Ensemble Actor in a TV Series for her portrayal of Manny Santos in Degrassi.Cassie was seen in her latest movie Twist of fate which was released in 2016, and she is also working on her third album and has a project in post-production; Paint It Red.