Entertainment
Actress Lauren German Opens Up about Her Lesbian Role on Chicago Fire, Her Dating History and Boyfriends
Playing a lesbian role is nothing much of stress for talented actresses like Lauren German. However, there will be consequences afterward like being labeled as a real life lesbian, but it looks like Lauren did not have to go through all of that social nonsense.
Lauren German is as we discussed an avid actress who has played many roles over the period and certain roles required her to act like a lesbian. Lauren started appearing in the hit TV-series 'Chicago Fire' from 2012-2015, as Leslie Shay, paramedics who in the series, turned out to be a lesbian. However, being a professional actress, Lauren said that playing a lesbian role was not much of a big deal for her.
"I mean love is love, and I personally would approach it no differently," I've played a few lesbians, and I have gay and lesbian friends, and I don't think it's really any different. It's almost like asking a straight character 'how do you play straight?' You're just attracted to what you're attracted to. It's really just playing whatever's going on in the scene."
Moreover, playing the role of Leslie Shay has checked the roles which she had on her bucket list, i.e. someone in a medical field and another one was a hooker. She wanted to do the role of someone from a hospital background because she appreciated the work of her father who was a doctor.
"A hooker and someone in the medical field — so we've knocked one out now."
On medical staff role, she said,
"I just really admire the profession," she said. "These people, they get overlooked. People forget about them and all they do all day long is save lives left and right. And that excites me. That is fun for me."

Apart from Leslie Shay, Lauren has played some other roles in her career, such as the role of Jennifer in 'Standing Still' 2005.
Caption: Lauren German as Jennifer in Standing Still (2005).
On-Screen and Off-Screen dating!
Lauren German becomes kind of a low-key person when comes to her dating affairs. Only a single boyfriend is in Lauren's dating history at the moment; Ashton Holmes, a fellow actor who is famous for appearing in 'The Divided.' The couple reportedly dated from June 2007.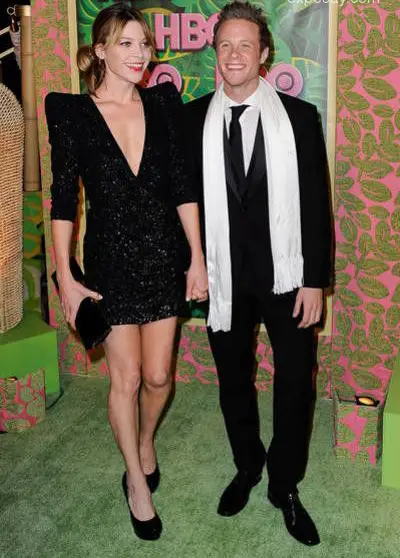 Caption: Lauren German with ex-boyfriend Ashton Holmes in 2007.
Photo Credit: Keadrick D.Washington/ PR Photos (exposey.com)
However, there has been no official statement given by the couple about their split, but it seems like both of them are somehow closer to each other. Lauren and Ashton often have mini-conversation through their tweets. However, according to sources, both of them are currently single.
Apart from her Off-screen dating, Lauren is currently playing a role of a detective named Chloe Decker in the hit FOX TV-series 'Lucifer.' In the series, Lauren is a married woman struggling to make her marriage work with her husband, Detective Dan and also has a daughter with him named Trixie.
It is not sure when will this beautiful, versatile actress get married or reveal her dating affairs if there is any but one thing is for certain, Lauren is currently focused on her career and is not likely to get off the track.
Lauren German moves on from Chicago fire to something completely different:
While Chicago Fire was a successful tv show, especially for Lauren, whose career was boosted because of it, she has moved on to something even bigger. Starring in FOX's big hit "Lucifer" Lauren German has started involving herself in a completely different genre of Tv-show. While Chicago Fire was about the drama between the crew of firefighters of Chicago Firehouse 51 and how they coped with issues they faced in their dangerous lives, Lucifer is a detective Tv show with a certain Supernatural feel.
German plays the role of Chloe Decker, a single mother and a good-hearted LAPD Homocide Detective who partners with the Devil himself to solve crimes in LA.
During an interview, she was questioned if her view on crime stories in real life were changed from her involvement in Lucifer and Chicago fire which she responded with,
"I think so, but mainly I think my experiences had made me have even more respect for first responders than I did before I went to Chicago. Sure, I always respected them and paid attention when I'd see a fire truck going by or hear about the cops getting the bad guy. But after the training, we went through with the firemen and paramedics in Chicago — plus now having worked with homicide detectives to prepare for 'Lucifer' — I can't tell you how much I respect these guys and women."
On her experience in playing as a mom, she responded with,
"It's great. It's beautiful. I have more respect for moms than almost anything. What's cool is, I have such respect for first responders and single mothers, and I'm both. So it's great."
She also confessed that there was no bad blood between her and the directors or the cast of Chicago Fire after her move and confessed that when the directors of Chicago Fire realized a need for the end of German's character, she took a break.
German also acknowledged that she considers co-star Monica Raymund her best friend and is quite close to the rest of the Chicago fire crew and even hangs out with them once in a while.
Fans are anticipating a lot from her, especially with the recent release of its season 3's promo teaser.
Caption: Lucifer Season 3 Teaser starring Tom Ellis and Lauren German.