Entertainment
"Workaholics" Star Adam DeVine Calmly Dating While Girlfriend Wishes Wife Tag
Workaholics actor Adam DeVine is on the rise lately and aside from his pure talents, he has his cute looks and charm to thank for.
Famous for playing characters younger than his real age, Adam has charmed his way around to all and by the looks of his dating history, it seems his co-stars are the ones who fall more for it.
Starting from 2012, he has indulged in dating with two of his co-stars, among which one of them was wishing for the wedding proposal.
Let's uncover how Adam has a thing for his work-mates to create a colorful dating history!
Dating A Co-Star; Kisses On Movie Premiere
Pitch Perfect Adam star found his love in 2012 while working along with his Pitch Perfect co-star Kelley Jakle. Their affair was initially kept a secret, but Kelley later admitted to being involved romantically with Adam.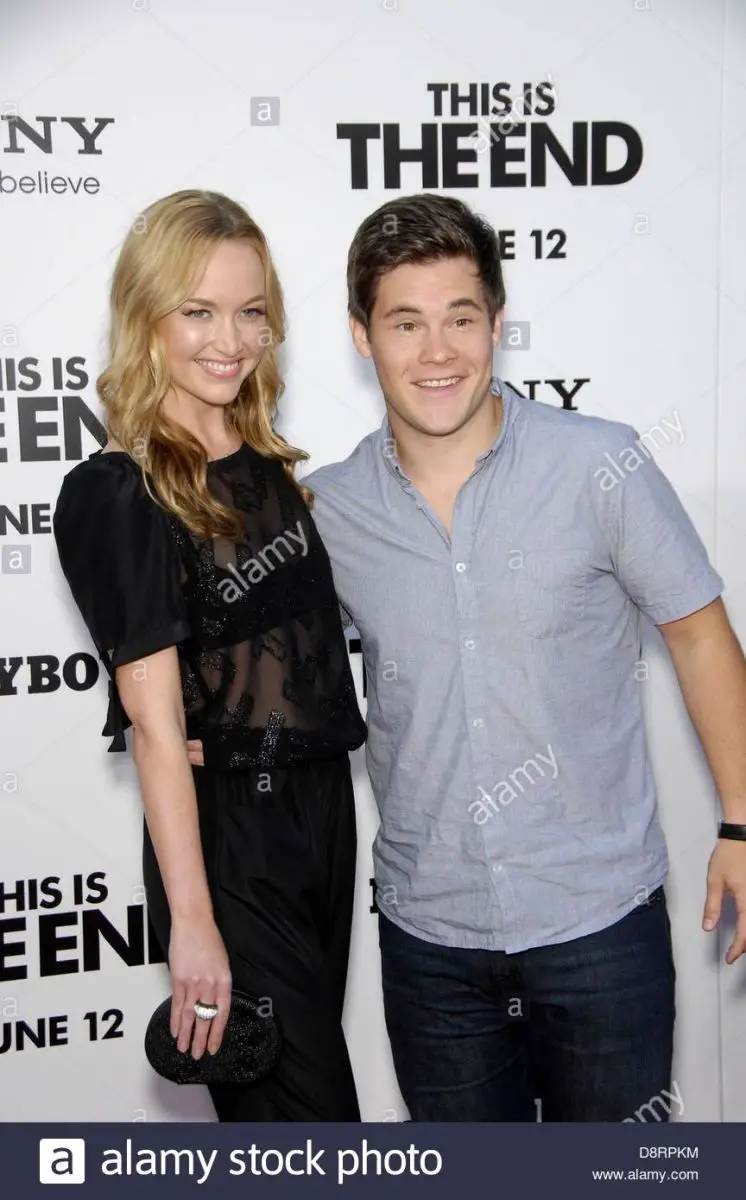 Adam and Kelley attend the premiere of This Is The End on 3 June 2013 (Photo: Alamy.com)
The couple also attended the series, Pitch Perfect's premiere together where the 34-year-old was spotted kissing Kelley on the cheek.
Despite all, their romance didn't last long and the two parted ways after dating for nearly two years. The couple took their dating to two years till 2014. Post their breakup, Kelley started seeing actor Mark Hapka, while Adam also jumped to another relationship with another one of his co-workers.
Dating Another Co-Star; Girlfriend Wishes For Wedding Proposal
After his split with Kelley, the Iowa-born actor began dating his The Final Girls co-star Chloe Bridges.
The pair first met while working on the comedy horror movie, The Final Girls in early 2015, where the pair performed in supporting roles. The initial rumors started in November 2014, after Chloe posted a picture of the two actors hanging out. A month later, the pair even took a trip together to Disneyland.
However, the relationship was only confirmed in early 2015 by an insider, who revealed their glowing chemistry while shooting for the movie.
Since the confirmation, the couple has been flaunting their romance on social media revealing their several moments together. On 6 March 2017, after Adam's "Weird Life" tour wrapped up, Chloe shared a picture of a tired Adam sleeping on her laps.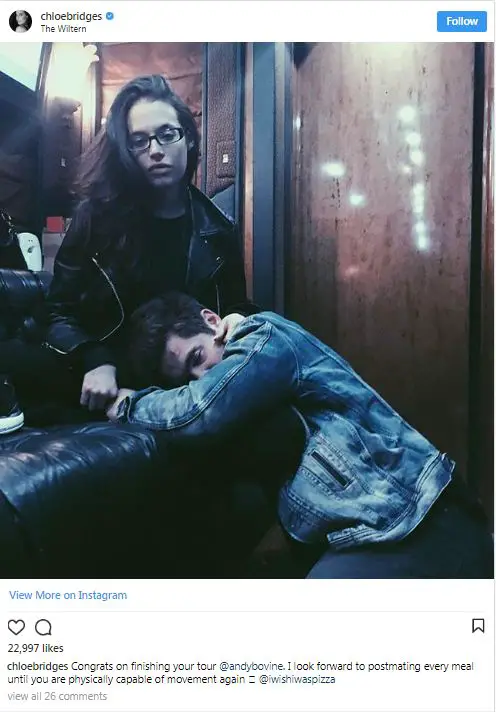 Adam reunites with girlfriend Chloe after the conclusion of his "Weird Life" tour (Photo: Chloe Bridges' Instagram)
The lovebirds took a romantic trip to Europe in August 2017, traveling to various destinations including Venice and Paris. And from the tour, Chloe was expecting something which Adam was not ready to commit.
In an October 2017 interview with Hit 105, Adam revealed that he believed Chloe was planning a marriage proposal, which he was too dumb to recognize. He told to host Osher,
"I think we had been dating long enough that maybe she thought I was going to propose. I haven't thought about that."
And Chloe's proposal wish seemed also right as the couple had been enjoying their Europe trip and spending time at expensive honeymoon suits.
Host Osher further suggested to Adam that he should pop up the question during his Australia tour in 2018. But, Adam hinted towards waiting for four to six years before he finally becomes ready to make a life-long commitment to making Chloe his wife.
Adam's 2nd "Weird Life" tour promoting his comedy show of the same name began on 27th January 2018. However, it seems like he hasn't yet made up his mind as clearly no news of the pair getting engaged has surfaced in the media.
Gay Portrayal, Bisexual Lover
If Adam has his share of romance, he also has his share of gay rumors due to his on-screen role.
Adam played Alexxx, a gay man, in the 2018 action comedy Game Over, Man! The movie, which featured Adam along with Blake Anderson and Anders Holm in the lead, was panned by the critics for its endless d**k jokes.
Further, Adam also played the lover of a bisexual woman named Haley Dunphy (played by Sarah Hyland) in the 7th season of ABC's television series, Modern Family.