Musician Adam Granduciel is an expecting father now that his girlfriend revealed that she is pregnant. In all honesty, The War on Drugs frontman and his actress wife prospect couldn't have picked a better destination to break the exuberant news to their fans.
Now, that the pair are all set to become parents, will they hurry up the wedding plans? Read along to find out and learn details of Adam's personal life including his height and age!
Pregnant Girlfriend Shows Off Baby Bump At 2019 Oscars
The likes of Mahershala Ali and Olivia Colman may have hogged all the limelight at the 2019 Oscars with their wins, but it was Adam and his girlfriend, Krysten Ritter who were the real stars ahead of the televised portion of the award ceremony.
Earlier that night, he and the Jessica Jones actress, age 37, stunned the crowd in attendance at the 2019 Oscars red carpet event by revealing their pregnancy.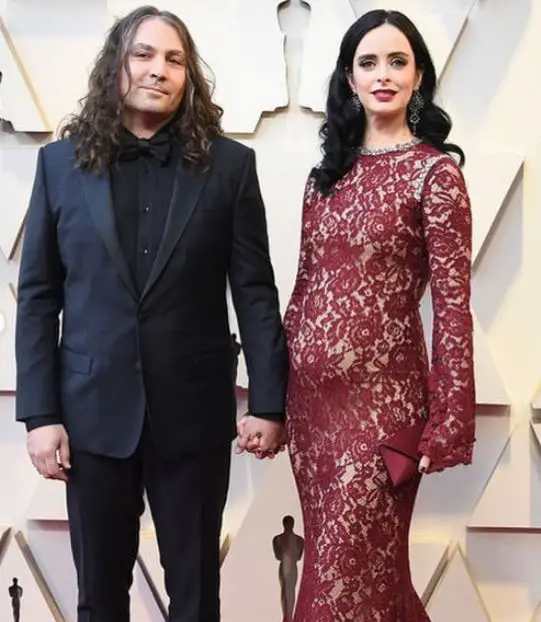 Adam Granduciel accompanies his girlfriend Krysten Ritter while she debuts her baby bump at the 2019 Oscars red carpet event (Photo:- Krysten Ritter's Instagram)
An undeniable glow was present on Krysten's body language as she posed for cameras flaunting the baby bump while dressed in a gorgeous Reem Acra red lace dress. Meanwhile, the indie rocker looked happier letting his girlfriend - who garners a reported net worth of $7 million - become the star of the show.
Pregnant In 2019:- Annie Smith Is Pregnant & Expecting Baby With Lil Xan
The news of Krysten being pregnant comes as a surprise to many as neither she nor Adam, age 40, had previously hinted about expecting a baby on their social media. Looking back, they did one excellent job hiding it.
Following the grand reveal, the Don't Trust the B— in Apartment 23 actress took to Instagram to "surprise" her followers. It got met with congratulatory messages from their fans, who are eager to know when the expecting parents might get married.
Hurrying Wedding With Potential Wife, Krysten Ritter?
Sorry, fans of Adam and Krysten! The wedding between the two could take a while!
Neither the musician - who stands no less than five feet and ten inches in height - nor his wife prospect is the biggest fan of the concept of marriage. In her 2012 interview, Krysten - who was dating Brian Geraghty at the time - made the point crystal clear by quipping:-
"I was never the little girl who dreamed about a wedding or a big white dress. It was never my thing, but I don't think I'm sour on marriage. I just don't know if I'm the type."
Almost seven years have passed since then, her views on weddings and married life ought to change, no? Plus, they have been dating each other for almost five years now. Safe to conclude that it isn't the case of partners in a relationship not earning each other's trust.
Wedding You Might Know:- Miranda Lambert Wedding, Husband, Boyfriend
If time didn't bring the desired changes in them, the prospect of having an expansive family with the arrival of their first baby should at least make them reconsider.