Alexis Stewart is an American radio and television host of "Whatever with Alexis and Jennifer" and "Whatever, Martha."
She is widely known as the daughter of the household name, Martha Stewart. However, Alexis has not let her mother's recognition dwarf her own. Her bio reveals all the necessary details and achievements of the TV star, along with her net worth, height, salary, and more.
Alexis Stewart Biography
Alexis Stewart is a New Yorker by birth. She was born in the bustling city on 27 September 1965. Her nationality is American while she belongs to the white community by ethnicity.
Born to parents Martha and Andrew Stewart, Alexis is an only child. However, her childhood was not a pleasant one. She did not have a good relationship with her mother and has not talked with her father since 1988. Her parents separated in 1989.
From A Family Of Achievers:- Jenna Bush Hager Husband, Net Worth, Family
Despite her family being broken apart, she did not let it hamper her studies. She went to high school at an alternative/progressive school in Putney, named The Putney School. Alexis received her higher education from Barnard College, a Liberal arts college in New York City and graduated at the age of 22.
Regarding her physical appearance, Alexis is a beautiful blonde; she stands with a height of 5 feet 10 inches (1.78 m).
Relationship; Wife & Mother
Not all people have a happy ending. Alexis is one of them.
The beautiful blonde was in a relationship with her attorney, John Robert Cuti. John was her mother's lawyer at the time. There is no detail on when and where the couple met, but they did officiate their union with a wedding in 1997.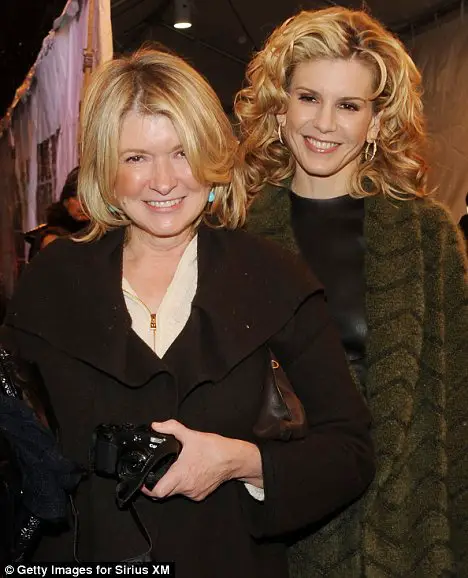 Alexis Stewart and her mother, Martha Stewart (Photo: Dailymail.co.uk)
The couple's marriage ended in 2004. The cause for the split is not public information, but many have speculated that Alexis' inability to become a mother could be the underlying root.
However, Alexis did not let her inability to stop her from what she desired, to become a mother. At one point, she even spent $27,000 per month for in vitro fertilization treatment.
Alexis later opted to surrogacy and finally became a mother at the age of 45. Her daughter Jude Stewart was born on 8 March 2011. Her son Truman Stewart - age 7 - was also a result of surrogacy. Both of her children have no legal father.
Career: TV, Radio & books
Great things were expected of the daughter of the great Martha Stewart, and, Alexis did deliver.
She is an accomplished TV and Radio personality. She co-hosted Whatever with Alexis and Jennifer on Sirius Satellite Radio. However, she gained new heights of fame with her show based on making fun of her mother, called Whatever Martha on Fine Living Network.
Batting For The Other Side:- Snow Tha Product Gay, Net Worth, Family
Besides her career as a host, Alexis is also an author. She has a blog named Whatever Blog and has also written numerous books. She authored Whateverland: Learning to Live Here, which was a huge hit.
With her various endeavors, Alexis has done incredibly well for herself. She has her NY house on sale for a whopping 53 million dollars. It wouldn't be wrong to assume that her net worth is well over tens of millions. Her salary would be well over the industry average of $ 55K.