Entertainment
Meet Beautiful Allison Chinchar, Married in 2012, Husband? Where is She Now? Her Wiki and Bio Too!
How much do you know about the meteorologist, Allison Chinchar? Well if you don't know about her then you needn't worry, we are here to update you about her. You might already know much about her professional career so learn something about her personal life here.
Allison Chinchar is one of the underrated meteorologist or anchors you see on the CNN network. But that does not make any different to her as she is talented and successful in her profession. Learn about her and her fellow meteorologist husband. If you know her, you will probably know him. So who is he?
Her Married Life and Husband:
Allison is married to none other than fellow meteorologist; Mike Bettes on October 2012. Since Allison is a very private person and does not like to talk about her personal life we do not know the details about her marriage. We are unable to inform about their wedding when they started dating or since when Mike was her boyfriend. But the couple couldn't be happier as you can see from the image below and the rest like they say history.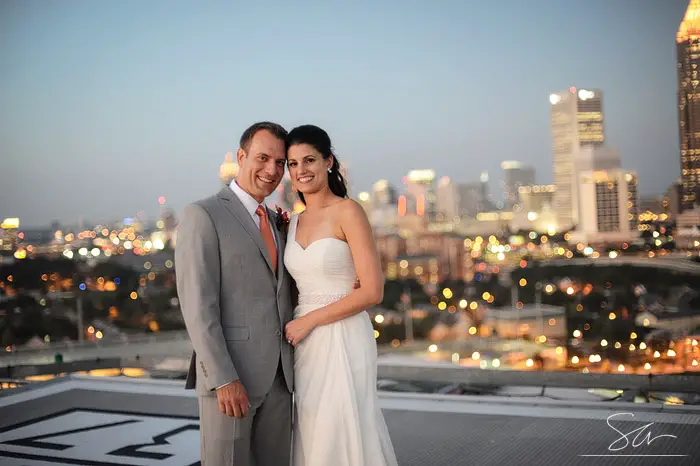 Caption: Mike Better and Allison Chinchar's wedding photo on October 2012.
Source: scottasano.com
It must not be difficult to guess on how the two met. I mean, he is a meteorologist, she is a meteorologist, their paths were bound to cross. This is a long time after they met and even got married but the two even got time to share the set on CNN in December 2015.
Mike Bettes is said to be previously involved with his co-host, Stephanie Abrams. They were said to have a broken marriage, but the details of that are also missing. Here is an old video of him sharing the stage with his ex.
Caption: Stephanie Abrams gets dragged off camera by Mike Bettes during "Usher" argument in 2012
Welcoming a Baby:
The couple also has started a family together. The made this decision openly announcing that Allison was pregnant from as far back as July 2014 based on the tweet below.
Allison and her husband happily welcomed their first baby boy in January 2015. The happy father was the first one to post the first picture of their son, Landen Benjamin Bettes on January 31, 2015. He also added that the baby was weighing a healthy 8 pounds and 3 ounces.
Now their little family looked complete with the arrival of a new member. It couldn't look any perfect; judge yourself from this Instagram picture.
Where is She Now?
Allison is currently working for CNN. She left her job at the WXIA-TV in January 2015 around the same time her son was born. Allison joined CNN in June that very year and has been working for CNN as their fill-in anchor since then till now. Below is a video she posted on Twitter of herself as the weather anchor for CNN.
Allison Chinchar's Short Bio:
Allison Chinchar was born a native to the state of Ohio, USA. She is presently the meteorologist at CNN from 1st June 2015 until present. Before CNN she has worked her way through WXIA-TV from 2012 to 2015, WKRN-TV from 2011 to 2012 and WTVC network from 2008 to 2011. She graduated from her hometown at the Ohio State University but currently resides in Atlanta, Georgia, US.