Entertainment
Angie Mentink Deals Health Issues With A Smile, Recovering Cancer with Robustness!
One of the major health problems of today's time is cancer! It could happen to anyone irrespective of age or gender, and it indeed has been the life-threatening disease to battle with!
Root Sports Northwest anchor, Angie Mentink is one, who is dealing with breast cancer bravely and her spirit in the times of difficulty shows the fighter within her. So, let's have a closer look at the life of Angie, who while being a sports anchor, has a married life with a husband and children.
Health Crisis: Battling Breast Cancer
Angie Mentink revealed that she is diagnosed with breast cancer via a tweet on September 7, 2017.
Discover More:- Baby Boy's Actress AJ Johnson: Neither Married Nor Dating Anyone, Searching For Perfect Husband?
The announcement shocked everyone and tweets flooded in support of Angie Mentink. The program director of ESPN Seattle, Mike Salk poured his good wishes,
"Oh no. Thinking about you, wishing you the best, and knowing you are going to beat this thing."
Moreover, the Seattle Mariners shared a tweet encouraging Angie to fight with cancer,
"Angie, from the entire Mariners organization, you're in our thoughts. Knowing you, cancer doesn't stand a chance."
Angie's contemporary Jackie Montgomery sent her good wishes and prayers as,
"I'm sorry to hear this Angie. Sending lots of hugs and prayers your way. Cancer is messing with the wrong chick!"
The support of the loved ones is essential while struggling with a deadly disease like cancer and apparently, she was blessed to be surrounded by love.
Angie even thanked everyone for all the positivity she was showered with, while sharing that she was heading for a surgery via Twitter in the early week of October 2017.
Similar:- Cancer Survivor Sarah-Jane Crawford Romancing Boyfriend; Dating On Different Level
Along with the tweet, she shared a picture of herself lying on a hospital bed, and the smile on her face shows her strength and hints that she would come out victorious against the battle with cancer.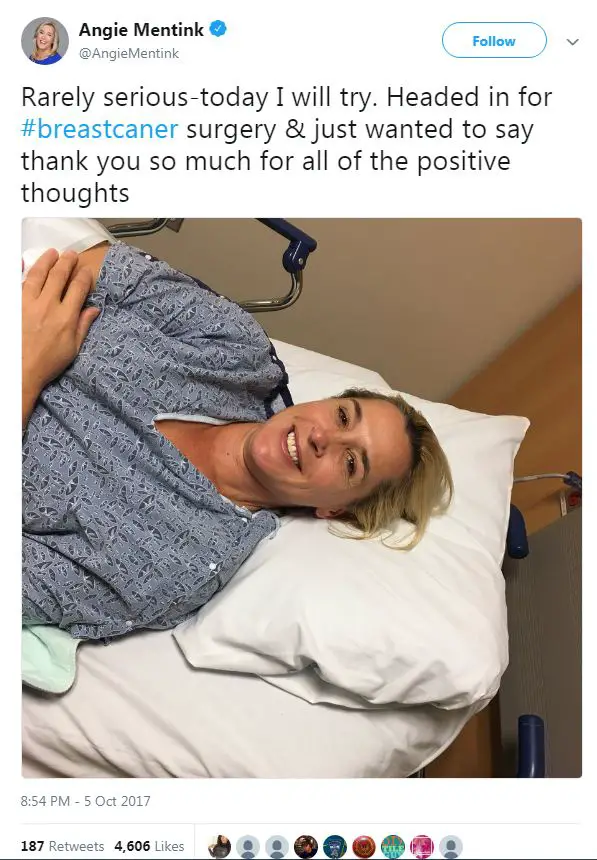 Angie tweets a picture of her laid in a bed, hours before the breast cancer surgery (Photo:- Angie Mentink's Twitter)
While on the path of recovery with the deadly disease, Angie hasn't lost her sense of humor yet; she even tweeted the perks of dealing with cancer through a humorous tweet.
"My first tattoos—Technically they are small dots for radiation tracking but now if someone asks "Do you have a tattoo?" Me: yup #Cancerperks"
Thankfully for Angie, she has her family to fall back on, in the time of illness.
Angie Mentink's Supportive Husband & Children
Angie is a married woman; she has been married to her husband, Jarrett Mentink for a long time now.
Her husband, Jarett is the Assistant Professor of Physical Education at the Seattle Pacific University. Besides being a basketball coach, he's also a published author and founder of Kids In The Cloud -- a book company that provides children's reading materials.
Other Sportscaster In Our Vault:- Lauren Shehadi Is Engaged & Getting Married! That's What Fans Are Saying
Other than this, the details of their wedding are still under the wraps.
Nevertheless, Angie's tweet on the occasion of their wedding anniversary back in August 2017, where she expressed her love for her husband gave an insight into their beautiful relationship.
"Happy Anniversary to the Hubs. I love the fact that you forgot up until a little bit ago, just like me... and of course,e I love you. #isit14?"
The proud wife, Angie further gushed about her talented husband through tweet back in July 2017,
"Yup he is the talented one! Very proud of all of the Hubs books, but I really love seeing 10,000 of them handed out today!"
Angie and her husband Jarrett share two children together. Angie shared that her oldest son Jax turned 12 back in July 2017 followed by a sweet message.
"As of 9:56 am my oldest Jax turned 12! This seemed like yesterday & bringing you home from the hospital the day before."
Similarly, back in August, Angie tweeted that she is coaching the baseball team of her two sons.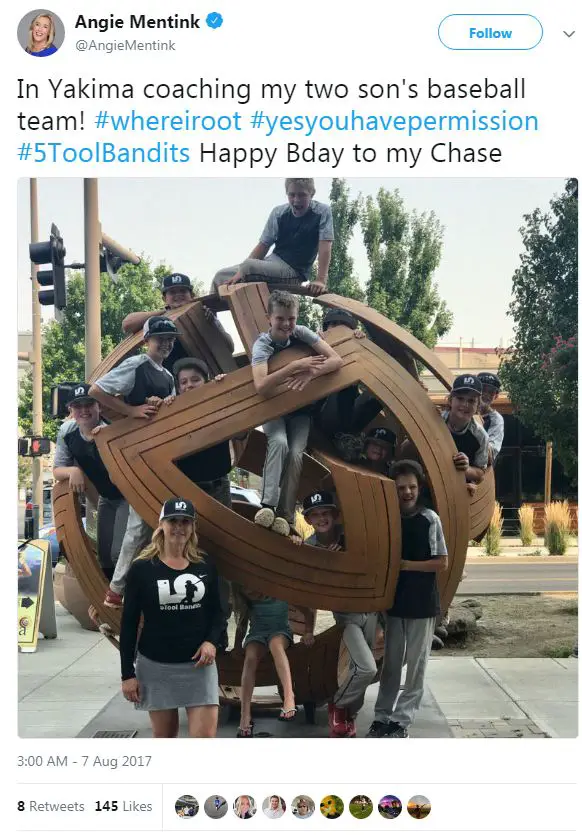 Angie Mentink alongside her children and their friends (Photo:- Angie Mentink's Twitter)
Angie indeed has the support of all her loved ones, which motivates and gives her the strength while she fights with cancer smilingly.
Angie, who anchors for Root Sports Northwest and co-anchors Mariner Live has created a special spot in the heart of her audience. The show inevitably provides her with a handsome salary; however, she prefers keeping the figures confined.
One Year Later: Aftermath Of Cancer Diagnosis
About a year after being diagnosed with breast cancer, the Roots Sports Northwest anchor sat down for an interview with K5 News to discuss her recovery process as well as the shocked she had felt when the doctors told her about her deteriorating health condition.
Other Interesting Article:- Dana Perino: 20 Years of Married Life But No Children, Husband and Divorce?
Despite coming from a relatively cancer-free family, she was left in a state of astonishment so much so that she remembers apologizing to her husband, immediately after. She quipped:
"You're like, 'I'm sorry that you're going to have to deal with this'. I mean you always think that you're going to be okay. But, I think it's your family you worry about. The impact you're going to have on them."
She might be cancer free today but she's humble enough to understand that she might not have done so if it weren't the support from her fans and family. She told K5 News:
"I had so many people rally around me, and you find out just how loved you are by those right around you and then those beyond you as well."
In the same interview, Angie urged women to "get the mammogram!"