Entertainment
Queer Eye Chef Antoni Porowski Not Gay But Loyal To Boyfriend As Family
The Fab Five is the new sensation in the town and Canadian actor Antoni Porowski is one among them.
Known for his food and wine expert role in the critically exclaimed Netflix show, Queer Eye, the actor stars alongside the likes of Jonathan Van Ness, Tan France, Karamo Brown and Bobby Berk.
In the show, which is known for transforming men including gay too, Antoni holds the chef section and has a unique taste in everything. Among five, Antoni is also the one, who does not like to label his sexuality as gay but some other terms.
And his romantic taste has also been revealed as he has been dating his longtime partner.
Queer Eye Star Not Gay: Holds "Fluid Sexuality"
Among the Queer Eye stars, Antoni Porowski is the one, who likes to prefer his sexuality as fluid sexuality, pansexual. The food expert refuses to term himself as gay.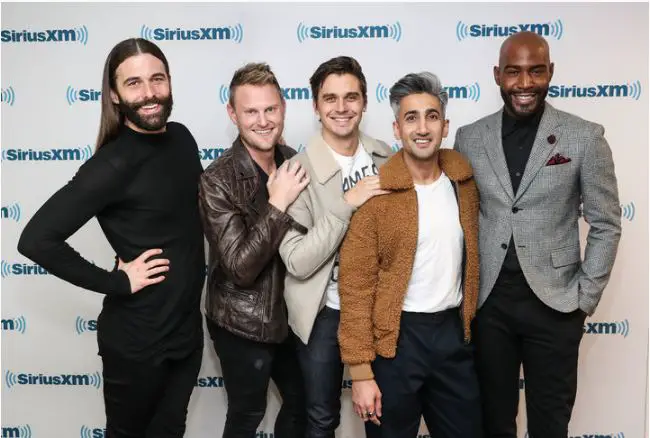 Antoni Porowski (center) along with cast members of Queer Eye in 2018 (Photo: Huffingtonpost.com)
The star further added that he never had a specific label or definition for himself. Speaking on the May's edition of Gay Times magazine the star added:
"Some people want to define themselves and they should as it is part of their identity. For me personally, I've never really had a label for myself."
By sexual fluidity, the star's meant that it was not just about being a bisexual as it limited his choice range from man and woman. His rebellious nature meant that he never wanted to be labeled with a specific term but be known as Antoni.
"The term bisexual means [he] can only like girls and guys" and I don't want to deny potentially liking "something else" in the future. Maybe it's just my rebellious nature. I'm me, I'm Antoni, and I'm all these things."
The star further opened up about his sexuality and accepted that at that moment he was a gay because he was in a romantic relationship with a guy.
"Today I'm gay – I'm in a gay relationship – and that's where I am. That's good enough for me."
Well, sorry news for Antoni's fans, the star, who stands at the height of 6 feet(1.83 meters), is in a romantic relationship with a gay partner and is happy with his husband like figure.
Happy With Long-Term Partner
The star is living a blissful dating life with his partner of 7 years, Joey Krietemeyer.
The loved-up duo live together in a posh apartment at Brooklyn NewYork and regularly update about their relationship in Instagram be it a night out in a lavish restaurant in the big apple, or lazily spending the weekend at home.
See also: Queer Eye Star Tan France In Style With Husband At Age 35; Gay Love Goals
And on the occasion of Valentine's Day 2018, the celebrity chef arranged a lovely platter filled with goodies and presented it to his boyfriend.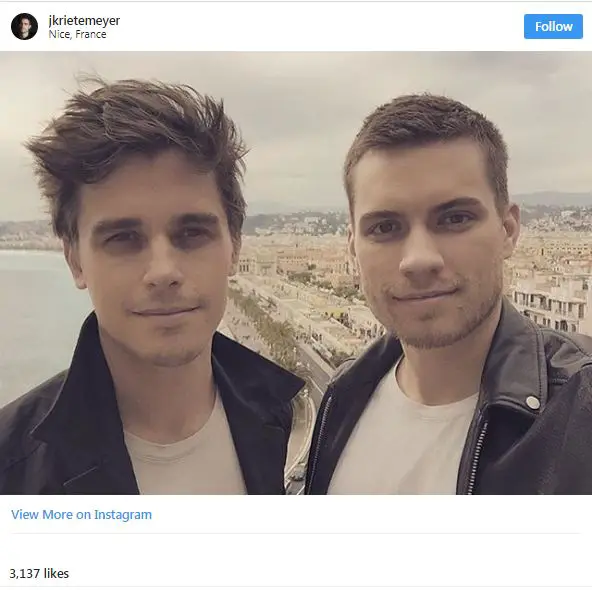 Antoni Porowski with boyfriend Joey Krietemeyer in 2016 (Photo: Joey Krietemeyer's Instagram)
Previously on 9 February 2018, Joey had posted the cute looking duo's picture and described it as his honor to be walking beside his husband like figure.
The couple is also friends with American actress of Indian origin Reema Sampat, and Antoni in his Instagram on 3 July 2017 shared a photo of the trio, Joey, Reema and himself and labeled family.
You May Also Like: Jonathan Van Ness Only Man Without Boyfriend Or Husband In Queer Eye!
And Antoni's relationship with his boyfriend goes way deeper. Joey was the one to inspire along with Antoni's best friend, P.J. to follow his food passion. As per Antoni, Joey helped him to pursue his career in the food industry.
In an interview with Grub Street in January 2018, he stated,
"I have two people in my life — my best friend, P.J., and my boyfriend, Joey — who have always told me that I should pursue food in a more professional capacity, but food has always been something very sacred and personal and private for me."
And Joey has been supporting his boyfriend before he could even make in the series, Queer Eye. He wrote in his Instagram before the premiere of the first season of Queer Eye,
"So extremely proud and excited for you @antoni!! I love you and can't wait for the world to experience you the way I'm able to every day."
Despite no news about the couple taking their relationship forward to get married, they look all set to exchange the wedding vows.
To Have 'Pride-Themed Brunch'
As Montreal's Pride Weeks began, Antoni Porowski alongside the Canadian prime minister Justin Trudeau is set to have a "Pride-Themed Bruch." While the Pride Weeks goes from 9 August to 19 August, the Liberal party took it to announced their collaboration.
Don't Miss: Emotional! Karamo Brown, 37, Makes Boyfriend Cry; Engaged To Get Married
The announcement also revealed a chance to win a trip to join them. They would be sending one lucky winner to a special brunch reception alongside Antoni and Justin. Adding to it, they would be throwing a dinner along with regular swag to make sure to be prepared for the parade.