Congratulation are in order for supermodel Ashley Graham and her beau Justin Ervin.
Showcasing a beautiful baby bump on 14 August 2019, the happily married duo made their pregnancy official through an Instagram video.
The announcement of the pregnant news also coincided with the couple's ninth wedding anniversary. Ashley's husband, Justin, was also pleased and excited to reveal the story, sharing a wonderful sonogram of the baby and his baby mama.
The pregnancy comes three years after Ashley expressed her readiness to have kids. Back in 2016, Ashley told Entertainment Tonight the husband-wife duo were ready to bring the very first addition to their family.
Similarly, a year ago, in 2018, many fans presumed that she was pregnant, but the rumors later turned out to be false.
Husband & Other Details
Ashley and Justin Ervin first met back in 2009 while attending church. The beauty was drawn instantly towards the cinematographer. According to her, the romance between the two was romantic and sweet. Only a few dates together, and the pair knew they were meant for each other.
Blooming Relationship:- Brendan Hines Relationship, Married, Gay
However, their relationship had to face some serious issues early on. An interracially diverse relationship, Ashley's family was the toughest challenge they ever met.
When Ashley first introduced her boyfriend, the response from her family wasn't what she hoped for. Her grandmother especially turned a cold shoulder when she first met Justin. But, they soon overcame their struggles.
Wishing a happy sixtieth wedding anniversary to her grandma, Justin slowly eased in as a charming boyfriend to Ashley. After winning her family's approval, Justin and Ashley dated for upto a year before getting engaged.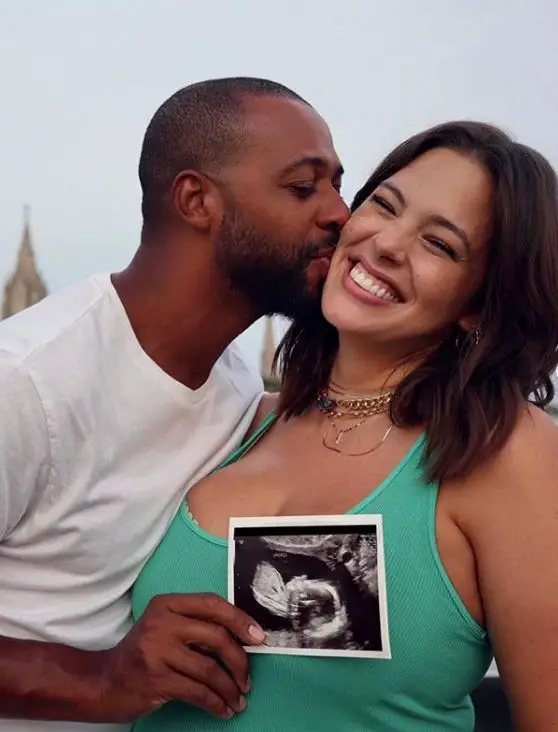 Ashley Graham with husband Justin Ervin showcasing baby's first sonogram on 14 August 2019 (Photo: Justin Ervin's Instagram)
The story of their engagement was so unusual that it was hard to believe at first. While talking about the prospect of getting married, Justin popped a beautiful ring and asked her to marry her. Without a moment of hesitation, she accepted the proposed and got engaged to the director.
Just two months into the engagement, the couple decided to get married on 14 August 2010. Enjoying a traditional wedding, the couple celebrated the happy day in the presence of the most influential people in their lives.
Having had endured a long-distance relationship for almost ten years - Ashley lives in New York City, and Justin resides in Los Angeles - the husband and wife duo are proof of a beautiful relationship.
However, the news of her pregnancy and soon their beautiful baby is sure to get them even closer.
At the age of 31, pregnant Ashley is all set to welcome their very first child in 2019. Though the delivery date and the gender of the baby were unknown, for a period of time, Ashley and her husband spilled the beans on that info as well.
During an appearance on The Ellen DeGeneres Show, the host Ellen DeGeneres went on to ask a series of questions. After a slew of random inquiries, she finally targeted pregnancy-specific topic asking
"Are you having a boy or a girl ?"
Screaming in pure delight, she answered she was having a boy, telling the whole world how happy she was about becoming a mommy to a baby boy. The due date of their son's arrival is fixed around the month of January.
Well, around the month of January, their son could arrive early or late; no guarantees on the exact date.
Waiting for the arrival of the baby, Ashely celebrated with a luxurious baby shower in November 2019. Gathering family and friends in The Foundry, New York, Ashley was the center of attraction with a red sweater dress and her gorgeous baby bump.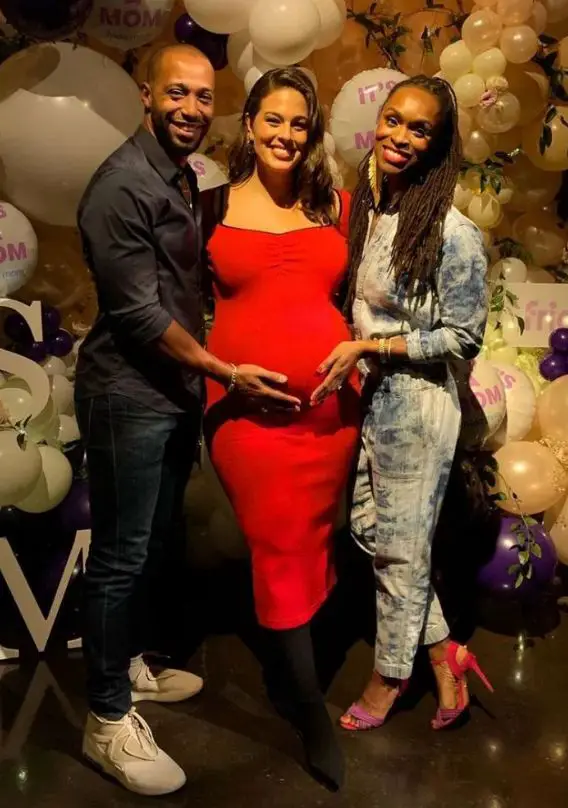 Ashley Graham with husband Justin Ervin and Latham Thomas in November 2019 (Photo: usmagazine.com)
The baby shower included a candy bar, a manicure station, a tattoo station, and a piercing station. Ashley seemed quite happy and unable to contain her excitement; the model gave a quick jolt of twerking action on the special occasion.
Ashley Graham Bio
Ashley Graham is an American plus-size model born on 30 October 1987. At the height of five feet & nine and a half inches (1.76 m), the beauty has graced Sports Illustrated Swimsuit Issue, Vogue, Elle, and Harper's Bazaar.
Another Fashion Model:- Winnie Harlow Boyfriend, Face, Parents, Net Worth
Known for her beauty and confidence in her own body, Ashley is also an ambassador to the "real beauty" movement. Represented by the IMG, she has also appeared in many different campaigns for Bloomingdale's, Liz Claiborne, Hanes, Target, Macy's, Levi's, and Nordstrom.