Entertainment
Beth Smith, Dramatic Weight Loss & Cancer Battle; Inspiring Story For Today
Beth Chapman of the bounty hunting series Dog The Bounty Hunter is a remarkable person. But the wife of the acclaimed bounty hunter Duane "Dog" Chapman has had her share of law enforcement problems, family problems and health scares.
The reality show star, who struggled with weight issues all her life, suffered a major health scare after she was diagnosed with throat cancer.
But not only did she beat the 50:50 odds of surviving cancer, but also shed pounds. After announcing the cancer-free life a year ago, again, cancer has returned into her happy and more healthier life.
Weight Loss
Beth Chapman struggled with weight issues all her life. The star with a busty figure decided to undergo an extensive weight loss program after the wraps of the spinoff to hit show, Dog and Beth on the hunt in 2015.
You May Also Like:- Brittany Cartwright, Age 29, Unveils Weight Loss Secret! Before and After Pic Screams
Beth decided to swap TV with outdoor sports and with a firm resolution, disciplined and had a healthy diet.
And the result was spectacular!
Not only did Beth looked better than she had ever looked before, but the star also seemed much happier in her newest avatar. Beth shared her photo on 7 August 2016 flaunting her toned down body and even spoke of her delight at her date night with husband Dog Chapman.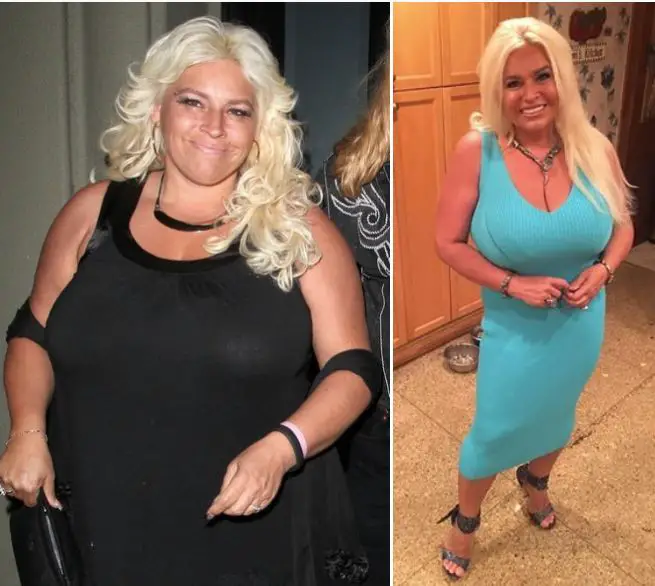 Beth Chapman before after photo after her weight loss regime (Photo: Greeningz.com)
Her new curvy body is the result of the healthy and fitter lifestyle. With her new diet plan and weight loss workout, she lost 50 pounds.
However, Beth is not one to be away from troubles; as the actress, after her weight loss, suffered from a significant health attack.
Answered Cancer Returned Again!
Barely a year after being pictured going on a date night with her husband and looking as healthy as she had been, Beth experienced a massive shock when she was diagnosed with stage 2 throat cancer in 2017.
Speaking about her diagnosis, the first thought she said she had "was death." The star, in AETV's 2-hour special Dog and Beth: Fight of their Lives aired back in November 2017, talked about her fight with cancer, where she stated:
"Death. You only associate the word 'cancer' with 'death.' When you first hear the word 'cancer,' you immediately move to the word 'death' because that's generally what comes next"
Beth was given a "fifty: fifty survival chance" and went under the knife to remove a massive tumor in her neck the same month she was diagnosed, and she later underwent extensive medication and rehabilitation. To her delight, she had a successful surgery which resulted in a complete cure of the disease.
Cancer Survivor:- Christie Brimberry Beats Cancer At Age 44, Husband and 6 Children Supports
Speaking after her successful treatment of the killer disease, she claimed that she had to remain strong in the face of the calamity, and duly did that as well. Speaking to PEOPLE before the release of her 2-hour special, she said:
"I knew I couldn't let it take me over. I had to keep moving, every day, moving forward. That's all you can do when you get a diagnosis like this. So I take it each day at a time. And I'll fight it with all that I have."
Besides doctors, her husband was another reason behind her successful rehabilitation; he stood firm and stood by her side during the difficult times, providing her with all the mental support she required.
He affirmed that he had vowed to stay by her side until her death and was keeping up the vow that the couple exchanged during their marriage in 2006. Talking to The Dailymail back on November 2017, he expressed:
"When we made a pledge many years ago I said I'd love her in sickness and in health until death do us part. And that truth has really, really come alive in my mind. And I have to stand on that; I gave her an oath that I would love her forever. And thank God it's not till death do us part at this point."
Again, her husband has turned out to be the most inspiring and supportive person in her life as her battle with cancer has started again!
After her complete cure of the death thriving disease, cancer has again returned in Beth's life. Beth was rushed to the Cedars-Sinai Medical Center in Los Angeles after she found difficult to breathe overnight.
While undergoing the emergency surgery on 27 November 2018, the doctor found a large mass in her throat and confirmed that cancer has returned. During all the time, his husband of 30-years has been by her side, praying for the best.
News of their surgery came after nearly a year that the couple had announced that Beth was cancer free.
Moreover, her family and friends have great faith in her speedy recovery after seeing Beth continue to be "very strong, active and healthy."
Beth And Dog Today
Beth and her husband now live in the Oahu Island in Hawaii and enjoy their married life along with their two kids, a daughter, and a son.
Beth and Duane, who were earlier accused of abusing their grandchild by his father Travis Mimms and were fighting for the custody battle of the kid in 2011, have not much talked about the incident in the recent years. The boy has now grown up but is kept out of the spotlight and is assumed to be living a low-key life.
Discover:- Who Is Jack Monroe Partner? Engaged & Getting Married - Soon?
Further, Duane's daughter Lyssa Chapman, who had earlier falsely accused her father of raping her has also found the love of her life. Lyssa, a lesbian is currently in a committed relationship with a woman named Leiana.
The couple, despite not hugging the limelight, is active on Instagram and Beth's Instagram is embroidered with her happy moments with her husband Dog, her pet dogs, and her kids.
Beth Chapman wishes her husband on his 65th birthday (Photo: Beth Chapman's Instagram)
She was elected as the president of National Bail Bonds Association in 2016, a position she still occupies. And the wife and husband duo actively advocate their stance against the abolition of paid bail system.
See Also:- Carl Radke Dating At Age 32! Slaps Gay Accusation, In A Real Relationship
Similarly, Beth recently addressed the fear about her and her family's safety in the wake of Volcanic eruptions in Hawaii. Beth uploaded a photo on her Instagram detailing that the island they were residing in was not the one experiencing volcanic eruptions, drawing a collective sigh of relief from her well-wishers.
Beth and Duane also celebrated their first anniversary after she got diagnosed with cancer. The couple, who were married on 20 May 2006, enjoyed their 12th year anniversary and Beth even took to Instagram to mark their auspicious occasion where she wrote,
"We made it through another tough year. Looking forward to our anniversary."
Moreover, on 18 June 2018, she shared another Instagram post to wish her daughter, Cecily on her 25th birthday.
Keep Visiting to stay updated on the life of Beth Chapman!