An American Hip-Hop recording artist, Blueface gets best recognized for his signature off-beat style of rapping. Using his high-pitched vocal projections, he scored his first hit with 2018 gang anthem "Respect My Crypn."
The Bay Area rapper gained further traction with the release of the chart-topping single "Thotiana." By January 2019, "Thotiana" had peaked to number 9 on the Billboard Hot 100.
After rising to prominence, Blueface earned co-signs from his peers as well as predecessors. Everyone from E-40, Ice Cube to Kendrick Lamar and Drake went on a record and professed reverence for his music.
Bio - Real Name, Age & Parents
Blueface was born on the 20th of January 1997 in Los Angeles, California with the real name Jonathan Porter.
Rap Artist You May Know:- Slim Jesus Dead Or Alive Dilemma; Rapper's Real Name & Actual Net Worth
His stage name is a homage to his gang affiliation. So are his tattoos. A Crip by admission, the "Freak B*tch" rapper - now age 22 - waves the blue rag to the fullest.
Whether his biological parents were active gang affiliates, nobody knows. Mainly because he refrains from sharing details about his family life, be it during interviews or through social media posts.
Height & High School
Admittedly, Blueface stumbled into the art of rapping. Music was never his priority while growing up.
During his time at Tahquitz High School, he excelled in football as the team's star quarter. His 6 feet and 4 inches (1.93 m) height proved a great help.
Following graduation though, he played college football at Fayetteville State University for a few months - only to make his return to home and work at an office supply store.
Rapper Blueface's Net Worth/Concert
The return back to Los Angeles proved timely. Within months, under the tutelage of local rapper TeeCee4800, Blueface began recording music.
All thanks to his heavily inked body and undeniable star quality, the athlete-turned-rap star scored numerous viral hits, using his unconventional cadence, flows, and inflictions.
Fellow West Coast Rapper:- Snow Tha Product Bio, Lesbian, Net Worth, Family
By the time Blueface became a household name in late 2018, he had signed a record deal with Cash Money West. His debut album - per reports - scheduled to drop under the very imprint made several the most anticipated projects of 2019 lists.
In 2019, via a press release, concert promoters announced that the "Next Big Thing" rapper would make appearances on numerous concerts including Made In America, Roots Picnic and Slumped Fest.
No doubt that the show money should help grow Blueface's already burgeoning net worth.
Dating & Girlfriends Talks
During his late 2018 press run, the "Deadlocs" hitmaker spoke about his complicated dating life. Though refraining from naming his girlfriends, he explicitly proclaimed that he would no longer engage in sexual interaction with the fans.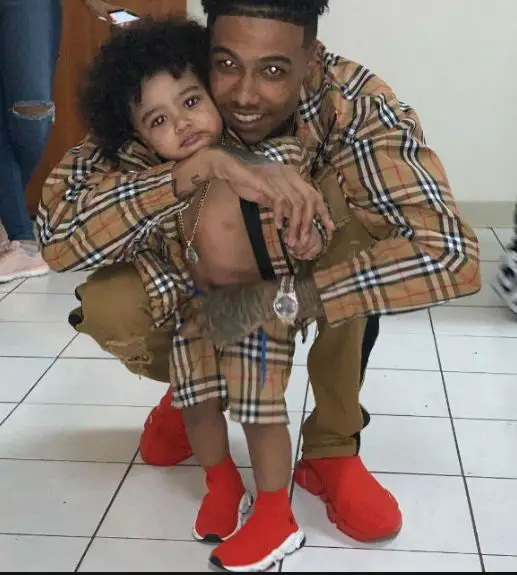 Rapper Blueface hugs his son from behind circa 2019 (Photo:- Bossip.com)
Neither dating nor search for a girlfriend tops his priority list. Per his interviews, his sole focus was raising his son Javaughn with his baby mother, a working woman.
Arrested In 2018 & 2019
At the height of his popularity, in November 2018, Blueface got arrested for firing gunshots against a robber.
Another Problematic Musician:- YNW Melly [Rapper] Charged, Friends, Age, Killing
Barely four months after the first arrest, he got caught once again for possessing a loaded, unregistered gun. Per expert opinion, the Cash Money West artist could see almost three years in jail time for the felony.