Entertainment
Where Is Cathy Guetta Now After Divorce With Music Mogul David Guetta?
While Senegalese socialite, Cathy Guetta brought home much of her fame as the wife of the French DJ David Guetta, she also had major of her legal troubles from her marriage with David.
After being married for more than two decades, the couple ended their married life but troubles just kept on coming. The couple's divorce was not as simple as imagined, and even turned nasty when it came to asset division.
The king and queen of the dance-music scene ended up moving their separate ways and as of now, Cathy has moved on for she found her own adventure.
"Nasty" Divorce With Husband David Guetta; Still Close With Son
Cathy Guetta, former nightclub manager, first met her ex-husband in 1990. After being together for about two years, the pair exchanged the wedding vows in a wedding ceremony. The duo was the "perfect couple" doing dance-music scenes, producing records and hosting parties together in Ibiza, Miami, and beyond.
Don't Miss: Edgar Hansen Keeping Wife and Family On The Low Side? A Man Only Prioritizing Professional Life!
The couple even celebrated their 20th marriage anniversary with a huge raging party in Ibiza in 2012. The pair shared two children namely Tim and Angie.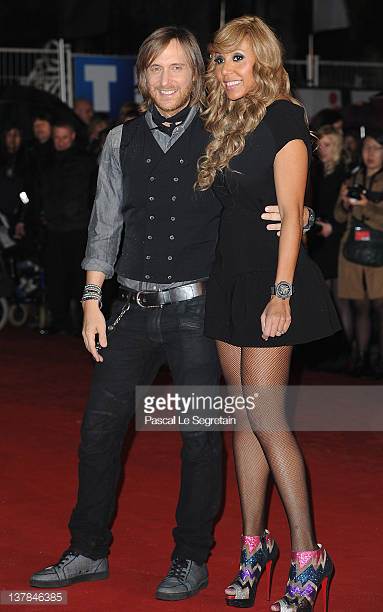 Cathy Guetta with David Guetta at NRJ Music Awards in 2012. (Photo: gettyimages.com)
However, after two years of marriage, the divorce news surfaced the media. In March 2014, their split was finalized in a Parisian court. Their divorce got nasty when it came to dividing their assets.
A source at Page Six spilled the beans of their divorce. According to the source, Cathy owned all the business name along with various music and popular compilation albums. The source revealed saying,
"Cathy owns all of the business names, and the music [rights], [including] their 'F—k Me I'm Famous' brand" of dance parties and popular compilation albums.
During the time, their divorce finalization process tore the relationship more apart as it went sour while dicing assets. Adding to it, another source at Page Six revealed that Cathy took 50% of David's worth. The source said,
"She's taking a lot of his money. He's worth $30 million, she'll probably take $15 million of that."
Well, as per the source, she did deserve she took, given that she collaborated for the most part of her lives. For 22 years of being married, Cathy helped David grow into an international music sensation.
A source close to David revealed that Cathy, who has a net worth of $2 million, played an important part in business calling her the"business mogul." The source said,
"He's the rock star, but she's the business mogul."
Well, indeed even though the divorce at first seemed dreadful, Cathy did deserve some fraction of David's worth.
You may also like: Leslie Mann Drops All Family Secrets With Husband & Children! 20 Years Marriage Looks Great
Well, despite the couple got separated, David is still close with his son, Elvis Guetta, who lives with his mother Cathy. He recently went on shopping with his firstborn on his birthday. Father and son went on a supreme birthday shopping while spending quality time together.
Status In 2018; Entrepreneur As Restaurant Owner
After going through a troublesome divorce, Cathy has found a peace of mind for herself. As of now, she is busy doing what she loves. She recently opened her first beach restaurant in Ibiza, Bikini by Cathy Guetta.
Her restaurant, BIKINI by Cathy Guetta is situated on a sandy beach in Talamanca Bay while the restaurant faces a translucent water. The place is a pleasure for yatch owners who are much interested in anchoring in a quiet place. The restaurant opens 9 months a year from Easter to January.
The beach restaurant is something that grew out from her experiences through her travels in Los Angeles and Plam Springs. The restaurant reflects her passion of the 50's as she creates postmodern vintage decorations.
See Also: Newlyweds! Model Hayley Roberts Age 38, Married To Fiancé Of 2 Years David Hasselhoff, 66
The restaurant's alley manifests her childhood dreams which are lined wih a hundred oversized pink flamingos to access the beach.
Apart from the resturant, Cathy is collaborating with GangStar Ibiza in organizing unforgettable performances joined by high-profile celebrities. Her guests include some top name from the various field including well-known football players such as Kylian Mbappé, Oliver Giroud, Dele Alli and few more.
Adding to it, she even featured in a Paris match magazine along with her son Elvis. She pays special thanks to Ghislain Loustalot for the beautiful words while appreciating the work.