Entertainment
Tales' Star Chet Hanks Revealed He has a Daughter, But With WIfe or Girlfriend?
Chet Hanks revealed he has a daughter. This is just something so jolly we needed to make our day even brighter.
Welcoming a baby is always a joy; as Perez Hilton once said, babies are a bridge, a blessing that helps people bond and come together. For Chat Hank, the son of famous actor Tom Hanks, it is the same, but fans want more.
As soon as the news hit of him having a daughter, fans were delighted but seconds later, scratching heads, the fans began asking, with whom exactly? Well, that's what we will be answering today.
Secretly Married?
So, let's set the bars straight. Chet Hanks cannot be married because if he were, Tom would have made a buzz in the Hollywood. So, the actor, who has also thrown some rap over the years, is not married.
Getting to the obvious conclusion, Chet welcomed his daughter with his girlfriend. You might be thinking with his dating affair with Hazel E. Well, sorry to say, but it isn't either how he welcomed his little daughter in April 2016.
Chet became a father for the first time after a drug filled steamy bed session with a woman named Tiffany.
Quite surprisingly right?
Chet has a pretty nasty history of drug addiction and has also accumulated a report filled with troubles.
Late last year in 2016, Tom Hanks and wife Rita Wilson became grandparents for the third time, when their son Chet revealed had a daughter he never knew from his one night stand with Tiffany, who was neither his girlfriend nor someone with who he was romantically linked.
Regardless the fact of the one-night stand, Chet and all of the Hanks family is in love with the baby and have pledged to look after Chet's baby daughter. According to an insider,
'They've fallen in love with the little girl. They adore that baby and even spent Halloween with her. She will always be loved and taken care of by the Hanks family.'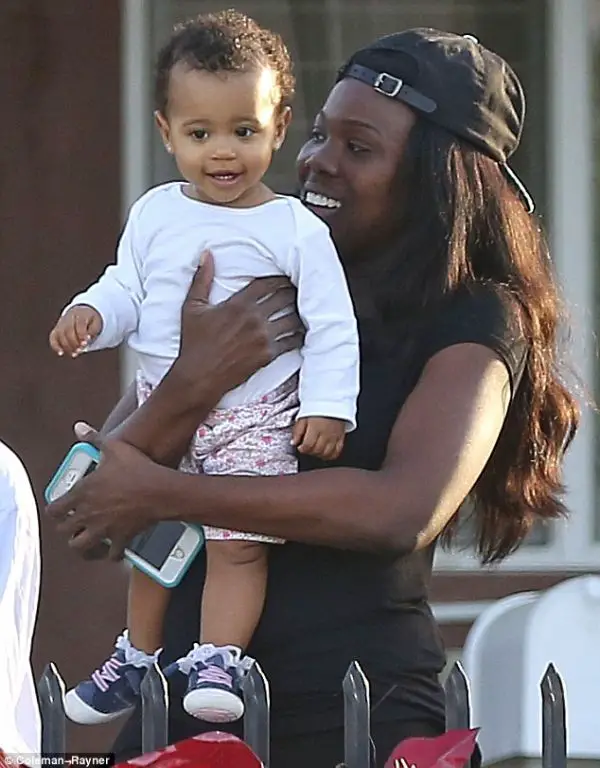 Caption: Chet Hanks' daughter with Mother Tiffany. (2016)
Photo Credit: Daily Mail
The actor took the news in a video to his Instagram that has since been deleted. He said in the video,
"I want to share something today because it's about to be shared anyway in the press, which is the fact that I have a daughter. I do have a daughter, she's the best thing that's ever happened to me, she's the reason why I turned my life around and got sober. I've been sober for over a year and a half from everything. "She's not something to be posted. She's something that I love, that's changed my life but the fact is she's about to be shared with everybody so I wanted you to hear it from me."
The low-key rap sensation is receiving all the help he can get from his Oscar winning father, as Tom is helping Chet with his financial expenses including his rent of $2,800 for his Santa Monica home, as well as financially looking after Chet's daughter, whose full custody lies with the mother.
Troubles Fade After Daughter Came
Like mentioned earlier, Chet has a pretty nasty habit of doing things out of order and the star has also got himself into drugs that further got him in troubles and his parents as well.
In mid-2016, Chet caused a car accident, while allegedly being under the influence. However, as he was driving his parent's car, the victim, whose name is Terry Morgan sued them.
Terry claimed that Chet was under the influence of drugs or alcohol and was driving recklessly that caused the accident resulting in more damage to Chet, as he suffered a whiplash and a brain injury.
Well now, his days of receiving medication for drugs addiction now seems to see the dawn, all thanks to his daughter.
After revealing that he has a daughter, Chet also took the liberty to address that his daughter is the reason for him turning sober and changing his life around. The 27 years old said,
'She's the best thing that's ever happened to me. She's the reason why I turned my life around and got sober. I've been sober for over a year and a half from everything.'

Chet also bashed the internet and media for taking the baby into a bad perception and said that the woman who gave him his daughter is the nicest person he met so far.
Really sad how the media has to portray the mother of my child in such a crass way. She is one of the nicest people I know...

— Chester M. Hanks (@CHETHAZE) December 8, 2016
It's really frustrating that the media can just lie and say whatever they want about people that don't have a voice to defend themselves

— Chester M. Hanks (@CHETHAZE) December 8, 2016
I'm just thankful that my daughter has such a great mom.

— Chester M. Hanks (@CHETHAZE) December 8, 2016
Chet is now revolving around all the mistakes he made over the year. From his substance abuse to public defamation- the actor has come clean since his exit from rehab and welcoming a daughter has only helped him doing so.
'I'm a real person. It hasn't been easy making all my mistakes in public but I'm figuring it out. I'm doing the best that I can.'
Chet, as discussed, is sober at the moment and can be seen appearing in TV series Tales.
Chet Hanks Wiki
Chet Hanks was born on August 4, 1990, in Los Angeles, USA. The actor is known for his work in Fantastic Four, Project X, Indiana Jones and the Kingdom of the Crystal Skull.
Chet is also known from his rap stage name Chet Haze and has produced music called 'Juice' with Chill and Do it Better. Even with all the criticism, Chet Hanks has managed to muster a net worth of $3 million.
Stay with us for the emerging updates on Chet Hanks!