Entertainment
Chloe Ferry And Her Bizarre Relationship With Boyfriend Which Creates Nothing But Problems; Splurging On Surgery?
Very few people are blessed with understanding, caring and loving partner in a relationship while the rest undergo through a strange relationship with endless problems and emotionally draining issues. The New Castle star, Chole Ferry faced the somewhat similar problem in her relationship which allowed her to remain in the story for her endless boyfriend problems and nasty relationship outcomes.
Is the existence of jeopardy in her love life due to her adamant nature or is she into any surgery before giving out serious commitment?
Series Of Nastiness In Love Life, What Made Her Face It?
Recently, Geordie Shore had a face to face meeting with her ex-beau Marty McKenna at a night club in the late days of January 2017. The paparazzi caught the entire scene of Chole and Marty into the heated argument where right before the argument Marty was spotted pointing a middle finger and swearing while Chole was seen fuming.
Caption: On the reunion of the star cast of "Geordie Shore" show Chole gets pissed with Marty (2017).
Photo Credit: ok.co.uk
The pair had met on the "Geordie Shore" in 2016, but in the late month of December 2016, Marty called Chloe a fat girl. Chole responded to the angriness, getting pretty emotional and disclosed about never getting back to the man even in a million years. To ok.co.uk she said:
"How f*****g dare he? He knows how much I like him. For him to call me that is disgusting. Me and Marty were quite bad this series, it's probably made me realise I could never go back there again. It was very bad. He's a very nasty boy, put it that way. He puts you down a lot and makes you feel very self-conscious and stuff, but I'm glad it's happened because he's made me realise I'd never want to go back there again because he made us feel dead low. I'd never go back there again in a million years."
Previously, in the same show, Chole Ferry had revealed about her ongoing relationship with her new beau DJ Sam Scott through her intimated picture with the man on Snap Chat. The linkup right after the revelation got spanked by the ex-beau of Sam, Clara Moore who stated about dating Sam since past six years and were even partying together till two days before the picture got viral.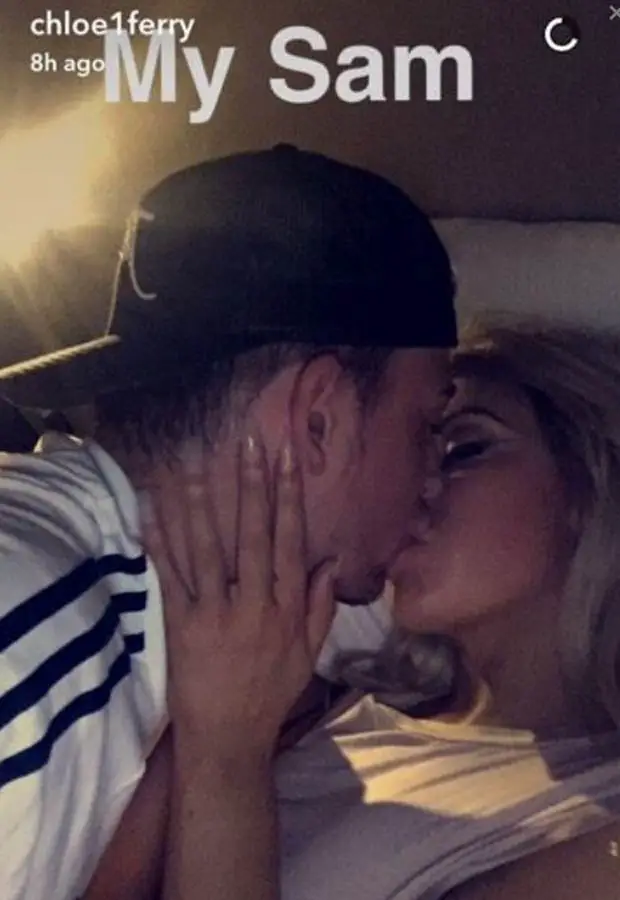 Caption: Chloe and Sam desirely lips locking (2016).
Photo Credit: dailystar.co.uk
Moor had disclosed about her spilled through tweets on her Twitter account which was later kept private.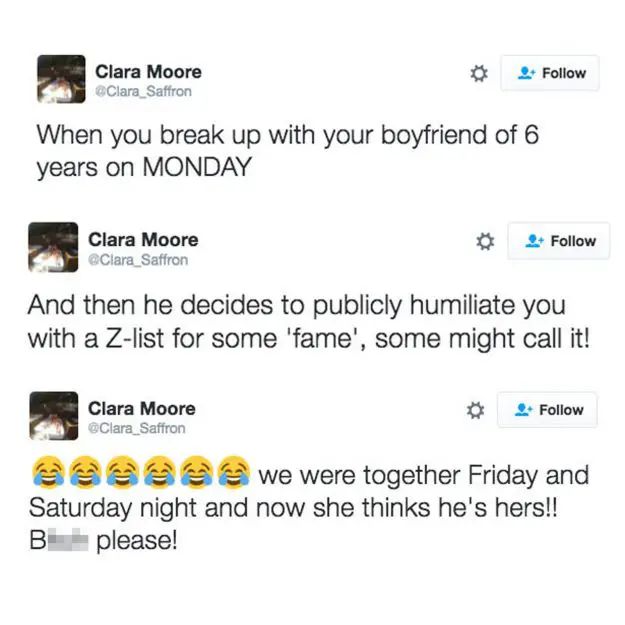 Caption: Clara Moore leaves no stone unturned to spank Chloe Ferry for Sam Scott (2016)
Photo Credit: ok.co.uk
Right after the tweets, Clare had posted another Snap Chat story with her beau on the bed, captioning it as morning with the further addition of caption as "You can't sit with us b***h."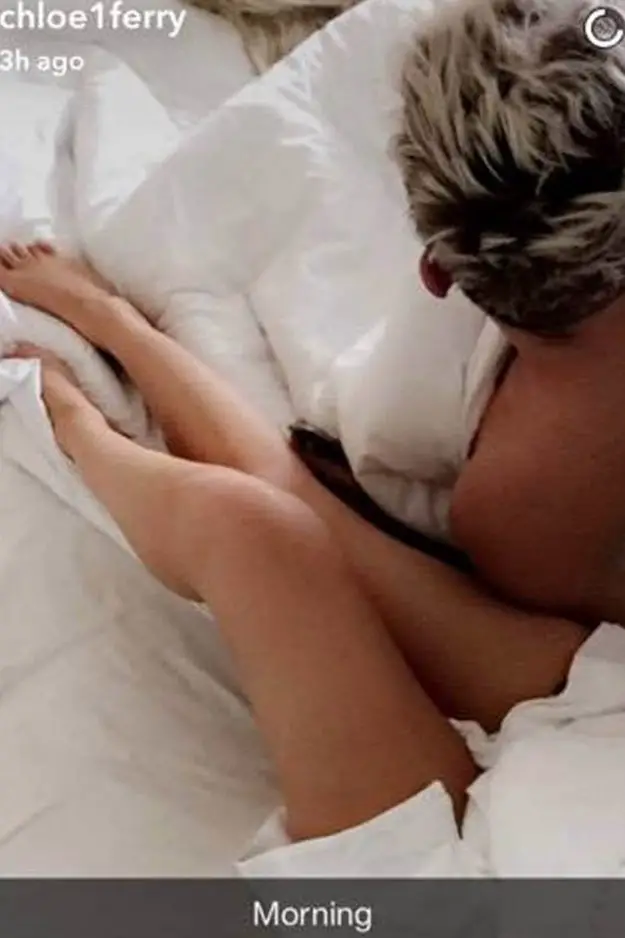 Caption: Chloe replies with a Snap Chat story to Clara (2016).
Photo Credit: ok.co.uk
Similarly, she got also surrounded with the gossip of sleeping with her ex-boyfriend of Kyle Christie. The story got disclosed by a cast member Gary 'Gaz' and Chantelle Connelly when taking a taxi ride from the night out in the Geordie Show. The spokesperson revealed about hitting on with Kyle's ex during her entire stay in Australia.
Followingly, in the MTV show, Geordie Shore(2014) Chole shared an intimated relationship with Charlotte Crosby, where she along with Crosby go ahead for the one night stand together.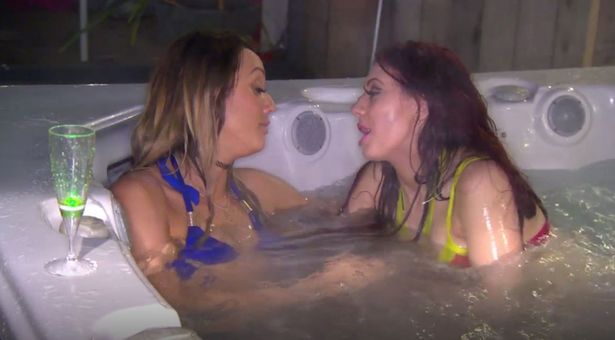 Caption: The steaming intimated picture of Charlotte and Chole in Geordie Shor (2014).
Photo Credit:mirror.co.uk
The controversy pointed the Ferry sexuality to be bi-sexual which was later termed as the drunk events through mirror.co.uk she said:
"What could possibly top this night? I know, lesbian sex with Chloe. So me and Chloe are in the double bed and this is perfectly acceptable. I share a bed with Holly every single night. But we're naked, it's hot in here. Now we're kissing. This is strange. Chloe's slipping to the bottom of the bed."
With so much of ups and down in her relationship life, we are pretty sure that Chloe has an atrocious impression on her relationship due to her gossips and spat with her men. We are confident with so many scars and fluctuation in her life she would not mingle with any people till she finds a perfect partner or has she found one but maybe in no mood to reveal one? Till the lady disclose it on her social media, we assume her to be in no relationship with any man till date.
Surgery Followed By Weight Loss
With the revelation of her love towards the cosmetic surgery Chloe has completely renovated her facial part through it. She recently underwent through her nose job followed by eyebrow lift, veneers, botox, tattooed eyebrows, lips fillers and dermal cheek fillers. Despite having changed the entire facial features, she has committed not to touch her boobs and butt and has shared her story about her cosmetic surgery through her snap chats.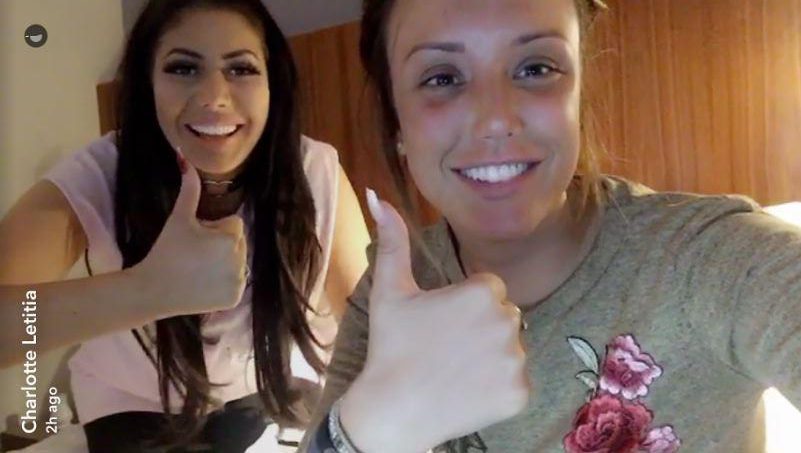 Caption: The recent nose job of Chloe Ferry; while she poses with her brand new nose (2016).
Photo Credit:thesun.co.uk
Chloe when scrolling through her past pictures seems to have shredded her weight which has allowed her to forecast her height and body figure in a more proper manner.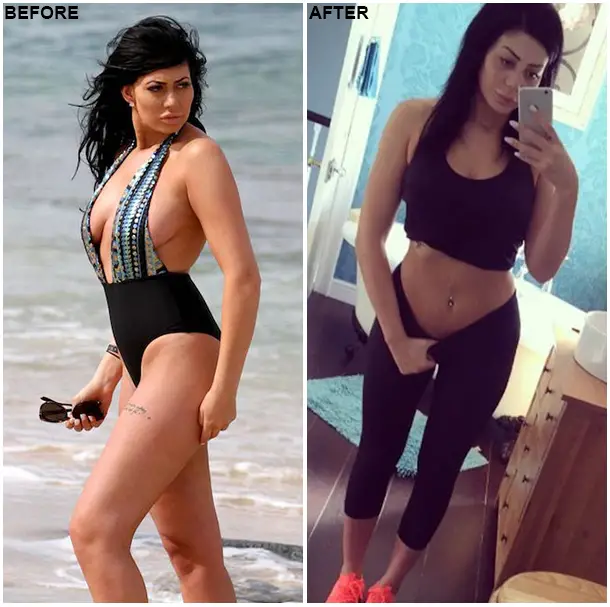 Caption: The weight loss(left) adapted by Chole for getting the curvy figure.
Photo Credit: Liverampup.com
In spite of getting involved in several controversy and cosmetic surgeries, Chloe has never missed a chance to accumulate fan followers and has gathered million of fan followers through her outspoken behavior and her enchanting face.