Entertainment
Christian Laettner Talks About Having More Kids With Wife But Are They Still Together Or Went Through Divorce?
Former star NBA player Christian Laettner is best known for his buzzer beater which earned him a name and hates in an ample form. Name for his heroics for the Dukes and hatred from the Kentucky fans.
But today, we are going to see a different side of Laettner as we look what is his personal life like and what is his life as a father and a husband like. Also, there is news of him and his wife getting divorced. Are they still together or are they separated? Let us find out!
Laettner Talks about His Kids and Fatherhood:
Having been there and done that when it comes to his career, he is now enjoying his life as a father of his kids with his wife Lisa Laettner, who he has been married for a long run.
Becoming a successful father is always a challenge and it seems that he enjoys his time with his children and becoming the father of them. Laettner has two daughters, Summer and Sophie Laettner and one son named Tor Laettner who he adores plenty. In an interview back in 2014, when asked what are some of the morals he looks to instill in his children as they grow up, he answered,
Well it is very challenging. I will tell you that. In today's day and age it is very challenging. I have three healthy and beautiful children. Sophie is 17. Summer is 15. My son, Tor is eight years old. I want to have open lines of communication, trust, and honesty. They are at an age now where you don't want them to fear you. You know there is going to be a little teen fight back.
He then added,
You want them to listen. You want them to be honest and truthful. So that is what we are working on the most right now. It is very challenging, but it is a lot of fun. I love it. I love being a father. I'm kicking myself that we don't have more kids. I still tell my wife that we can have more. She doesn't think so. I think we are done. It is awesome. It is a big challenge and I like challenges.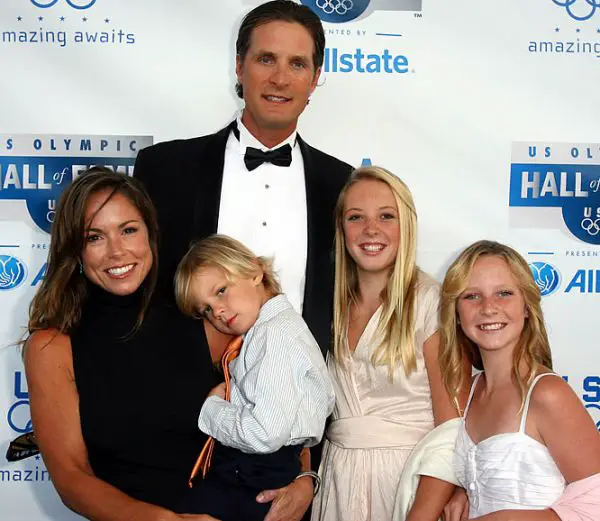 Caption: A perfect family picture of Christian Laettner with his wife and children.
Photo Credit: lifeofdad.com
Hmmmm...we can have more? That's exciting.
Furthermore, when asked what are some of the traits that his kids get from him, he said,
Well I can have a sarcastic tongue at times. When they throw it out at us I am like that is definitely from me. They have heard it from me too much. So then you tell yourself that you can't do that so much in front of them. Then a day later you are doing it again in front of them. Then you know why they do it.
Moreover, the family is very fond of dancing and playing music together and when asked about that very thing, he said,
I don't dance with them, but I play music with them. I am really into music. I am a little attached to the Smashing Pumpkins. We really like Radiohead. We play Radiohead together. I play guitar and my girls sing. I play the piano too. We have done the Adele song on the piano. So we are heavily involved into music.
Good to know that the family enjoys their time together.
Are Laettner and His Wife going To Get Divorced?
While some sources claim that having been living a happy family life, Lisa Laettner had previously filed for a divorce with her husband back in August 2015. The reason is not yet made public and even the news is yet to be confirmed by either party which is why the rumor is limited to rumor till then.
Also, the fact that he is a married man with kids, the gay rumors that surround him get thrown out of the window.
Born on August 17, 1969, in Angola, New York, United States, Christian Laettner is a former NBA star best known for breaking hearts of Kentucky fans during the 1992 Eastern finals with a buzzer beater.
He, would later on, get drafted by Minnesota Timberwolves which would pave the path for him to go on and play for 6 different teams across 13 seasons in the NBA. Having played for various teams in the cash-rich NBA, he has been able to accumulate as estimated net worth of $20 million.