Entertainment
Cindy Busby's Dating With Loving Boyfriend: Makes Dinner While She is At Work
Don't we all wish that we find someone who'd love us despite our differences and our busy schedules? We don't know about you guys, but actress Cindy Busby is one lucky lady when it comes to dating.
Being an actress, we all know that you have so many responsibilities. You have to travel different places, and you won't be able to see or talk to your loved ones for a long time. But in Cindy's case, her long-time boyfriend makes sure that his girl gets all the love she deserves.
Cindy Busby's Loving Boyfriend:
While Cindy is busy filming different shows, her boyfriend apparently loves surprising her by cooking dinner for her. Isn't that the cutest thing ever? And she shared about her boyfriend's cute gesture through Twitter on October 26, 2012.
We know that the Vampire Diaries star is so much in love because she can't stop gushing about her beau. In an interview with Crave magazine, when asked about her present state of mind, she replied,
"Successful, happy and in love."
A lover of yoga, Cindy also loves cooking in her free times. She says her cooking is one of the reasons which appealed to her boyfriend. Quite a talent, don't you think?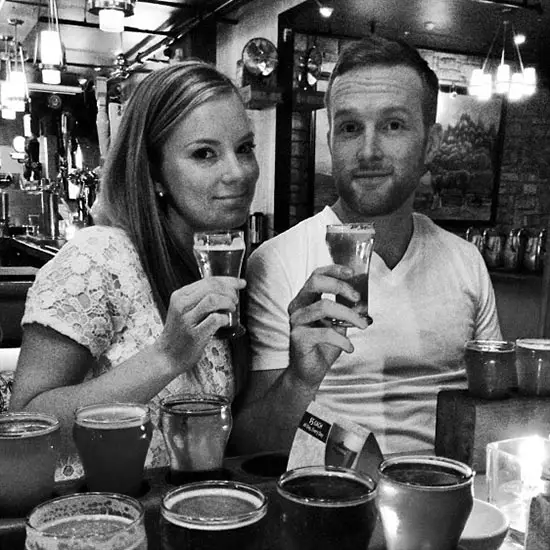 Caption: Cindy Busby enjoying drinks with her boyfriend.
Photo Credit: tumblr.com
The busy schedule of both the couple keeps them apart quite a lot. And it feels good to know that they still have so much love for each other, despite the distance. In an interview with Zap2it.com, Cindy revealed when asked who do you text the most, that it was her boyfriend she texts the most since she has to be out of town most of the time.
"I definitely text my boyfriend the most. It's the best way to keep in touch whenever I'm out of town, which is pretty often. We just like to send each other sweet little messages and updates on our day. We both have Blackberrys so we can instantly message each other from anywhere."
Cindy and her boyfriend have been dating for quite a long time now. But unfortunately, we don't have any news of the two getting married anytime soon since she doesn't really share much about her boyfriend. Maybe because of her budding career, she is not ready to turn her boyfriend into her husband yet. But we know that her boyfriend is a musician from this tweet she shared through Twitter on October 9, 2011.
Cindy shared an airport incident with her boyfriend through Twitter on May 14, 2015, which reflected their lovely relationship.
Me at airport security: COME ON let's go!
boyfriend: babe, relax it's national security.
Me: Well I need a coffee! That's national security!

— Cindy Busby (@cindy_busby) May 14, 2015
Recently, Cindy's boyfriend shared a picture via Instagram on April 24, 2017, where they are on a mountain with snow along with an interesting caption,
"When your boyfriend doesn't want to ask for directions..."
The caption suggests that with time their relationship is growing even stronger and are enjoying each others company a lot.
Back in 2009, Cindy has portrayed a lesbian character in "American Pie Presents: The Book of Love" with utmost conviction that, she is mistaken to be a lesbian in real life too. But Cindy has her boyfriend to fend such rumors.
We hope that the lovely couple enjoys years of togetherness in each others company and who knows, maybe the news of the engagement followed by a wedding is on the way!