Entertainment
CNN's Soledad O'Brien, Mix Ethnicity, Speaks About Her Interracial Married Life, Husband?
Whether it's in a novel, films or real life, we have heard that love is blind. Love sees neither race nor gender. Everything is fair in love and war, isn't it?
Let's meet CNN's Soledad O'Brien. Today we will be talking about her and her parent's interracial married life. O'Brien was born to an interracial couple in 1996.
Interracial Marriage of Her Parents:
Soledad O'Brien was born to an Australian father Edward Ephram O'Brien and a Cuban mother, Estela Lucrecia.Edward and Estela met each other at Johns Hopkins University in Baltimore in 1958.
Her father, Edward would ask her mother every day if she would like a ride to home. Her answer would be no every day but once she accepted his proposal, and this is how they started dating each other. At that time, interracial marriage was illegal in Maryland.
No one would serve an interracial couple in a restaurant, so her mom had to take her father back to her apartment.
As it was illegal for someone white to marry someone black in Maryland, they drove to Washington, D.C., got married and came back to Baltimore. In the year 1967, the U.S. Supreme Court capsized the ban against interracial marriage where her parents had been married for almost ten years.
It was illegal for my parents (an interracial couple) to get married until a Supreme Court ruling in 1967. Soooo... https://t.co/8Zbf9U00gS

— Soledad O'Brien (@soledadobrien) April 3, 2016
My parents (unable to legally wed in Maryland) wed in DC and had 6 kids by the time Supreme Court overturned ban. https://t.co/ttADg9rGGS

— Soledad O'Brien (@soledadobrien) July 4, 2016
Her Married Life, Husband and Children:
Born with mixed ethnicity, Soledad O'Brien also enjoys an interracial married life. She got married to Brad Raymond in the year 1995. Her white husband, Raymond, is an investment banker. She is a proud mother of four kids; Sofia Elizabeth (2000), Cecilia (2002); Twins, Charlie, and Jackson (2004).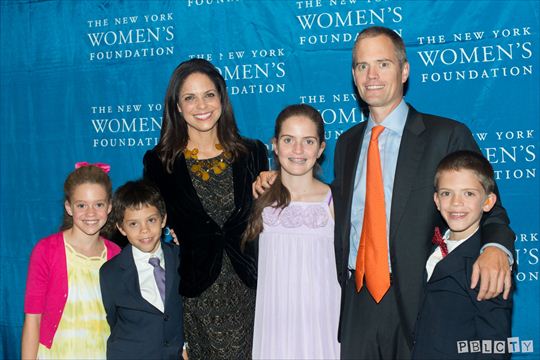 Caption: Soledad with her family.
Source: pblcty.com
Soledad O'Brien as a mother:
When Soledad was asked what's the best part of your day? By goodhousekeeping, she said-
Coming home, when everybody says, "Mom! Mom's home!" — almost with a look like they thought maybe you weren't coming back.
She was again asked; What's the hardest part of being a working mom?
Her reply was-
The logistics — getting kids to school, having the right thing in their backpack on the right day, playdates, homework. And also the logistics of my job, which requires a lot of travel. Matching up those logistics is hard.
In one of the interviews in 2015, Soledad was asked- What's your biggest challenge as a mother?
Her reply was-
You know, it's so much fun. Honestly, the challenge about being a mom is when something goes wrong — someone's sick, getting someone to doctor's appointments. You know, it just becomes a little chaotic. But you know, 99 percent of the time, being a mom is just a lot of fun! Especially with the age. My kids are 11, 11, 13 and 14 — it's such a fabulous age. They're interesting little people.
Having dropped 4 kids at pre k over the years, here's what I've learned: happy (and fulfilled) mom, happy everyone https://t.co/gNpyfMGQ3x

— Soledad O'Brien (@soledadobrien) June 20, 2016
Soledad O'Brien Says It Like She Means It:
Chairman of Starfish Media Group, Soledad is best known as the television anchor of CNN, HBO, and Al Jazeera America. O'Brien, who began her career as a news writer and an associate producer at WBZ-TV, has been able to earn an honorary Doctorate of Letters from Stony Brook University in 2016.
She has also won several Emmy Awards for the coverage of "Kids on Race", Haiti earthquake and 2012 election. She is a graduate of Harvard University.