Entertainment
Cole Hamels' Career Stats Are Stronger Than Ever; All That Even After A Massive Trade and An Oblique Injury
The prolonged history of MLB has given some of the best pitchers like Walter Johnson, Nolan Ryan (a former Guinness World Record Holder), Bob Feller and Randy Johnson.
While these are only a few names which initially strike our head, some other players are on the verge of creating the history, and one of such pitchers is an American professional player, Cole Hamels.
Pitching a ball at a velocity of 90+ miles per hour, Cole has managed to decorate his baseball career stats with significant numbers and is approaching towards a successful tenure. Moreover, he never fails to make an epochal presence when he is on a baseball diamond.
So today, let's take a peek at the career of this aspiring sportsperson along with his family life!
A Plenitude Of Knowledge On The Strong Career Stats Of Cole:
Cole Hamels got drafted on June 24, 2002, by Philadelphia Phillies in the very first round as the seventeenth pick. But it was only in the year 2006, he got called up to the team and then debuted on May 12 playing against the Cincinnati Reds.
He finished his first rookie season with the Phillies making a 4.08 earned run average with 145 strikeouts in 132.1 innings playing 23 matches. He also had to face an awful time the same season, because he was part of the 15-day disabled list as he had suffered a shoulder injury.
Cole remained in contract with the Phillies until 2015 and earned 3.30 ERA with 1844 strikeouts in his decade long tenure with the team.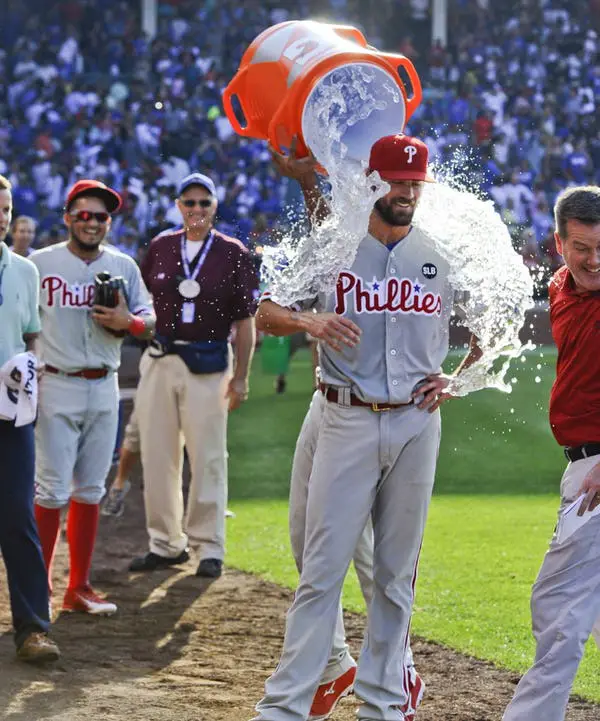 Caption: Cole gets doused by his team-mate after pitching a no-hitter against Chicago Cubs on July 25, 2025.
Photo Credit: sportsday.dallasnews.com
Cole then began playing for Texas Rangers after the Phillies traded him along with Jake Diekman to the Texas for Matt Harrison, Nick Williams, Jorge Alfaro, Jake Thompson, Alec Asher and Jerad Eickhoff.
With the Texas, Cole went 7-1 in 12 starts with a 3.66 ERA and 78 strikeouts. He is continuing with the Texas and has pitched in 62 matches till today recording a 3.56 ERA and 350 strikeouts in his 399 innings.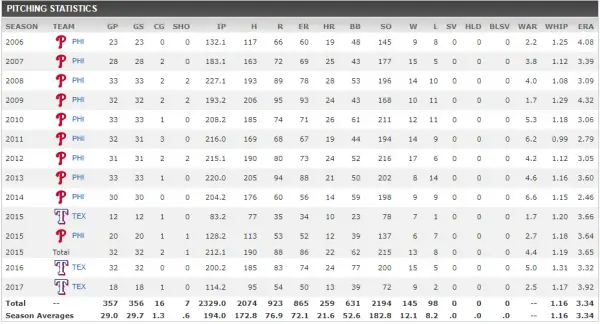 Caption: Pitching statistics of Cole as per ESPN.
Stat Credit: espn.com
Cole is in a 7-year/$159 million contract with the Texas until 2018 and is in a process to earn a grand amount of $23.5 million in 2017.
The year 2017 has been a tougher year for Cole from the very beginning. He suffered right oblique tightness in May and previously had trouble with strained right oblique at the end of April, because of which he also got listed on the 10-Day disabled list.
However, this year has also brought some good news for Cole, as he got recently nominated for 2017 Roberto Clemente Award. He is now a part of the 30 Club nominees for the annual award for the second straight year.
Talking about the family life of Cole, he is the spouse of Heidi Strobel, a former contestant on CBS "Survivor" and the son of Gary and Amanda Hamels. He shares three children with his wife and resides in Dallas, Texas.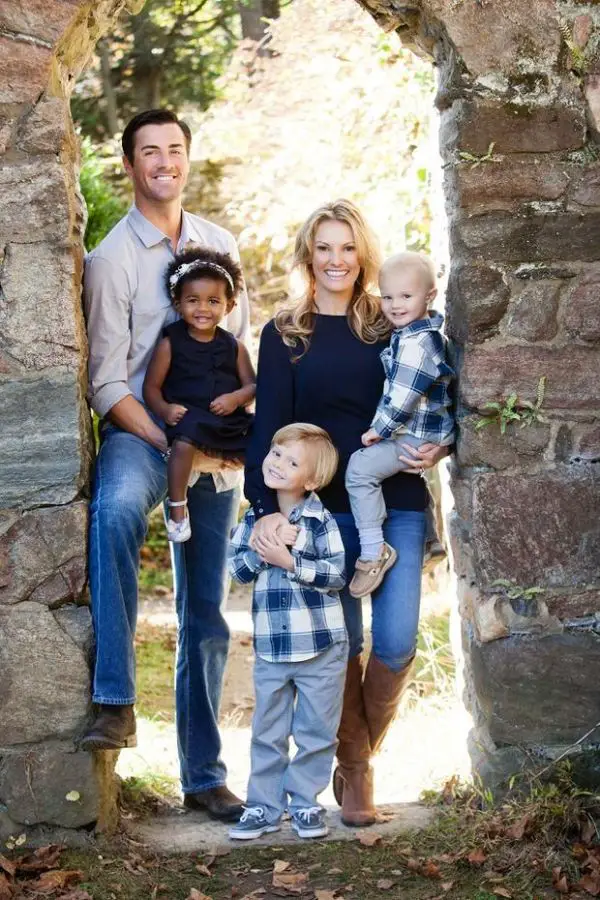 Caption: Cole with his beautiful family which includes his wife and three children.
Photo Credit: nbcdfw.com
The two sons of Cole are Caleb Michael and Braxton Hamels, and his daughter is Reeve Hamels. The couple adopted the daughter on a Christmas Eve, who is indeed an Ethiopian.
Stay with us for the emerging updates on Cole Hamel!