Entertainment
Cynthia Frelund Bio: Hottest NFL Reporter's Salary To Married Status
National Football League's (NFL) on-air analytics expert Cynthia Frelund embodies the phrase "eye-candy." Ever since she made a pivot from ESPN to the NFL network, her fan following seems to have seen a surge, mainly because the NFL network has much concentrated male viewers than any other sports.
The fact that she doesn't let the viewers into the details of her intimate life seem to work very well for her. In her male admirers' minds, Cynthia is up for grabs - with no husband and married life to show for it.
Outside of romantic life, she has held a pretty successful career on TV with impressive net worth and salary to boast.
Without further ado, let's dig into Cynthia's bio to get acquainted with the NFL reporter's professional as well as personal life!
NFL's Very Own Cynthia Frelund's Bio including Age, Salary & Net Worth
Before diving right into Cynthia's exertions at the NFL network, it's imperative to take a detour of her orthodox education background.
Other Cynthia In Our Vault:- Cynthia Scurtis Engaged After Expensive Divorce With Ex-Husband? Unsettled Married Life Talks
Unlike many of her collegues at the NFL network, she didn't attend any journalism classes in college. As absurd as it sounds, her choice of the subject during her time at Boston College - Cynthia graduated with Bachelors of Science (Biology) - doesn't remotely co-relate with what she does today for a living.
It wasn't until she graduated from Northwestern University in Masters of Science (Predictive Analytics), a career in sports analytics came into the picture. Just when family and friends began to suspect that Cynthia may have found her true calling, she surprised them all by enrolling in the MBA programme offered by Northwestern University.
Before she forayed into the world of predictive analytics via ESPN in early 2015, Cynthia, age 39, tried her hands at a handful of vocations. Between 2005 to May 2016, she worked as a Certified Pilates & Group Fitness Instructor. Similarly, she served as a Business Development Manager working for Disney ABC Television Group.
In August of 2016, the NFL network announced Cynthia as its newest Predictive Analyst Expert. She famously briefed her job description as:
"I would describe what I do as using analytics and combining that with information I gather from watching films, talking to people around the NFL and former players I work with to come up ways to help fans see the game through a different lens."
Her input at the NFL network is as valuable as it comes, ask Mike Muriano, NFL Media's executive producer for confirmation. In 2018, he told Freep:
"I like to describe Cynthia as a differentiator when it comes to helping viewers see things in a greater context and our goal is making what she offers as appointment viewing."
Today, in addition to appearing across all NFL Media platforms, she makes regular appearances on NFL Fantasy Live on every weekday and NFL GameDay Morning on Sundays. Likewise, she also co-hosts the Game Theory and Money Podcast alongside Matt Smith.
See Also:- Kelly Holmes: See if She is Secretly Married or a Gay/Lesbian, Partner?
For her excursions, the NFL network reportedly pays an excess of $90 thousand in salary and incentives. Her soaring income is likely to contribute massively to her ever-so-increasing net worth.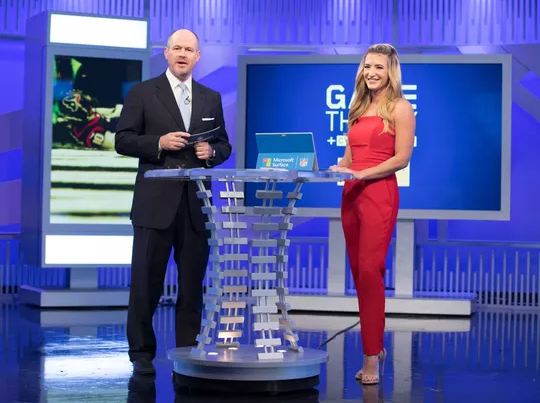 Cynthia clad in red on the NFL network show GameDay Morning alongside Rich Eisen (Photo:- Freep.com)
Nobody could be more proud of Cynthia's achievements than her parents. Born on 24th August 1979 in Okemos Michigan, the 39-year-old is one of those celebrities who comes off as a family person without leaving zero traces of married life, never mind a husband.
Awaiting Married Life; Wannabe Husbands In Abundance
When the NFL network acquired her services, fans branded the Michigan native as one of the most sought-after bachelorettes.
Back when she was still working for ESPN, Cynthia used to create similar commotions among the Sportscenter viewership, so much so that her fans would approach her with the idea of being her fake husband. A Twitter user, who runs by @7MinutesNKevin, wrote:
"You know how people use men and women for money? I wanna be your fake husband so I can get fantasy tips haha!"
Another Twitter user named Parker seemed befuddled with the NFL reporter's beauty and intellect prowess as he wrote:
"Damn. you're hot! and you're into Fantasy DFS? What a dream. Your husband/boyfriend hit the jackpot! He doesn't need to win at DFS."
Safe to say, there's no shortage of potential husbands lining up to ask her hand for marriage. So. if there's anything her wannabe husband can learn from her Instagram is the fact that she holds her father in high regard.
Discover:- Kehlani, Age 23, Confirmed Pregnant! Baby Daddy, Queer & Right In Front
And then there's Cynthia mom, who's as equally important to her as her father.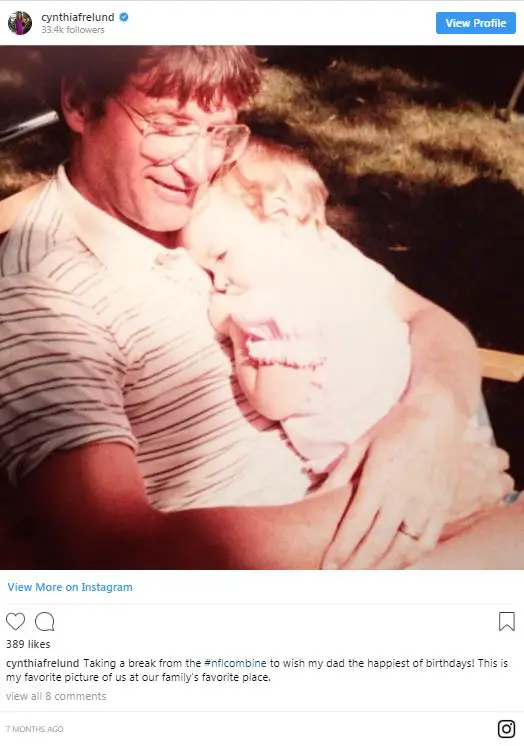 Cynthia wishes her dad a happy birthday on Instagram (Photo:- Cynthia Frelund's Instagram)
All in all, the former ESPN personality's future husband has a daunting task ahead of her. Not only he has to win over Cynthia's heart, but he also will have to woo her parents.