Entertainment
Darrell "Delite" Allamby, Divorced his Actress Wife: Tamar Braxton in 2003, Girlfriend and Dating? Also Wiki and Bio
Very few people get the blessing of sustaining their marriage till the end while fewer people are lucky one's who choose the correct life partner. But for Darrell"Delite" Allamby the wedding turned out to be a complete mess which turned to a dreadful marriage.
So, today let's learn about the personal issue and the current relationship status of Darrell along with his past marriage experience.
His Married Life and Ex-Wife:
Darrell "Delite" Allamby got married in the year 2001 with Tamar Braxton. The duo met while Allamby worked on her 2000 debut on the album tracks "Money Can't Buy Me Love" and "Once Again."
The marriage could only last for about two years, and on 7th February 2003, the duo broke their marriage with a bitter end.
As published by Daily Mail UK on 16th January 2015, Tamar Braxton has opened about her marriage with Darrell. She has mentioned about how God has saved her from abusive marriage which had broken her down mentally and physically. She said:
"God really saved me from myself, because I was with the wrong person, and when I was with the wrong person, it made me feel bad about who I was, and because of that, he used to beat me down, mentally and physically. It was just a really hard time for me."
While her sister was bold enough to dictate some of the statements on behalf of Darrell:
"The only reason why he got away with it then is because I did not know who I was, and I could not make the right decisions for myself because I didn't know where to go."
While ending the statement Tamar Braxton said:
'That's why I like to encourage all young ladies — I say it during my shows, I'm gonna say it here — get to know you.'
Tamar Braxton explains about self-esteem and abusive relationship in "Girl Talk" event posted on9th September 2013:
Caption: Tamar Braxton Cries While Talking About Abusive Past & Self-Esteem Issues posted on September 9, 2013.
After, coming out of her horrible relation with Darrell, Tamar then started to date Vincent Herbert who is also a record producer, record executive and founder of Streamline Records. They two met up through her sister and started to date in the year 2003 and later married on 2008.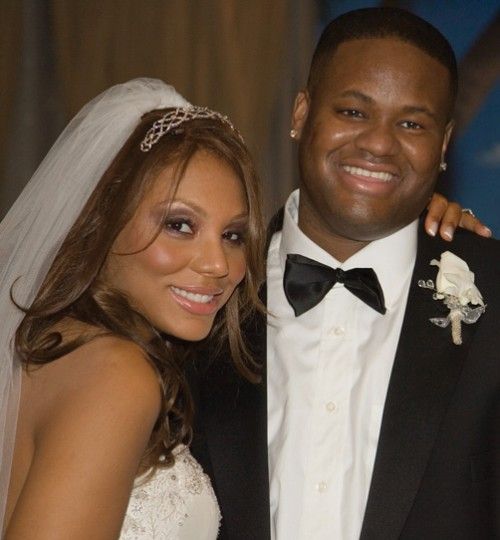 Caption: Tamar Braxton and husband Vince-Herbert on their wedding on 2008.
Source: pinterest.com
Girlfriend and Dating?
Well, as for his current girlfriend no clue has been obtained. The composer has kept his love life quiet low after his divorce. Therefore, the composer may be in a relationship or may not. Thus, we must wait patiently for him to announce his relationship status officially.
Did he enter into the stage of fatherhood while in marriage?
As posted by Heavy.com on 23rd October 2014, Darrell was accused by women named Cherie Covington for being a deadbeat father having kids in Atlanta and Newyork. The music composer has never spoken a word about the accusation nor has he bothered to clear the issue.
However, a woman named Toshira who claimed herself to be the sister of the music composer has tried to remove the accusation by stating him to be a father of four kids including a daughter named Sky and declined him to be a deadbeat father having kids all over the places. She said:
"This is funny. I've been sitting on this news for about 10 years. Delite is my brother and out of respect, I wasn't going to put him and Tamar's business out like that. he is not at all a deadbeat dad and him doesn't have kids all over the world.He actually has custody of his 4 kids except for his oldest daughter. lol..its funny what people say."
As the composer is in the silence zone, it is impossible to get hold of the truth hidden behind the allegations. Thus, the indictment still lingers in the air. What can his fan followers do is just wait for him to speak the truth and quietly listen and enjoy his songs till he opens up.
And as of now, Darrell net worth has also not been mentioned officially which makes it clear that the composer wants to stay out of the limelight and any public attention.