Entertainment
DJ Qualls Still Not Ready To Get Married? Talks About Cancer Struggle And Weight Frequently
In life, you stumble upon many people, but you fall in love with a person whom you get married to. If the decision of marriage is taken in a hurry, then you have to lament in the future, so it's wise to decide upon marriage taking your own sweet time.
Sharing a similar story is actor DJ Qualls; but has he now stumbled upon the person who he can marry and share his cancer struggle and weight loss issue with? Let's find out.
Is DJ Qualls Ready To Get Married?
Dj Qualls has kept his personal life low-key, and very few details regarding his personal life have circulated in the media. In one of the rare occasion, Hollywood Life reportedly spotted DJ Qualls and Twilight actress Nikki Reed together at the launch party of Blackberry Torch in Los Angeles on August 11, 2010.
As per Hollywood Life, on the party night, Nikki was putting her hand in the back pocket of DJ's pants and rubbing his back. Also, DJ and Nikki briefly held hands together before parting.
Later in the evening, DJ and Nikki stayed close with each other chatting with Michelle Tractenberg and Rashida Jones, but acted casual in front of the people which sparked the possible dating affair. However, neither DJ nor Nikki came forward to comment on the incident reported.
In recent times DJ is careful about the details of his personal life and least information about his dating life with a girlfriend has circulated in the media. In his life, he could be romancing his girlfriend secretly, and his love life could be as colorful as you imagine, but he is yet to recognize his girlfriend in public. Moreover, he is yet to get married to have a wife and share a marital bliss in their private paradise.
On April 21, 2012, DJ mentioned about the production value of gay-themed movies in his tweet.
Possible unpopular observation: gay themed movies have the same production values as christian rock music. Isnt it ironic, dontcha think?

— DJ Qualls (@TheOnlyDJQualls) April 21, 2012
DJ Qualls Struggle With Cancer:
At the age of 14, DJ Qualls got diagnosed with Hodgkin's Disease- a cancer of lymphatic system which is a part of our immune system. After surgery and two years of chemotherapy DJ's cancer went into remission.
DJ Qualls is the survivor of the life-threatening disease cancer, and it's diagnosis, treatment and recovery left an imprint in his memory.
@BuzzFeedJack Its fine, Jack. It annoyed me, Im over it. Btw, I overcame a lot of shit to go to that school. I had stage 3 cancer, dude!

— DJ Qualls (@TheOnlyDJQualls) March 21, 2013
Once again on March 6, 2014, DJ shared about being a cancer survivor through Twitter.
Jim wrote this story without knowing that this same thing happened to me in real life. I had cancer as a kid and we got grouped with

— DJ Qualls (@TheOnlyDJQualls) March 6, 2014
Weight is a major problem in peoples' life; some are worried that they are overweight while some worry being underweight. DJ shares that he gained some weight after quitting smoking through Twitter on August 31, 2012.
I knew I gained some weight since I quit smoking. Got on a scale today... Ive gained 22lbs in 50 days! In a yr, I'll be on Biggest Loser

— DJ Qualls (@TheOnlyDJQualls) August 31, 2012
DJ Qualls is a skinny man and he tweets about being inspired to lose weight on March 5, 2013.
The Biggest Loser is choking me up. Im so inspired to lose weight right now!

— DJ Qualls (@TheOnlyDJQualls) March 5, 2013
Sister or Look Alike?
DJ's features are similar with the actress and comedian Lauren Lapkus, and they look like brother sister, and also a poll was conducted regarding the same. But it seems that they are look-alikes, not siblings in real life and DJ are Lauren are yet to comment on the similarity.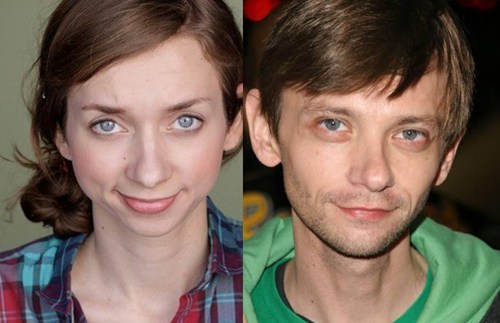 Caption: DJ Qualls looks like Lauren Lapkus, but they are not siblings in real life.
Photo Credit: cheeseburger.com
However DJ has a sister in real life, and with a tweet, on August 22, 2014, DJ mentions his sister and share a childhood picture, and he credits his sister for the memorable picture.
DJ Qualls prefers a privacy in his personal life and the moments of his love life remains safely hidden with him. But his fans wish that he acknowledges his girlfriend in public and even get married to lead a blissful married life ahead.
Stay with us for more updates on DJ Qualls!