Entertainment
Does Sarah Steele, Who Usually Keeps Low-Key About Her Dating Affair Has A Boyfriend?
In spite of working with male co-stars in several series, actress Sarah Steele has completely under cast her dating affairs with any of them. Is the primary reason for keeping the relationship low-key to exclude unwanted paparazzi and constant media stalking or is she still flaunting her singularity at the age of 28 years?
At present let's take the opportunity of getting hold of her relationship status followed by her weight loss rumor.
Engrossed In Finding A Perfect Match Or No Dates?
While working for the Broadway play "Russian Transport" in 2012, Sarah and Raviv Ullman met as on-screen siblings. With the previous time, the fling sparked between the on-screen siblings compelling them to remain in a relationship. On an interview with nytimes.com Sarah spoke about having a crush on her sibling She said:
"I had a crush on him for a long time. In the play, he was so much cooler than me, and so I thought he was way too cool for me in real life."
Though the proposing details got never spilled by Sarah, however, the relationship got confirmed when she was caught roaming with her Raviv around the Williamsburg Bridge.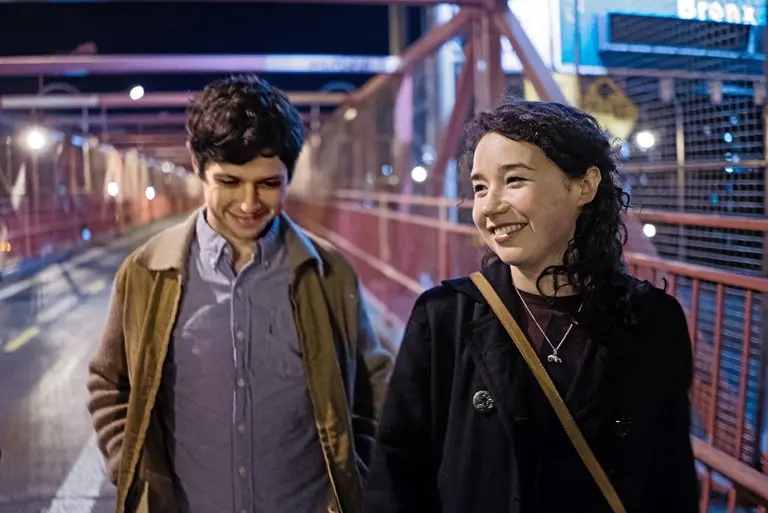 Caption: Raviv and Sarah spotted walking together at the Williamsburg Bridge (2015).
Photo Credit: nytimes.com
The relationship between Sarah and Raviv still exist as in valentine's day of 2017, Raviv has shared Sarah picture on Instagram.
Even though Sarah is out from the Instagram and has kept her love life within herself looks like Raviv is just the opposite of Sarah who leaves no stone unturned to flaunt his beautiful woman in public. As they say, opposite pole attracts, maybe due to the variation in the ideas and taste, the relationship is still alive and fresh. With no trace of break ups and violence in between, we can confidently say the couple is quite a pair.
Maybe in the later stage of her life when she feels her career got settled she would get engaged or married, or else she is waiting for Raviv to take an initiation and propose her with a sparkling solitaire in his hand? So, Raviv buckle up and get a Tiffany for your lady!
Rumored To Be Shredding Weight, How True?
When getting into the character of "Spanglish" in 2004, Sarah had played a role of a fat and unhappy daughter of Adam Sandler and Tea Leoni. During the period Sarah was compelled to add the weight of 15 to 17 pounds to fit in character and even put on a fat suit to get the perfect fatty look, she said:
"The whole thing was crazy for many reasons, one being that I was skinny, and I had to gain weight and wear a fat suit."
But after the ending of the movie and for her next assignments, she lost few kilos to remain in a perfect shape. Though Sarah has not revealed her weight loss journey but her perfectly shaped figure looks daunting and mind boggling.