Entertainment
Dr. Umar Johnson Bio: Age, Wife, School, Net Worth & Racial Talks
If anyone knows how to stir a controversy, it's Dr. Umar Johnson!
The self-proclaimed Prince of Pan-Africanism is one of the biggest names working for the betterment of school education among the African-American community today. His popularity is reflected in his social media followings. Despite not receiving the coveted blue check, the Philadelphia native has amassed over 77k fan following on Twitter.
Whether it's because of his anti-white rhetorics or the credibility of his Clinical Psychological degree, Umar, age 44, has been able to maintain his relevance for years now.
A closer look at his bio will reveal more!
Biography: A Life Marred With Controversies
Over the years, his name has become synonymous with controversy.
In his official website, his biography states that he's a paternal blood relative of Frederick Douglass and Bishop Alexander Wayman. The former's estate has repeatedly refuted Umar's claim.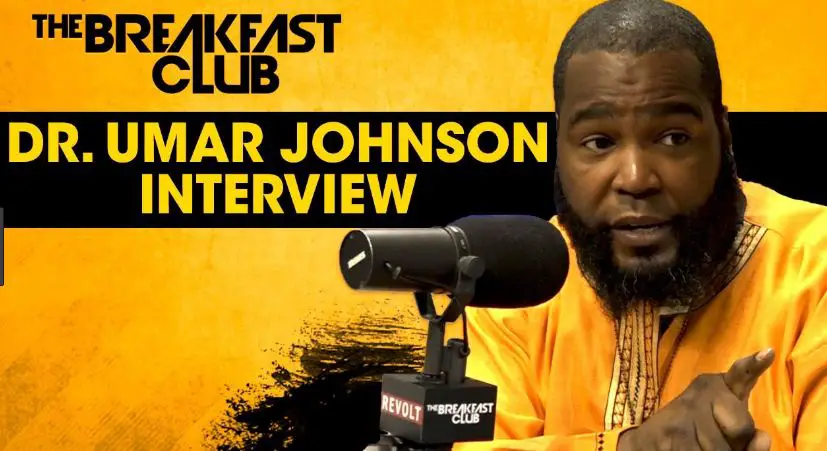 Dr. Umar Johnson on The Breakfast Club interview on Power 105.1 talks school, education and Frederick Douglass (Photo:- YouTube.com)
In 2016, the true descendants of Frederick released a statement which read:
"We can tell you with 100% certainty that he is not a descendant of Frederick Douglass."
Despite the controversies surrounding him and the Frederick estate, Umar looks confident that his latest project (a school) called The Frederick Douglass & Marcus Garvey RBG International Leadership Academy for boys will pan out great.
As for his family background, Umar was born on 21 August 1974 in North Central Philadelphia. He's the third child of eleven children(six boys and five girls).
As controversial as his origins are, his education credentials have managed to solicit ever bigger controversy. Umar, age 44, bills himself as a Doctor of Clinical Psychology and Certified School Psychologist. However, his credibility as a doctor has been a subject of scrutiny since his rise to fame.
Michael Harriot of The Root wrote a piece on Umar's credentials in July of 2017 insinuating that the latter's education was a make-believe, only to issue an apology a few days later. The Root journalist wrote:
"I did not have a vendetta against Johnson; nor am I now a Umar apologist."
It's easier to make enemies than friends when you don't conform to the societal norm -- an axiom fitting of Umar's personality.
Tweet On Wife: "Right Wife Will Come" After "Mission"
For Umar, Twitter is a platform to let out his thoughts ranging from anti-white rhetorics to a rumination on married life with wife and kids. The Philadelphia native's stern view on wife and marriage was on full display when he let out a tweet on 21 March 2017.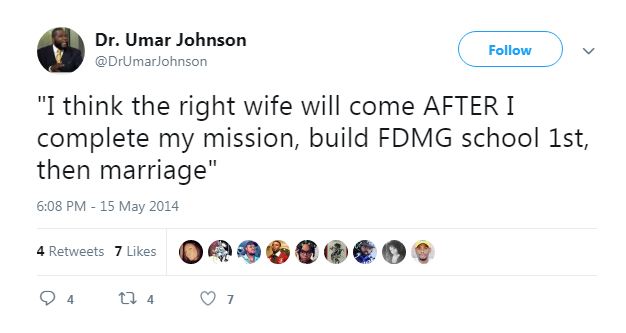 Dr. Umar ruminating on the right wife (Photo:- Dr. Umar Johnson's Twitter)
And there's this one time - back on 15 May 2014 - when he sent a tweet detailing his desire to have a wife. In a rare showcase of a softer side, he wrote:
"I think the right wife will come AFTER I complete my mission, build FDMG school 1st, then marriage."
Is it safe to assume that his "right wife" won't be a white one, given his anti-white ideology?
But for the time being, the published author looks focused piling his net worth from his public speaking gigs and sales from his latest book The Psycho-Academic War Against Black Boys.