Entertainment
Duff Goldman Is Not Gay But He Does Support Them! Has A Girlfriend To Get Married To Or Thinking About It?
The constitution of United States states that: "You have the right to choose and deny."
While the US constitution is renowned all over the world, a person questions the constitution's implementation and says that citizens have no right to classify the level of service based on a person's natural character.
The robust statement indeed came from a soft world of cake, and he's none other than Celebrity cake-maker and Ace of Cake star, Duff Goldman. Duff strongly supports the same-sex couple and always raises his voice for their rights. But does this mean that he also belongs to the gay side? If yes, has he been dating someone and is he looking to get married? Or, is just a heterosexual man looking for a wife?
Let's disclose the truth behind such quirky side of the artist.
Duff's Gay Marriage Issue And Wife's Expectations
In 2015, the veteran baker Duff Goldman and chef Art Smith volunteered an event for the purpose of cementing the importance of marriage equality in the US. The event was an effort to give a dream wedding to 101 gay couples. This event gave rise to a controversy and created a lot of flak for the baker.
You May Also Like:- Nathan Lee Graham, Gay Advocate Has Married Life Stories To Tell? 2018 Status
Duff accepted all the incoming criticisms with an open heart and didn't let them impact his stance. He always maintained his strong support for lesbian, gay, bisexual and transgender (LGBT) rights. In their support, he said:
"I really try to understand — what is it besides a religious belief that makes people think this is wrong? I really try to understand, I want someone to be able to explain to me how people getting married affects them. What does that do to them? How does it affect them financially? How does it affect them politically? How does it affect their life? I just have never ever heard an answer I believe."
Duff always experienced a painful feeling regarding the discrimination which he expressed as:
"There's no difference in telling someone you're not going to bake a cake for them because they're gay than there is telling them that they're not allowed to have a job because they're Irish, or that they have to use a different restroom because they're black. It makes no sense."
However, despite being a supporter of same-sex marriage, he is not gay himself and has even spoken to the media to clarify about it whenever he needed to. He is indeed planning to marry a woman rather than a man, but there seems a delay in the rise of a girlfriend in his life.
In reply to a question by a pastry chef and fangirl Meagan, Duff jokingly wished to have a cake-maker wife.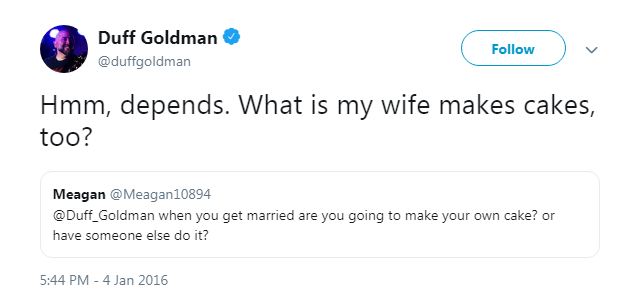 Duff Goldman talks of his future wife on 4 January 2016 (Photo: Duff Goldman's Twitter)
The Baker was single and not dating anyone, but still, he addressed the gay rumors, clarifying that he is indeed a straight man. And it seems like the wait for a wife is over for Duff as he recently proposed his girlfriend and is on the way to get married soon.
Surprise Proposal To Previously Non-Existent Girlfriend
Duff, who was assumed to be living a single life, surprised his fans when he decided to propose his girlfriend for marriage in April 2018. As many were unaware that Duff had been dating writer Johnna Colbry, his proposal was obviously out of the blue for his followers.
See Also:- Sam Role & Fiance Welcome Baby; Post Pregnant Bliss Of New Parents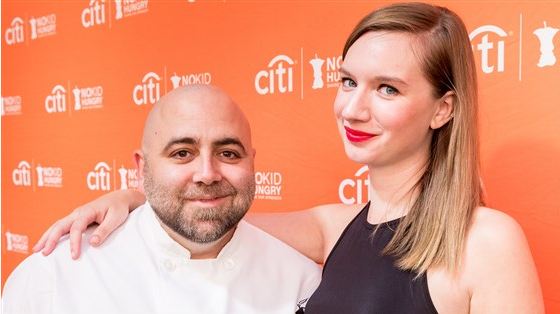 Duff Goldman attends an event with his girlfriend, Johnna Colbry (Photo: GettyImages)
On 3rd April 2018, Duff shared an Instagram post mentioning that he had proposed his girlfriend with a fake ring and even apologized for not bringing a real ring. Further, he also expressed words of praise for Johnna and his excitement in her acceptance.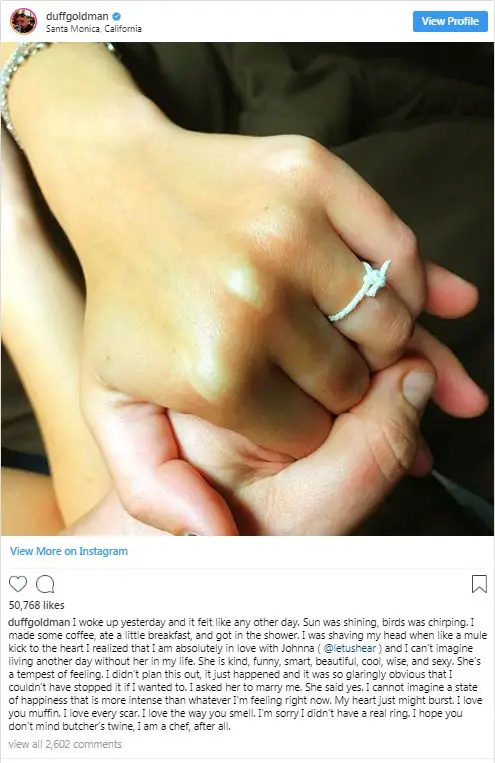 Duff mentions the news of his engagement on 3 April 2018 (Photo: Duff Goldman's Instagram)
Although engaged, Duff and his fiance have not disclosed the plans and the date for their wedding. But, the wedding could be happening soon and if the guests will be lucky enough, they could taste the wedding cake prepared by the celebrity cake-maker.
Undergo More About Duff Goldman:
Duff Goldman, who is a cake specialist, his bio includes culinary and laundry. As per his education, he completed his graduation from the University of Maryland, Baltimore Country with the degrees in history and philosophy.
He then went to Culinary Institute of America at Greystone for his further studies. He also got involved in different jobs before he established himself as a chef and has worked at several culinary destinations like The French Laundry, the Vail Cascade Hotel and Todd English's Olives before moving to Baltimore in 2000.
Don't Miss:- "Gold Rush" Star Rick Ness' Growing Net Worth & Tattoos, Both Exceptional!
The established Baker is now a great cake-maker, whose cakes are famous in the international arena too. Duff takes his job much seriously, but he has also managed to get a tattoo on his body in the year 2015.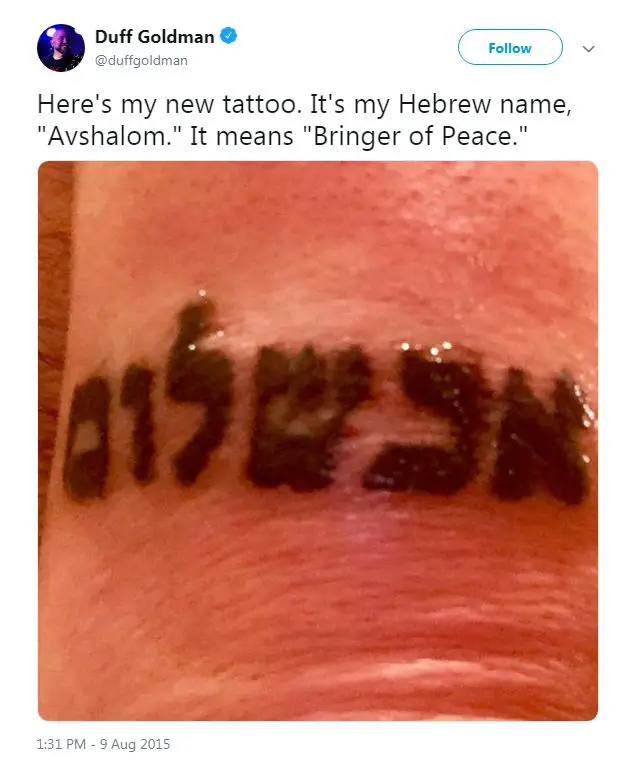 Duff flaunts his tattoo on 9 August 2015 (Photo: Duff Goldman's Twitter)
Duff stands 6 feet tall from the ground and still, we see only a single tattoo with Hebrew literals in a person with such recognizable height.
Stay with us for the emerging updates on Duff Goldman!