Entertainment
Elise Neal Reveals Dating Affair; Will Flaunt Boyfriend Or Husband At Will Or After Getting Married?
Everyone has their way to present their relationship. It depends on how you want to flaunt it through social media or just want to remain tight-lipped. Well! The choice is yours.
But what's the view of American actress Elise Neal? Will she be flaunting her love or will reveal her love life after getting married? Let's see what she will be doing when she falls in love!
Elise Neal talks about her dating life:
Elise Neal, an actress of African-American ethnicity, has been linked up few known face of the industry. She has not spoken about her relationships openly but never denied that either.
While talking to "I Love Old School" on 2016, she revealed how she would be coming out about her relationship. She divulged,
"I have vowed that if I am married or there's date already on marriage then you will see that person on social media."
But on the show, Elise had also mentioned the rules that she will be following before going out on a date when she proclaimed,
"If it is in the hemisphere, I would love him to be the close to the same age."
Caption: Elise Neals rules for the Boyfriend. (Published on November 10, 2016)
Well, boys, those are the rules to follow if you have the thoughts of dating the beautiful Elise.
Coming back to the topic, she is planning to reveal the name of her boyfriend when he will turn out to be husband with whom she will have kids. But as of now, the relationship status of the actress is possibly single as per the indications Elise provides.
Going down the memory lane, this Tennessee native actress was romantically involved with rapper Rick Ross in early 2011. The pair was seen together in several visible dates, but the dating rumor just ended after Ross was spotted with another woman in the same year.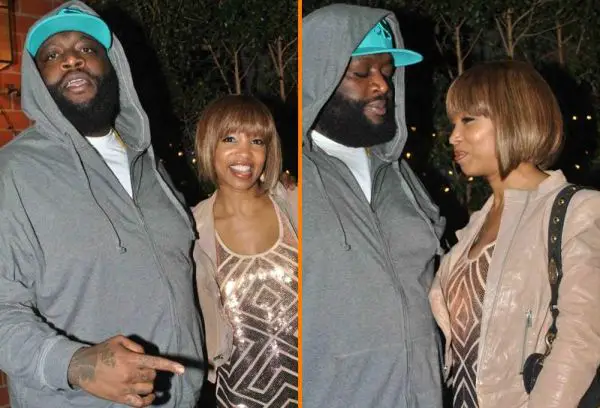 Caption: Elise Neal once dated rapper Rick Ross in early 2011.
Photo Credit: allhiphop.com
After splitting from Elise Neal, the rapper dated few of the beauties from the industry and for now, he is speculated to be dating the reality star, Deelishis.
On the other side, Elise Neal was also seen going out with other faces of the industry which includes the rapper, 50 cent and American director, F. Gary Gary.
Well! We just like to wish the talented actress to have a blissful life ahead and hopefully; she will soon find her other half sometime soon!