Entertainment
Ella Eyre Dating With Drummer Boyfriend: Don't Brag About Their Relationship in Social Media
When people find a perfect life partner, they would usually want to climb to the top of the world and yell it out. But Ella Eyre wanted it differently. She never brags about her relationship on social media, as she takes them to be some "Cheap publicity stunt". Let's discover more about it.
Drummer Boyfriend:
However, Ella Eyre is currently dating Rixton drummer Lewi Morgan. Talking about her relation with her boyfriend,Eyre said:
"I think it's easier than it would be with someone who doesn't quite understand the lifestyle we have to lead. He tours a lot; I tour a lot."
"I think there would be a lot more issues if I were with someone who didn't quite understand how it works.", she added.
Don't want to cash in on her relationship:
Being a style icon, singer Eyre follows the latest fashion trends but avoids the trends of bragging about love affairs in public. She might not be interested in publicizing her love affairs in front of public. Talking about her relationship bothers her. Eyre is in no mood to cash in her relationship by speaking about it on the Social Media.
She added: "I'm just not one for bragging about it on social media. I've grown really tired of hearing about people's relationships every five seconds because it makes them an extra buck.
The couple kept their relationship secret in their first interview claiming that Lewi is her tour manager rather than a boyfriend. It seems the pair loved to keep their blissful relation between them only.
The only thing that the couple revealed about their relationship is their first encounter.
"We met in an alleyway in Manchester!".-Lewi
Although the couple rarely put their relationship as a showoff, they are often captured together by their fans.
Ella Eyre and Boyfriend spotted at London Fashion Week
Most recently, Ella and her boyfriend, Lewi showed up together at Jasper Conran's London Fashion Week show in Soho in February 2016. The couple looked glamorous together, and onlookers commented how well they suited each other.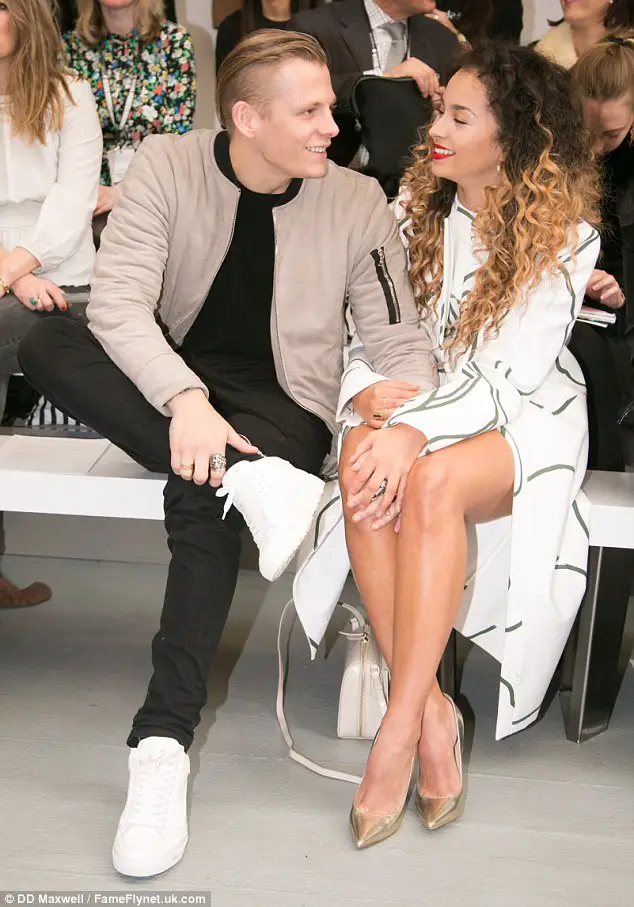 Caption: Ella Eyre with boyfriend, Lewi Morgan.
Source: dailymail.uk
A Short Bio: Ella Eyre
Born on April 1st, 1994, Ella Eyre is an English singer and a songwriter. She attended musical theater at Millfield School and BRIT school. Ella Eyre is best known for her collaborations with Rudimental one single "Waiting All Night." She also won the British Award 2014. S
he was awarded Best Female at the MOBO awards 2015 and 2014 British awards for the category of British single singer of the year for the song 'Waiting all night'. She is continuing her career as a UK vocalist and a songwriter and is regarded as a prime choice as a singer by multiple Electronic music artists.