Entertainment
Mixed Ethnicity Actress Pam Grier: Did She ever Get Married? Lesbian Rumors?
For the modern people, media is the source of truth and-and in this busy era people tend to believe whatever they read in the magazine or on the internet. However, things get out of control at times because of so many false rumors and hoax that surround the lives of many celebrities. Most of these rumors are or were based on their private life; especially on their partners, affairs, and sexual orientation! It is kind of similar story with the actress we are writing about, Pam Grier.
Did She Ever Walk Down The Aisle?
Pam Grier is a revolutionary actress, who has made a legacy in her 45 years career as an actress. Most of her roles in movies were unique because of the style and appearance she possesses. For example, we can look at her sultry and bold characters on stage, based on stories of Crime, Drama, and Blaxploitation.
However, it is kind of shocking to learn that this iconic woman is not married, even at the age of 67 years old and sadly, Pam stays mum about the reason.
In her past, she had loads of relationships, and there was a time when she got engaged. In April of 1998, Pam revealed to Jet on 13th April 1998 about her engagement to Kevin Evans and her plans to have babies.
However, her engagement couldn't take another step; which was getting married and the couple called it quits the following year, failing to become husband and wife. Her engagement and plans to have babies was not the only thing she revealed with Jet as she also had a chat about her death-defying experience with cancer.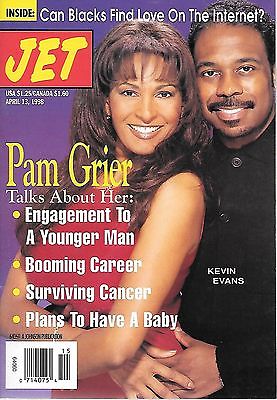 Caption: News of Pam and Charle's engagement in JET magazine, 1998
Photo Credit: Jet-Magazine
Pam failed to specify the cancer type but recalled that the doctors only gave her only 18 months of time with her life. Fortunately, Pam recovered from cancer but still is unknown to what contributed to her cure other that medical assistance. She said,
'I'm human and there was a great chance that I wouldn't be here. It just wasn't my time. There are a lot of strong people who don't make it. You just don't know. You're lucky if you can think hour-to-hour, day-to-day and plan for the next week I think myself as a strong person."
Both Pam and Kevin did not bother to reveal the reason for their split, but even after Pam's hopes of marrying and having children with Kevin were crushed, it did not stop her from continuing her career. She appeared in a couple of Lesbian roles, which is very much popular and appreciated amongst her fans.
I've been telling my coming out story a lot lately which is always fun b/c it includes @PamGrier's lesbian character in Ghosts Of Mars.

— Tom Temprano (@tomtemprano) July 15, 2012
Dating life that crushes lesbian rumors:
As every good thing has its consequences, some people were and still are blindfolded by the character Pam played on-screen and forgot the fact that TV roles and real life are completely different and we can prove that by the examining the rumors of Pam being a real-life lesbian.
If you look at her dating history with men, the rumors have no grounds to stand on. Pam has dated many well-known figures in Hollywood, who never said anything to raise suspicion towards her sexual orientation.
Apart from Kevin Evans, Pam dated Late actor Freddie Prinze, and Pam was together for a brief between 1973 and 1974. She revealed that Freddie wanted her to have his baby.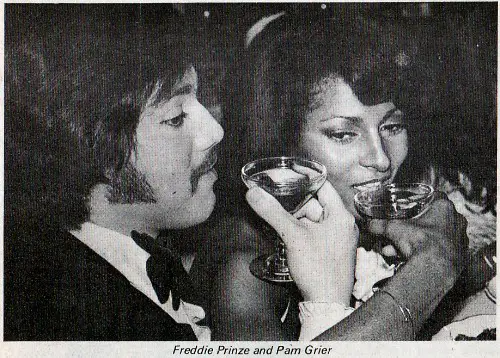 Caption: Pam Grier with Freddie Prinze.
Photo Credit: dathistoryguy.com
Next to that comes Richard Pryor in 1976. However, the relationship ended in the same year after Pam could not take Richard's cocaine addiction and had it enough after Pam discovered cocaine residues in her body.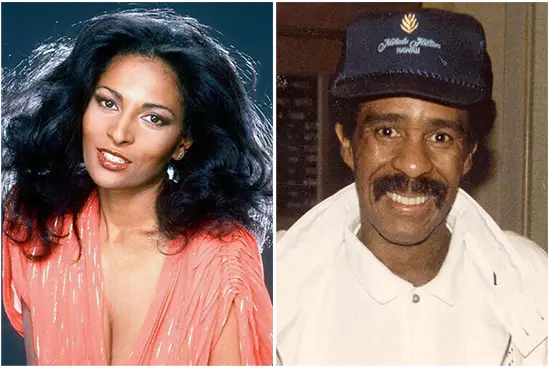 Caption: Pam Grier (left), Richard Pryor (right).
Pam also dated Kareem Abdul-Jabbar both of them were college lovers and dated while they were in college. However, the exact date of the birth of their romance is missing. Both Kareem and Pam did not mention the reason for the split, but Pam did mention that Kareem wanted her to convert her to Islam.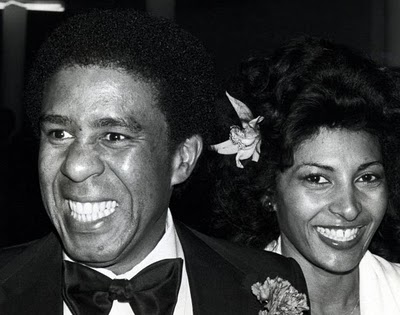 Caption: Pam Grier with school lover Richard Pryor.
Photo Credit: squarespace.com
Last but not the least is with Peter Hempel whom she dated for about eight years. There is no information available about Peter, and he is only known for being the boyfriend of Pam Grier. In 2014, Pam addressed a rumor regarding her boyfriend and cleared up about it in twitter.
@MsExecSuite5787 No, not my boyfriend, but a respected, Married, father, Veterinarian pilot that believes and cares for animals. An angel.

— Pam Grier Ph.D (@PamGrier) April 11, 2014
However, still, her fans can't disagree with the fact that even at this age and time, she still has got that sex appeal that most women dream of having.
I'm watching Foxy Brown on #NITV in Sydney. So 70s. Fully pimped and fabulous. @PamGrier is super hot! Great lesbian #barfight! ????????????

— ????Nicki Woodlock???? (@supachicnic) July 7, 2016
Pamela Grier's short bio:
Pamela Suzette Grier, professionally known as Pam Grier came from a black ethnicity American actress and was born in North Carolina in 1949. She is a daughter and one of four children to her nurse mother Gwendolyn Sylvia and her father Clarence Ransom Grier, Jr., a sergeant in the U.S Air Force.
She pursued acting as her career from a very young age although it was only during the 70s that she rose to popularity. Having played in over 50 different movies and many other TV shows, her net worth value of 10 million dollars apparently reflects her successful career.
Her last and most recent work were in TV movie 'Cleaveland Abduction' in 2015 as Carla. She currently has Rose and Grandmothers Murder Club (2017) in post production.