Entertainment
Family Goals! A Look At Fearne Cotton's Intimate Wedding That Granted A Husband Who Supports In Every Situation & Beautiful Children
BBC Radio 1 star Fearne Cotton is one of those celebrities who has allowed us to read her personal life like an open book. Her harmonious life is something that one wishes to have in their real life. And her blissful married life with her husband is something that every couple wishes to have.
The pair sure is a relationship goal in today's world of breakups and makeups as they have been together as a couple for almost a decade. Not only are they happily married couple but also proud parents to their kids.
Well, Cotton shares a loving family with her supportive husband of years.
Exchanged Wedding Vows With Husband In A Private Ceremony
Fearne Cotton, who recently released her children's book Hungry Babies, is married to her long-time partner Jesse Wood, who is British musician known for his talent in playing guitar.
The couple first met back in 2011 and dated for three years before exchanging the wedding vows. They got engaged in 2013 and finally decided to commit through marriage a year after their engagement.
Read Also: Fiona Bruce Children & Regrets; Married Actress On Family Limiting Her
Fearne and Jesse tied the wedding knot back in July 2014 at Richmond Register Office in southwest London. The couple was pronounced husband and wife in an intimate ceremony in front of their close friends, family and their baby son Rex (born 2013).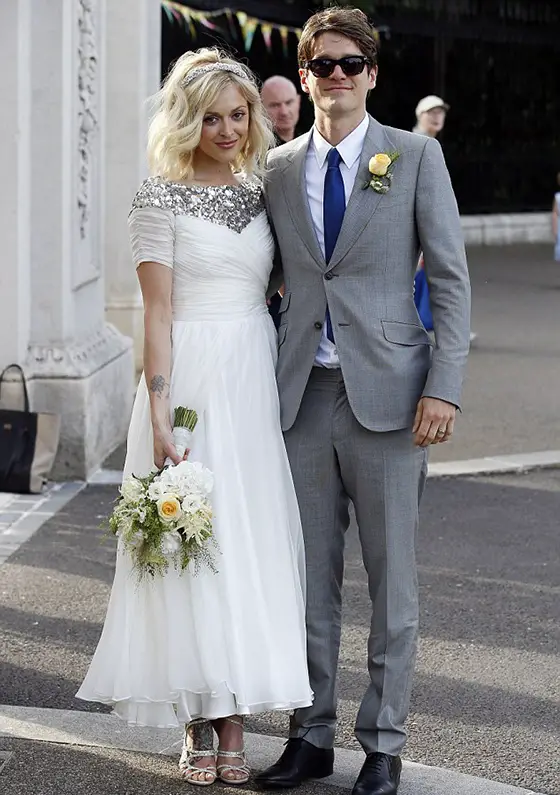 Fearne Cotton married her boyfriend Jesse Wood in July 2014 at Richmond Register Office in southwest London. (Photo: dailymail.co.uk)
The Bride looked stunning in a short-sleeved white tulle gown by Pucci and a jeweled headband. The gown was designed with a silver sequin panel around the neckline.
The duo together has a son named Rex Rayne Wood born on 21 February 2013 and daughter Honey Krissy Wood born on 9 September 2015. Jesse also has two children named Arthur, 15 and Lola, 11, from his failed marriage with Tilly Wood.
Happily married to Jesse, Fearne has not changed her style and has revealed that she doesn't want to dress like a mom. Mother of two, Fearne has been sharing different images of her children on her Instagram.
From making cookies together and teaching her child, Fearne has been updating her followers on their daily chores. Adding to it, she even passed birthday wishes to her kids through posts on their Instagram.
Likewise, she also wished her husband on his birthday. She posted a collage of multiple pictures of them together on a special day while wishing birthday through the captions.
Don't Miss: Evan Davis & Gay Partner, Long-Term Relationship - 'Too Old To Start Family'!
Adding to the birthday wishes, Fearne also reminisced the day they exchanged the wedding vows while marking their fourth anniversary as a married couple. Cotton posted a picture from their wedding day while mentioning Jesse as her "wonderful man."
Struggles with Depression
In Fearne Cotton's new book "Happy" she has revealed that she has struggled with depressions. She has said that during her darkest days, she felt "drained, anti-social and alienated." On her book titled Happy, she wrote-
"I had a real lack of energy. I felt so drained and my lust for everything that I love wasn't there anymore."
She further wrote;
"I'm very optimistic by nature, I wake up in the morning and I'm very excited about my day, I'm so pumped and enthusiastic about the smaller things in life and that was dead. Everything was a drag and felt heavy. I felt anti-social, cut-off, alienated and they were massive warning signs. Everyone has that lightbulb moment that they need to do something differently, but for me it was feeling stuck."
The thirty-five-years-old talented presenter, Fearne is thankful to her husband for standing by her side in her hard times and darkest days. She has also praised him for supporting her to overcome her illness.
You Might Not Wanna Miss: Is Kate Adie Married? Family Details & Personal Life Status Finally Revealed!
Isn't that something that every wife wishes of? Well, Fearne is lucky to have such a supportive husband. Fearne and her husband Jesse is now happily living with their family.