Entertainment
Fox News' Ainsley Earhardt Welcomed a Baby Girl in November 2015: Her Boyfriend-Turned-Husband. Divorce Rumors?
Recently dubbed Fox and Friend's co-host Ainsley Earhardt welcomed her newborn baby daughter Hayden Dubose Proctor on November 6, 2015. Here's all Ainsley has revealed about her child and her life so far.
Ainsley's newborn Angel
Ainsley and her husband Proctor's first child Hayden weighed 7pounds, 13 ounces, and 20 inches long at the time of her birth.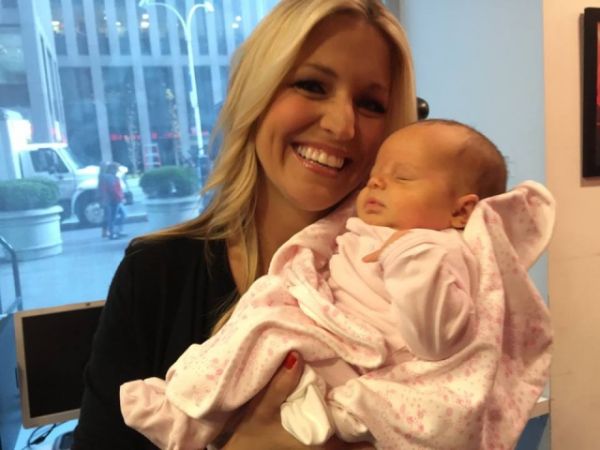 Source: lazygirls.info
In an interview with renowned magazine 'Glamour,' Ainsley talks about her little child and how much she treasures her time with her stating
I had so many special moments with my child: I was there the first time she laughed; the first time she shook her rattle; the first time she held her head up using the strength in the back of her neck.
She also added that she was promoted right after returning from her maternity leave and was granted the chance to work as a co-anchor alongside Brian Kilmeade and Steve Doocy on the Fox talk show 'Fox and Friends,' a show she has worked on for years and was completely familiar with.
She revealed how ecstatic she was about the promotion and talked about how she called her father instantly after the surprise and recounted the story saying,
I walked out of that meeting, and I called my dad. I asked, "Dad, how many jobs did you work to put me through college?" And he said, "Well, at one point, I worked three jobs." And I said, "Well, it's all paid off. Your daughter's gonna be the host of Fox & Friends."
Ainsley Earhardt, Dedicated wife and mother and her Divorce experience
Now talking about her personal life, she has always been a private person. She keeps her personal life hidden behind shades and reveals only as much as needed.
She has been married twice.
Formerly in a relationship with boyfriend Kevin McKinney, a fellow graduate of the University of South California. The couple tied the knot in 2005, but unfortunately, their relationship ended in divorce in the same year.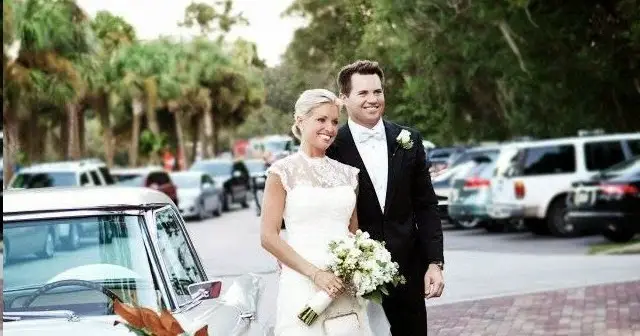 Caption: Ainsley Earhardt and Will Proctor's wedding.
Source: blogspot.com
She later found love again after finding her present husband, Will Proctor, a former quarterback at Clemson Univesity in October 2012 who is also the father of her first child, Hayden.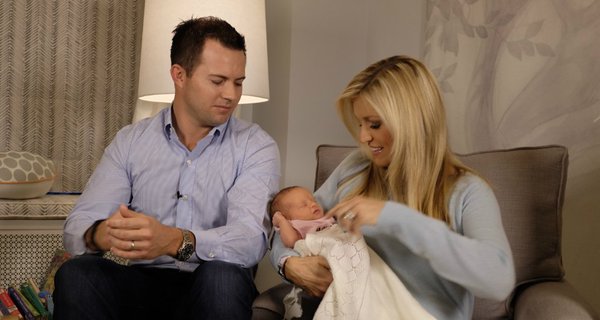 Caption: Husband Will Proctor beside Ainsley Earhardt.
Source: Twitter
Earhardt announced her pregnancy on June 22, 2015,
Earhardt also has a charming personality. She has a large number of admirers around the world as well as on social networking sites with over 250k followers combined on Twitter and Instagram.
Till now there have not been any controversial issues regarding their relationship, so thankfully there has been no divorce rumors between the couple. They are euphoric with their short and sweet life. Ainsley has shared that their life has become more vivid after conceiving their first child.
Ainsley Earhardt a North/South California native is an anchor and correspondent for the Fox News Channel. She currently works as a co-host for Fox Channel Talk show 'Fox and Friends' and also has her segment on FOX's Tv series Hannity with her segment called "Ainsley Across America."
With a degree from Florida State University majoring in Biology and a Bachelor's degree in Journalism from the University of South California, she is one of the most educated and experienced journalists with over 15 years of experience in Journalism and a ten-year long history at Fox News Channel.