Entertainment
Fox News' Gretchen Carlson: Juggling Between Motherhood and Career. Husband With 2 Children. Divorce Rumors?
The former Miss America, Gretchen Carlson is an inspiration to all women. She is an energetic journalist at TV and a loving mother at home.
Gretchen Carlson married Casey Close on October 4, 1997. Gretchen met Casey, sports agent on a blind date. The meeting of the couple became frequent after the first date. The couple claims that strong connection was developed since the early days of their affair. Gretchen confides openly in Tabloids that she feels lucky because of Casey's presence in her life. She told in an interview,
"It's doable because of my marriage. My husband and I, luckily, have an immense respect for one another which I think is the most important thing. He and I have this common bond, in the sense that I spent so much of my time as a child practicing my music, and there was a lot of personal sacrifice practicing 4 or 5 hours a day. And he has that same understanding of a solitary goal because he was a gifted baseball player and spent hours of his childhood honing that skill"
The couple is blessed with two children. The daughter, Kaia was born in May 2003 and son, Christian. Gretchen is responsible towards her children. She does not miss to help Kaia and Christian with their studies. Gretchen has passed her musical legacy to her children. Kaia and Christian both play a beautiful piano. Her early schedule at Fox news never affects her motherhood.
"Managing the kids works out well because I have a great schedule since I work 3 hours before my kids even get up. So I am one of those fortunate moms that most days can be there after school and take them to their lessons, do homework, eat dinner and put them to bed. I follow soon after."
The host of The Real story with Gretchen Carlson, Gretchen is still involved with Miss America Pageant. She engages herself in various charity works. However, along with all these professional duties she manages to keep her family happy. We have never heard rumors about her divorce or disputes. We hope she will continue to be exemplary, balancing both family life and profession.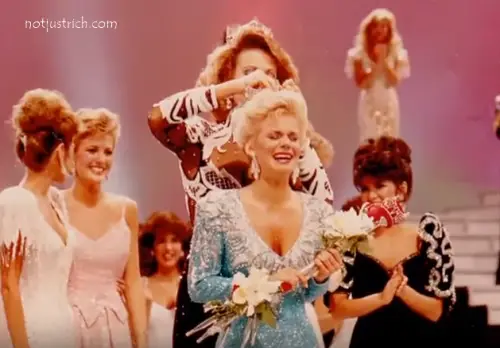 Source: Gretchen being crowned Miss America 1989
Source: notjustrich.com
Recently, Gretchen Carlson is making the top news as she has filed a lawsuit against her former boss, Roger Ailes claiming illegitimate termination and sexual harassment. According to her lawsuit, she claims that she was fired for because of her refusal against Roger's sexual advances.