Entertainment
After Getting Married In An Intimate Wedding Jeremy Roloff Is Ready To Welcome Baby With Wife
Not many people have the conviction of turning a girlfriend into a wife witnessing the happiness of becoming parents together. And having a blissful married life is an American Reality Television personality Jeremy Roloff with his wife Audrey Mirabella Botti who are ready to embrace parenthood as they welcome their child this year.
From The Intimate Wedding To Welcoming Baby:
Jeremy met Audrey on January 16, 2010, and the next day he realized that he was in love with her. It was August 15, 2011, when Jeremy asked Audrey out for the first time.
And after spending time together Jeremy felt that it's the time to pop the question so he asked his beautiful girl in March 2014, and shared this news via Jeremy's Facebook where he said,
Hey everyone! Yes, it is true! This weekend I flew home to Oregon, and I had beautiful intentions. I asked Audrey to marry me!! We have been SO overwhelmed by the response and are sincerely grateful and thankful for all your support and encouragement. The full story coming soon!
And excited Audrey answered with a "YES" as evident on her Instagram account where she is seen flaunting her new sparkling engagement ring and is getting married too.
On September 20, 2014, Jeremy and Audrey exchanged wedding vows which were written by the bride and groom themselves, amidst family and friends at Roloff Farm in Hillsboro, Oregon.
Groom Jeremy in tailored black suit complimented bride Audrey who had worn a beautiful pre-owned gown which was then re-worked by a seamstress along with a yellow rose crown on her loose wavy red locks.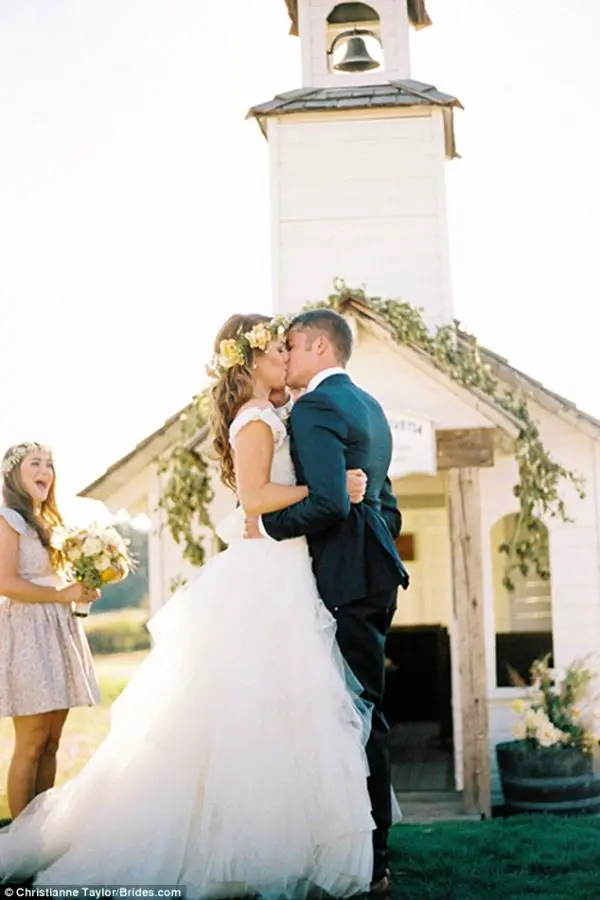 Caption: Bride Audrey and groom Jeremy kissing on their wedding day in front of the white church in Helvetica (Oregon September 20, 2014)
Photo Credit: dailymail.co.uk
The beautiful married life of Jeremy and Audrey prospered with pregnancy and they shared this big news via a beautiful video.
Caption: Jeremy and Audrey adorably shared that they are expecting a baby.
After attending Jeremy's brother Zach's gender revealing bash Audrey began feeling ill and then took a pregnancy test which turned out to be positive. And talking with US weekly Audrey said,
"I was so surprised, It didn't hit me until I heard the heartbeat at our first doctor's appointment."
And Jeremy shared his mom and dad's reaction and said,
"My dad teared up and my mom screamed,"
As Audrey is caving sour treats in her second trimester she expressed that she wants to have many children and said,
"We want at least four,"
And agreeing to his wife Jeremy added,
"We love the idea of a big family,"
The soon to be father Jeremey revealed the secret of the pregnancy and shared the excitement of embarking the journey of parenthood with wife Audrey via an Instagram post on February 2017.
Jeremey and Audrey's baby is due in September 2017. We hope that she has a wonderful pregnancy and is blessed with a healthy baby.
An American television reality personality Jeremy Roloff who appears in TLC's 'Little People, Big World' was born in Oregon. His father Matthew Roloff and mother Amy Roloff both have achondroplasia.
They also created the "Roloff Farm" which features pumpkins, a pirate ship on a lake, a three-story tree house, a full-sized Medieval castle, a regulation soccer field, a volleyball court, a mine shaft, underground tunnels, outbuildings and restored barns and receives 30,000 visitors annually.
With all the hard work, Jeremy has been able to estimate a net worth of $300 thousand dollars.