Entertainment
Gianinna Maradona Is Facing Family strife With Her Footballer Ex-Husband Even After A Divorce; Know More About Her Personal And Professional Life
Maradona itself is a brand in world football. Well, you all might think of Football legend, Diego Maradona but we are talking about Giannina, youngest daughter of Diego Maradona. Giannina is linked with next football star, Sergio Kun Aguero, Forward for Manchester City and Argentina national football team.
So how is Sergio Aguero connected to Maradona's family? What about the Personal life of Maradona's youngest daughter? We'll reveal it all!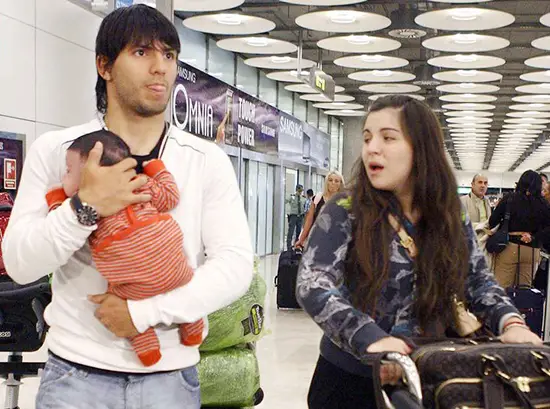 Caption: Giannina Maradona, Sergio Aguero along with their newly born son, Benjamin in 2009.
Photo Credit: mirror.co.uk
Giannina Maradona was introduced to Sergio Aguero in 2008 by Diego Maradona, and both seemed to get along quickly. Giannina married Sergio Aguero in 2008, and their son Benjamin was born in 2009.
But their relationship couldn't get along, and the couple split in 2013. Giannina was only 23 whereas Aguero was only 24. Youths never boded well for their marriage to work out perfectly. The main reason for the divorce is said to be family problems and attitudes of her that generated discord.
Moreover, according to newspaper Very, separation would have a major reason. One of their relatives said:
"Every time Sergio plays a visitor, she goes out to eat and dance, and leaves only 3-year-old Benjamin. He does it thinking he does not know, but Kun gets everything, and he's tired of this situation"
Another major reason for couple's break up would be the intense relationship that has Giannina with the family of Sergio Aguero. It is said that she would only allow Benjamin to visit his paternal grandparents when Kun accompanies her. A relative of the couple explained:
"If he is not there, he does everything possible so that they do not see him. He proposes visiting times when he knows they can not,"
Giannini spoke about their divorce and said on Twitter that the pair were 'separated' and that it had been 'a difficult year' with 'a lot of changes.'
Sergio Aguero, high profiled Manchester city forward, ex-husband and boyfriend of Giannina has opened up about couple's divorce in an interview with Argentine sports daily Olé in 2013 and said:
"In these last few months I've been trying to adapt myself to a new stage of my life following my separation. It's not easy after so many intense years living together and so many experiences with Gianni.
Moreover, one of the best strikers in modern football said:
"I try to be as professional as possible. I believe it doesn't affect my sporting performance...but to be so far away from your child is not easy. It's impossible not to miss Ben,"
Now as of date, Sergio Aguero is enjoying football at Manchester and has already scored ten goals for City. Giannina is living with his son Benjamin in Buenos Aires, Argentina.
Legend Speaks!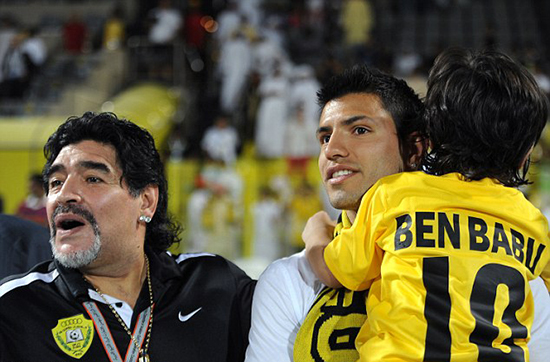 Caption: Diego Maradona along with his then son in law, Sergio Aguero and grandson, Benjamin in England in 2012.
Photo Credit: Getty image
A legend in the game, Diego Maradona has tagged Manchester City striker Sergio Aguero 'a wimp' on 30th October 2013, the day the controversial 'Hand of God' forward turned 53.
Aguero was married to Giannina Maradona, Maradona's daughter, for previous four years and has a son, Benjamin, with her, but the couple two split earlier in 2013.
Despite the fact, it seems that his former father-in-law is in no mood to forgive him. Maradona told Argentine radio:
'He's a wimp, who I don't even want to name,"
Moreover furious Maradona added:
'In my daughter's next meeting with a lawyer, I want to be by her side. We'll see who can talk, the next time I want to be there to see if he (Aguero) says anything.'
Giannina Maradona's Short Bio:
Giannina Maradona was born on May 16, 1989, and youngest daughter of Diego Maradona and Claudia Villafañe. Giannina married Sergio Maradona in 2008, but the couple divorced in 2013.