Entertainment
Hayley Atwell On Settling Down With Boyfriend! Real Talks About Dating
Sometimes our potential life partner is around, but we just take time to see the person in a different light just to finally realize that the one, we were searching for a long time was a familiar person.
A similar case came across with American-British actress Hayley Atwell. So, let's read further to know more regarding her love life.
Hayley Atwell Discovers Her Special One
Hayley has eventually stumble upon the one with whom she wants to settle down and have children. Hayley has kept the identity of her boyfriend a secret till now, but she shared that he is a medical doctor by profession in an interview with The Times back in November 2017.
"He's a doctor. A medical doctor, so he's not in the industry and I've known him since I was ten."
Despite being acquainted with her boyfriend from the age of 10, the couple was reintroduced to each other by her boyfriend's sister. Hayley admitted that he is the one with whom she would like to share her life.
"I've finally met someone I want to share my life with,"
She added,
"I'm very happy, but, as Margaret says, I don't expect any man or woman to be all my life. I think that's such a beautiful thing to say and it's true. You can love someone tremendously, but if you get lost in someone, it's the end of the relationship anyway."
Meanwhile, though she has shared her desire to have a family life with her doctor boyfriend, she hasn't disclosed her plans for getting married. It's possible that she is thinking about her wedding or even making plans for it. Further, she could surprise everyone with an announcement, who knows!
Shifting lights from her current dating life, Hayley previously dated model Evan Jones. The former couple was introduced to one another by photographer Rankin, and they stepped out together in December of 2013. However, the relationship was short-lived, and in an interview, in July 2015 Hayley revealed that she has called off the romantic association of 18 months and the decision to part ways was mutual.
'We're not together any more. It was a mutual thing. He's younger but really mature. There was no drama. So I'm single and dating until the next two-year relationship comes along.'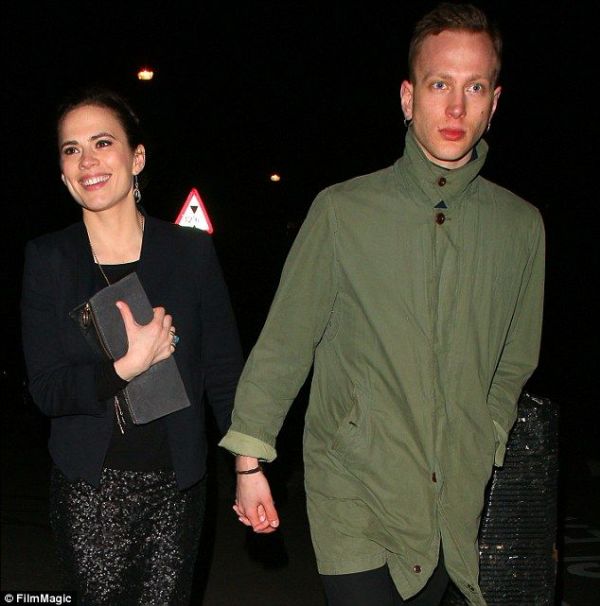 Hayley Atwell with her ex-boyfriend Evan Jones (Photo: dailymail.co.uk)
Also, Hayley was reportedly dating Snow Patrol bassist, Paul Wilson back in 2012. Reports also claimed that she was dating Stephen Merchant, a beanpole comedian. Thus, she came forth to address the erroneous reports and clarified,
'I don't know why!' We were photographed coming out of the Groucho together. The next thing I know, I'm eating cereal in my pyjamas and I get a tweet saying, "Hayley Atwell in car accident with Stephen Merchant," so I texted him and said, "Apparently we are in a car accident together. Are we OK?" '
Before being in a relationship with Paul, Hayley was in a long-term relationship with Gabriel Bisset-Smith, a writer who she met while she was a student at the Guildhall School of Music and Drama.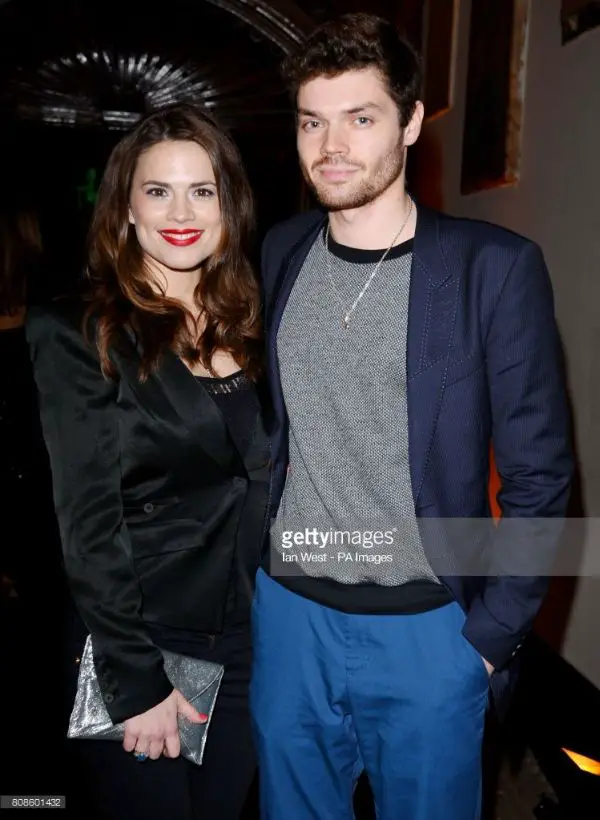 Hayley Atwell, Gabriel Bisset-Smith attending Harper Bazaar Awards in 2010 (Photo: gettyimages.com)
Well, after going through a heartbreak many times following failed relationship, finally, Hayley has found a person with whom she envisions having a family and kids. Thus, her fans are overwhelmed and eagerly waiting for an announcement of their probable wedding in the days to come!