Entertainment
Heather Madden Children Alert, Married To Exec, Husband Invests
Heather Madden lived an ordinary life until she married a successful businessman. She got listed on the list of famous people after her high-profile wedding.
Meet Heather Madden's Renowned Exec Husband
Heather Madden got married to American investor Jim Madden, but their exact marriage date has not been revealed.
The married couple usually hides from the bee of the media. They were seen together attending the amfAR Gala at Ron Burkle's Green Acres Estate back on 13 October 2017 in Beverly Hills, California.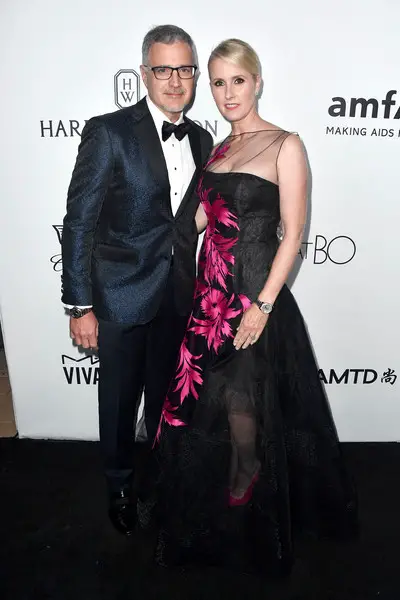 Heather Madden and Jim Madden attends amfAR Gal at Ron Burkle's Green Acres Estate in Beverly Hills, California in 2017 (Photo: zimbio.com)
In 2012, the duo contributed to the charity event hosted by The Children's Hospital of Orange(CHOC) Gala, which has been helping the kids with life-threatening conditions.
Heather Madden is a known philanthropist. She is the chairman of the gala. In 2010, the famed Children's Hospital of Orange County began a $125-million fundraising campaign. In 2013, the hospital gala raised an impressive half-million dollars with the help of 300 guests including presenting sponsors Jim and Heather Madden.
Who Is Her Husband? Net Worth, Age
Jim Madden gifted his gorgeous wife a $ 10,000 worth Bulgari diamond bracelet in 2011. He had won the bracelet during a for-charity auction organized by the CHOC gala.
Heather's husband Jim is a Private Equity investor focused on technology-enabled business services companies. He is the co-founder and Managing Director of Carrick Captial Partners, which launched $180 million private equity fund in 2012.
Jim also founded BPO focused company Exult and served as its Chairman and Chief Executive Officer from November 1998 to 2004. Within five years, Mr. Madden grew Exult from a concept to more than $500 million revenue company. He went on to lead its successful IPO in June 2000. He is also credited with innovating human resources led business process outsourcing strategies during his time with Exult. In 2004, the company was acquired by Hewitt Associates for US$795 million.
The business tycoon is also involved in several other successful technology-enabled services companies, including Axiom, Genpact (NYSE: G), Mavenlink and ServiceSource. Nevertheless, he has also invested in numerous other companies including Saviynt, Infinia ML, Mavenlink, Perfect Sense, and Instamed.
With his fast-moving business motive, he has earned a massive net worth, which has not yet been not disclosed. Likewise, he hasn't disclosed his birthdate and age, but he looks like someone who is in his fifties.
Family Life
The husband-wife duo is an irregular visitor to social media. Both of them have Twitter accounts, where they have posted few personal life posts. Here are some:
Children Alert: Possibly Their Daughter?
On 31 January 2018, Heather posted a pic of a pretty girl on Twitter writing "Future #CHOCGala chair....love the #HarryWinston necklace!!!."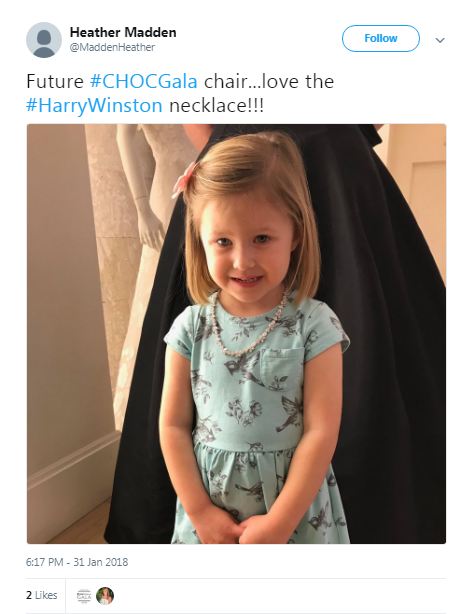 Heather Madden posts a pic of little girl on Twitter in 2018 (Photo: Heather Madden's Twitter)
Is the elegant-looking girl their daughter? Maybe.
Their Dog
On 26 January 2018, Jim's wife Heather posts a pic of their dog Frey on her Twitter account.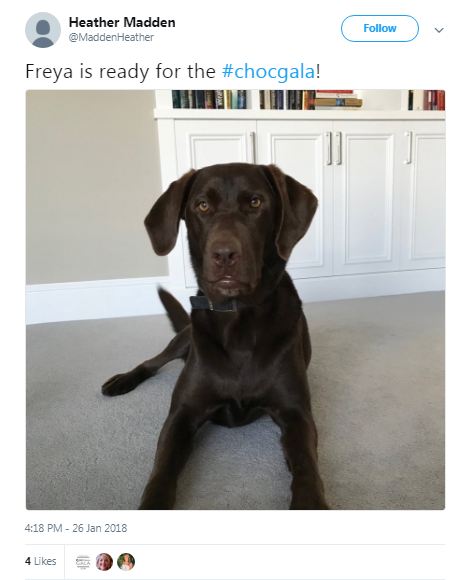 Heather Madden posts snap of her dog Frey in 2018 (Photo: Heather Madden"s Twitter)
Of course, Freya was feeling blessed to contribute to a great cause.
Alluring Chairperson Heather
On 3 February 2018, the loving husband of Heather posted some snaps from a CHOC gala event.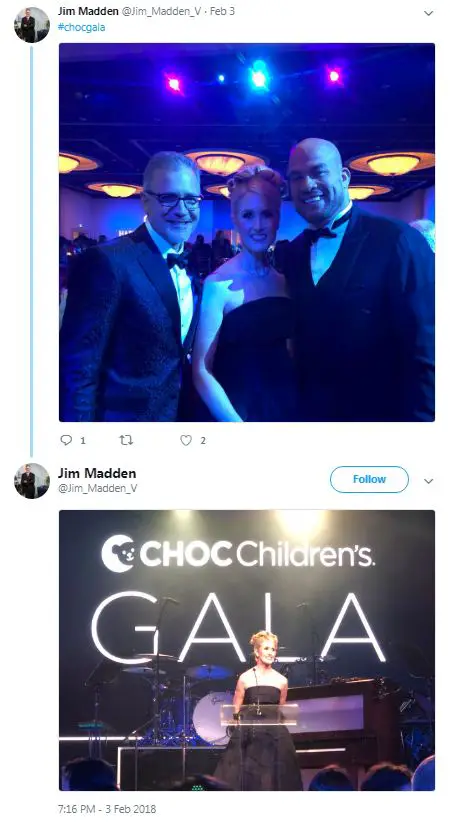 Jim Madden posts snaps of CHOC gala clicked with wife Madden in 2018 (Jim Madden's Twitter)
Of course, everyone wanted snaps with the charming chairperson, heather.