Entertainment
Hilaria Baldwin And Actor Husband to Marry Again On Wedding Anniversary! After Five Years And Three Children
Marriage is a holy bond, and the love between you and your partner is something that is way over anything else in this world. But what happens when you and your partner marry again and renew your vows?
Just ask Hilaria Baldwin and her actor husband, as they have recently renewed their vows after five years of a solid marriage.
Today, let's take you back to this beautiful ceremony and take a stroll into the personal life of Hilaria Baldwin!
The Renewing of Vows: Hilaria Baldwin And Her Actor Husband Got Married Again.
Hilaria Baldwin and her actor husband Alec Baldwin celebrated their five years of the wedding by renewing their vows in front of their children on Friday, June 30.
The happy and lovely occasion took place at the stunning Wölffer Estate Vineyard located in Long Island, New York.
Their close and dear ones witnessed the love heading a whole new level in awe, accompanied by their three children, namely Carmen Gabriela Baldwin aged 3, Rafael Thomas Baldwin aged 2, and 9 months old Leonardo Ángel Charles Baldwin.
In addition to them, Ireland Baldwin was also amongst the guest, who is Alec's 21-year-old daughter from his previous marriage to Kim Basinger. The actor took over to his Instagram to share his happiness.
All of this made news after Alec accidentally spilled the beans and revealed details along with the date of them renewing the vows.
"We're getting remarried on Friday if we make it to Friday,"
Hilaria added,
"now there's going to be people at our doorstep. If there's paparazzi now, it's his fault. This was the moment."
Moreover, ahead of the happy ceremony, Hilaria elaborated,
"The whole relationship went fast. It was actually Alec's idea, Marriage is something you're constantly working on, and it's a wonderful thing to celebrate, which we are doing, and it's also a wonderful thing to go, 'Hey, I'm still in this, I'm still doing this, and we met a lot of people since then so we have to include them.'"
The yoga instructor and the "30 Rock" star first tied the knot back in June 2012 at New York City's famed St. Patrick's Cathedral. The Baldwins met in February 2011 at the Pure Food and Wine, a restaurant located in NYC and began dating a few days later.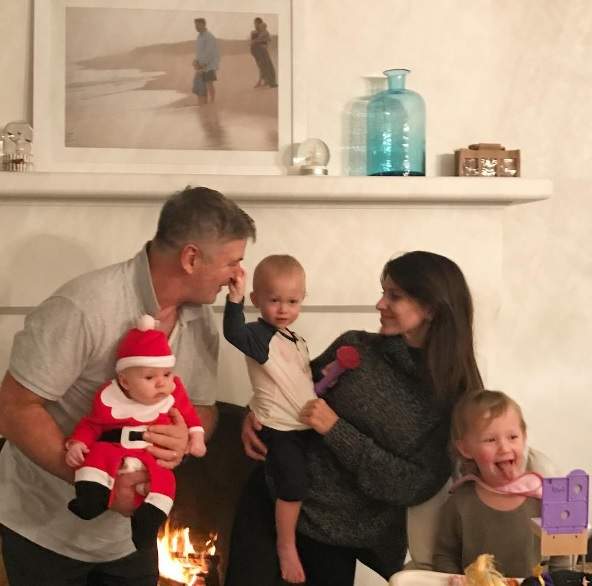 caption: The Happy Baldwin Family.
Photo Credit: heavy.com
We would like to send out our best wishes to the "NEWLY" remarried couple and hope the love between them just keeps on growing with time!
A Short Wiki-Like Bio of Hilaria Baldwin.
Born on January 6, 1984, in Majorca, Spain, Hilaria Baldwin is a fitness and wellness expert, who is 33 in age and is 26 years younger than her husband, Alec.
She is also the co-founder of "Yoga Vida," which is a yoga studio located in Union Square and Noho in NYC.
Caption: 20 Minutes of Yoga with Hilaria Baldwin, Published on Jan 22, 2014.
Moreover, she is the lifestyle correspondent for EXTRA, where she covers fitness, fashion, news, and celebrities.
Hilaria was only thirteen in age when she started in international Latin ballroom dancing. She has also written about how dancing professionally led to her issues with Anorexia & Bulimia in her book.
She is such a great personality in her field, and if you are a yoga enthusiast, wanting to know more about how to maintain your diet and fitness; you might as well have a perfect person to look up to in her.