From battling cancer to losing her father to a traffic accident, weather anchor, Jennifer Delgado saw it all. But, overcoming the hurdles life threw at her, Jennifer has stayed strong. And, as a result, she has been able to discover a silver lining in her life.
Wiki, Birthday, Nationality
Jennifer Delgado, born in 1978, is at the age of 41.
Born and raised in the US, she completed her education from Webster University in St. Louis, with a Bachelor's degree of Arts Degree in Broadcast Journalism. Furthermore, she collected a Certificate of Broadcast Meteorology from Mississippi State University.
Jennifer Delgado's Career; Salary
Jennifer started her career as a morning and noon meteorologist for WTVR-TV in Richmond, VA, for two years.
Afterward, she joined CNN International and CNN domestic as a meteorologist and weather anchor. As a valuable CNN employee, she even triumphed the 2010's Peabody award for CNN coverage of the Deepwater Horizon oil spill in the Gulf of Mexico.
Gathering experiences and reaching new heights, Jennifer then moved on to the Weather Channel's Atlanta headquarters to work as an on-camera meteorologist. In 2017, she freelanced for America's Morning WXIA-TV as a co-host,
However, her exact net worth remains undisclosed till now. Still, we can speculate that he has earned both name and fortune from her experience working with the likes of CNN.
Controversies
Another Weather Woman In Out Vault:- Jacqui Jeras Husband & Family, Details
On 4th October 2016, Jennifer came under fire for implying hungry Haitian children were responsible for deforestation in Haiti during a weather broadcast of Hurricane Matthew located in the Carribean island of Hispanola. Speaking to the audience on television, she pointed out the area affected by deforestation on a satellite image of Haiti, explaining, "They take all the trees down, they burn the trees. Even the kids there, they're so hungry they actually eat the trees."
Not long after, some Haitians and non-Haitians began speaking against the Deglado's comment. In addition, a petition was filed by a man named Jonathon Francios to get her fired from the Weather Channel because of the comments - he was even able to get a few thousand supporters behind his cause.
Ultimately, both The Weather channel and Jennifer regretted her statement and conveyed that she never intended to offend the Haitian community. With her apology, the matter went cold gradually.
Note: The main cause of deforestation in Haiti is linked to charcoal production. The country is hugely dependent on its tress to fulfill its fuel demands.
Jennifer's Parents and Relationships
Jennifer Delgado is a private person and has successfully shielded herself and her personal life from any wary eyes. She has not revealed whether she is married or single. But it is known that she parents three Pomeranians and a Yorkie.
Also, despite her secretive nature, there are some facts known about her family life. She lost her father, Beaul Haynes, in January of 2019 to a traffic accident. He is now lived by Jennifer and her mother.
Cancer Battle
The loss of her father is not the first time she has got close to death. In January 2017, Jennifer was diagnosed with blood cancer. It was shocking news for the talented weather anchor. Cancer took over her life and put a brake on her career. Soon, depression became a regular part of her life.
But what made her strong was the constant support she got from her parents, fellow cancer patients, and well-wishers on social media. She eventually realized that she should share her cancer experience with people who had a similar battle as her. Not only that, she understood that most blood cancers had no cure, and a person in remission even after treatment could relapse later. This tragic fact made her strong and gave her abundant courage to enjoy every moment of the short life we have.
In her battle against cancer, she underwent through seveal chemotherapy sessions through which she hoped she could reduce her cancer level to have a stem cell transplant. After the successful stem cell transplant procedure, she spent 100 plus days in isolation to protect her immune system.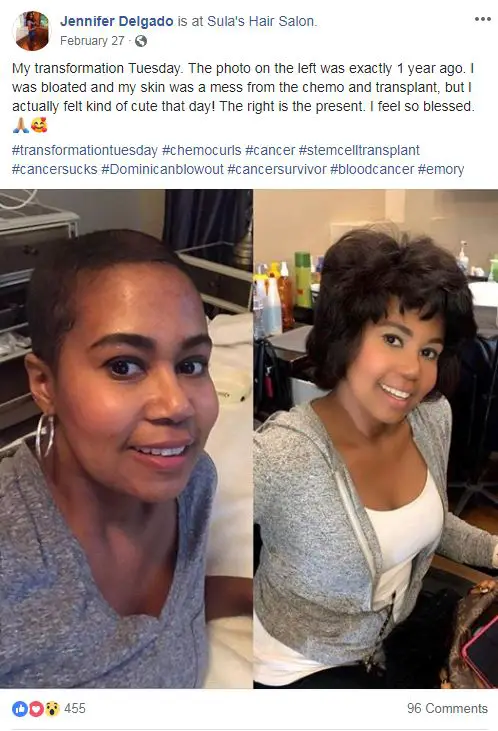 Jennifer Delgado before and after cancer treatment (Photo: Jennifer Delgado's Facebook Page)
Still, she has been receiving treatment at the Emory Winship Cancer Institue.