Entertainment
Jeremy Meeks' Wife Was Furious When He Became Famous! A Look At The Family Of Mugshot Turned Model
With no doubts, the digital landscape has been of great use and has helped people from different professions to gain fame overnight. Model Jeremy Meeks went to same circumstances.
The internet sensation who's got a list of criminal record in the past became famous after his mugshot photo went viral in social medias. Tens of thousands of girls have fallen under the piercing looks and high cheekbones of Jeremy Meeks, but there is one exception we have found, who is not so fond of the fame Jeremy got.
Who is the one? Well, dig in to find out!
Wife Not Cheered And Amused With Husband's Fame!
The former California's gangster ruled the internet on early 2014 after Officer Joseph Silva from the Stockton Police Department shared a booking photo on its Facebook page. From there and there, it sparked the craze of the steely blue-eyed arrestee!
The limelight and fame of Jeremy Meek rose from the one mugshot photo that was liked by 20k people, awarding him with a huge fan base. Jeremy was arrested in gang raid at the time of arraigned in 2014; and was charged with firearm possession, street gang membership, and violating his probation.
When the hunk with those piercing eyes was behind bars, he was getting famous all over. Many even made memes appreciating his looks.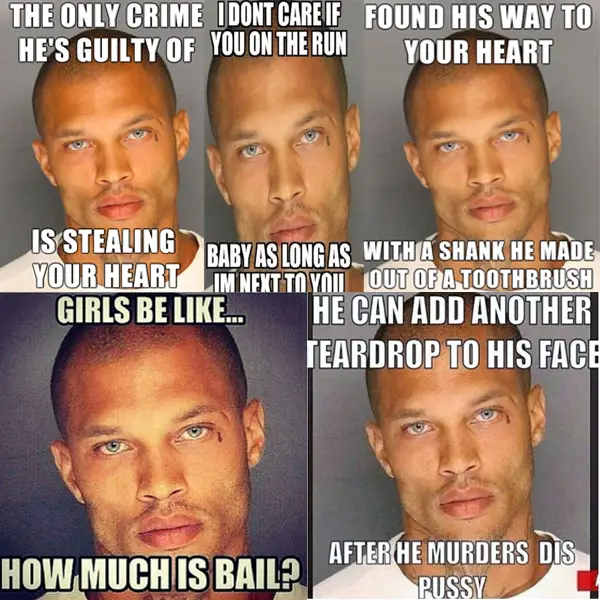 Caption: Jeremy Meeks got into fame after his mugshot became viral in the social medias.
Photo Credit: liverampup.com
But all the social media admirers didn't show up for the arraignment, and on the other side, his friends and family got upset due to the heed of medias during their hard times.
The collective swooning over the good-looking felony, however, does not amuse the online frenzy's wife, Melissa Meeks. A friend of Jeremy, Jeremy Simone Johnson said,
"She's furious. Her man is in there and people are taking it as a joke, thinking it's funny talking about his looks, saying all kinds of crazy things."
On the other side, Jeremy family tried to convince that Jeremy has learned from his past deeds. Jeremy's younger brother, Bryan Varela even called the station and told that his brother had become a changed man.
Many of Jeremy friends and family members themselves said that his loved ones are somehow angry, as people are making the light of the dire situation out there.
Well, the situation then was undoubtedly a severe one, and the hunk's wife had got a reason to get angry, don't you think so?
The 33 years old mixed ethnicity model is married to girlfriend, Melissa for more than six years and shares two young sons. And as time is changing by, it seems that the pair has sorted everything and is sharing a blissful married life.
After getting bail from jail, the hottest American felon is appeared to have a healthy relationship with the wife of years.
Recently, before welcoming the New Year, the duo celebrated their eighth anniversary and the pair's happy married life.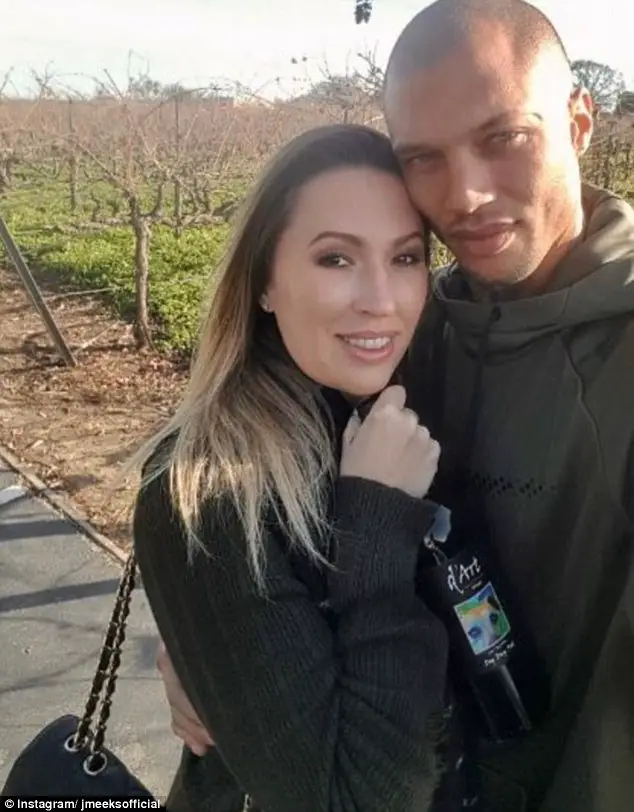 Caption: Jeremy Meeks celebrated eight anniversary with his wife, Melissa.
Photo Credit: dailymail.co.uk
Jeremy has an army of fans belonging to the gay community who expect him to be gay as well, but sorry folks, he is straight, and has no plans to change his orientation!
Criminally Good Looking Jeremy Is A Runway Star Now!
The 33 years old father, who has got a list of arrest record in the past has now become the runway star. Meeks once said that he learned about his new-found stardom from his wife.
The father of two, who is believed to be the member of criminal gang Crips in the past made his runway debut when he walked for Philipp Plein's show New York Fashion week. Jeremy rehearsed shirtless for the show but somehow was made to put on a jacket and shirt for the actual show.
The one with teardrop tattoo beneath the left eye late walked for Philipp Plein in Cannes and on that very show, he was technically shirtless with his unbuttoned jacket.
Lately, in an interview, the hot convict turned model talked about his Milan fashion debut along with his runway debut. He mentioned,
"I'm not a model. I do modelling, but also do acting and I'm about to start recording music. I can't limit myself to one thing,"
The Stocklin California native further mentioned about his first meeting with Philipp Plein. Talking about his runway debut, he divulged,
"My first encounter with Philipp was a good one. Philipp's a good dude – he made me feel comfortable. A lot of models backstage were like, "how are you not nervous?". And I was like, ''errm no, isn't this, like, your 20th show?'"
The viral sensation also stated about his interest in fashion,
"I've always been interested in the fashion world, but I never thought I would be in it,' the Californian says. He further adds, 'I like the travelling and working with different designers. Everything is surreal. I'm in Milan right now, I'm seeing places that I never thought would be possible. I wake up every morning like...it's crazy.. But I love it – I'm very blessed."
As of now, the handsome hunk has a lavish life. Burying the dark past in the grave, he is moving on in life, and we would like to wish him immense success ahead!
Stay with us for emerging updates on Jeremy Meeks!