Entertainment
Joe DeRosa Would Shower With Guy. Is He Gay Or Married?
Joe DeRosa, a stand-up comedian, is a funny man and his sense of humor is admirable.
He is also a musician who performs regularly on-stage, but other than his professional career, fewer details are known about him on the personal front of his life.
If you don't know, he was once accused of being a gay in spite of having a girlfriend once. Today, let's take a look at the private life of Joe and the ongoing rumors about his sexuality!
Gay Accusations After Podcast
The gay rumors surrounding Joe first began to emulate as yet another celeb-gay-controversy when he featured on You Know What Dude podcast with American comedian Robert Bob Kelly in 2011.
During the podcast, when Joe talked about showering naked with another guy, Bob immediately accused him of being homoerotic.
However, Joe defended his comments stating that it would be fun taking a shower with a guy. He also emphasized that there was nothing erotic in what he said.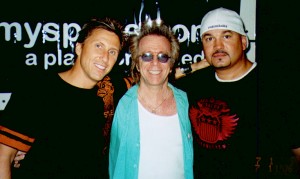 Joe Derosa with American comedy writer Jeffrey Gurian and Bob Kelly (Photo: ComedyMattersTv.com)
Further, Bob asked him what would be his reaction if he found his son taking a bath with another guy; to which Joe replied that he would be cool about it.
Joe's comments during the podcast appearance only raised more doubts about his sexuality among the public. However, Joe was free from gay rumors when he was in a relationship with a woman.
Ex-Girlfriend Was Standup Comedian
Previously, Joe was dating stand-up comedian Nikki Glaser.
Although the exact date of the start and end of their affair has not been disclosed, the ex-lovers remained friends even after their separation.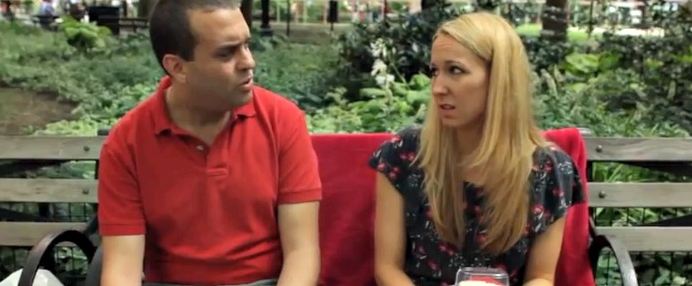 Then-boyfriend Joe DeRosa with then-girlfriend Nikki Glaser (Photo credit: Pinterest)
The two also starred in the 2012 web-series We Should Break Up after their breakup. The six-part series, which was based on the former duo's past dating experience, attempted to infuse humor in their characters on-again-off-again romance.
As of 2018, DeRosa, an actor of the crime drama series Better Call Saul, is reportedly an unmarried man who is in his 40s, but he once had a crush on Seth and Seth Green's wife. Nonetheless, he was going through a family problem in 2014.
Television Star, Comedy Albums, Tours
Joe Derosa, also a reputed writer/director, has appeared in many television shows including Red Eye w/Tom Shillue, You Let Me Down, What Are We Waiting For?, Better Call Saul, and so on. He has also released several stand-up albums namely The Depression Auction (2010), Return of The Son of The Depression Auction (2011), You Will Die (2013), and Mistakes Were Made: The B-Side (2014).
Joe has also toured around the world performing in numerous renowned festivals including South By Southwest, Montreal's Just for Laughs, Toronto's JFL 42, The Moontower Comedy Festival, The New York Comedy Festival, The Edinburgh Fringe, The Galway and Dublin Vodaphone Festivals, Gilda's Laughfest, the Melbourne International Comedy Festival, Vince Vaughn's Wild West Comedy Festival, and Bonnaroo.
Back in 2017, he performed at Punch Line Philly, located in 33 E Laurel Street. He was also a regular cast member on the Opie and Anthony show.
Check out Joe DeRosa's latest comedy tours date and podcasts via his website www.joederosainfo.com.