Entertainment
Jonah Hill Brunette Girlfriend; Girl He's Dating Is Stylist - For Real!
22 Jump Street star Jonah Hill's choice in girlfriends seems to befuddle people around him, where the 34-year-old actor's current dating life is no exception.
Jonah's recent public sighting with his new girlfriend created quite a stir in Hollywood. That along with his public fallout with his sister amid a stellar performance on Gus Van Sant's newest film as a gay man has kept him in headlines.
Now, let's dig into the Los Angeles native's dating history to get a better insight into his controversial life!
All Girlfriends, No Wife: Dating History Amidst Gay & Sister Controversy
Quiet as it is kept, the Superbad actor is the Hollywood's leading ladies man. For an untrained eye, Jonah might come off as a naive chubby fella.
Discover:- Jon Rahm's Wife To Be? Meet Smoking Hot Girlfriend Of Pro Golfer
But none should underestimate his ability to make a woman laugh. After all, all it takes to win over a woman's heart is a good sense of humor, right?
It's this uncanny ability to put a smile on a woman's face that has made Jonah a hit among the ladies.
​​​​​
Jonah and his rumored ex-girlfriend, Erin photographed while out on a date (Photo:- Justjared.com)
His long list of ex-girlfriends boasts the likes of Erin Galpern, Isabelle McNally, Rita Ora, Ali Hoffman, Jordan Klein, and Brooke Glazer -- all gorgeous women. Sadly. none of it ever materialized into a husband-wife relationship.
Read Also:- Sam Role & Fiance Welcome Baby; Post Pregnant Bliss Of New Parents
The most recent victim to fall for the 34-year-old's charm and humor is none other than famed stylish/producer Gianna Santos. Gianna's a recognizable face in Hollywood, a staple if you will. On her official site, she introduces herself as:
"Equipped with a BA in Communications and a minor in Sociology from Fordham University, I have come to appreciate the nuances of gender/cultural/societal trends and strive to translate them into an appealing art form for a specific client-base."
Jonah and his girlfriend, Gianna have been dating for several months now. Their first ever public sighting back in August created a noticeable buzz.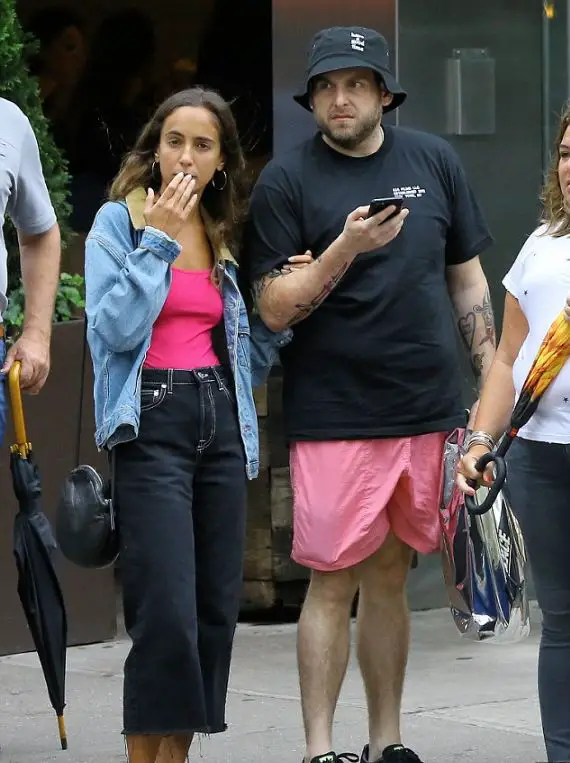 Jonah and his new girlfriend spotted in Manhattan (Photo:- dailymail.co.uk)
The 34-year-old Moneyball actor is all too familiar with creating buzz. Back in June, he and his actress sister, Beanie Feldstein had a public fallout after photos of Jonah attending Kanye West's album listening party surfaced online.
He recounted the incident with his sister on the July 17 episode of Jimmy Kimmel Live! Saying:
"And I didn't realize it was controversial to go support Kanye at that time. Like my sister [Beanie] didn't speak to me for a week because he wore a MAGA hat."
Controversy is a familiar motif in The Wolf Of Wall Street star's life. In 2014, weeks before the premiere of 22 Jump Street, he faced severe backlash for using gay slurs against paparazzi. He later apologized for his remarks on Howard Stern and said:
"I'm upset because from the day I was born, and publicly, I've been a gay rights activist."
The sincerity of his apology was put on a test when he was cast to play the role of a gay man in 2018 movie Don't Won't Get Far On.
What Is Jonah Hill Doing Now?
Likewise, his directorial debut titled Mid-90's was released earlier this year. Despite a weak box office showing, the movie was lauded by critics for his authenticity.
Interesting:- Alex Guarnaschelli, Amazing Husband Story; Happily Married, Until Divorce Took Play
As for now, he's busy promoting the Netflix mini-series Maniac. The Netflix special features Jonah portraying the character of Owen Milgram alongside industry heavyweights, namely: Emma Stone, Sally Field, Sonoya Mizuno, and Justin Theroux.
Also, a couple of movies - How To Train Your Dragon: The Hidden World & The Lego Movie 2: The Second Part - featuring the Superbad star are in the production stage. Both movies are scheduled to drop next year.
Safe to say, he has his hands full for the time being. For now, he should want to stay off the headlines for the wrong reasons!