Entertainment
Jordan Yeoh Fitness Routine Made Him The Hottest Fruit Seller; Learn His Workout Tips Here
Intense workout followed by proper consumption of nutritious food has made Jordon Yeoh one of the hot selling cakes on the internet. His workout regime has allowed the handsome hunk to flaunt more of his six packs and made him famous as the hottest durian fruit seller.
Without much delay, we are bringing in his workout tips followed by his diet plan which we are sure would add a bundle of joy in the laps of female followers.
Popularity Resumed, Deal With His Workout And Diet Plans:
With so much of access towards social media, people residing in every corner of the world through such media have flaunted their talents while at the same time have made women fume for handsome men around the world. Fruit vendor Jordon Yeoh is another enchanting muscular man who came in highlight after he posted few of his abs pictures through his Facebook account while helping his family members sell the durian.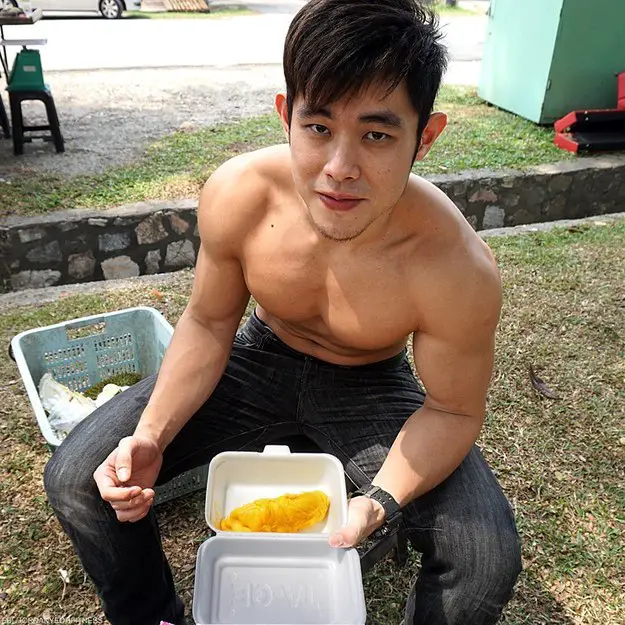 Caption: Hot fruit vendor, Jordan Yeoh gives a sexy eye look when captured while selling durian in Malaysia (2015).
Photo Credit: financetwitter.com
Since then people have loved every minute of his image update making them drool and openly flirt on the social media.
While Jordon to maintain his popularity shared his several workout tips including butterfly, spiderman plank, crunches and Russian twist specially designed for burning fats where he has emphasized more towards exercise rather than hitting the gym.
Caption: Sharing the daily exercise regime for six abs through his channel on You Tube (2015)
Further, the hunk has also revealed about the role of nutrition for the purpose of gaining and losing weight apart from exercise. He focused more towards in taking 75% of diet while leaving 25% on training for maintaining the proper level of fitness. Yeoh showcased his every day diet plans followed by macro nutrition through his channel.
Caption: Yeoh shares his diet plans and exercise followed by proper calories of food (2015)
Followingly through a question-answer round with his followers, he politely instructed them to consume more of whole food like chicken, beef, egg white rather than junks followed by intense training for nearly seven months.
Caption: Explaining the importance of protein when taking healthy food (2015).
In the view of keeping his followers motivated and stick towards the daily regime of exercise Jordan shared his before and after image which showcased his training followed by proper healthy foods after discarding the junks and unhealthy food.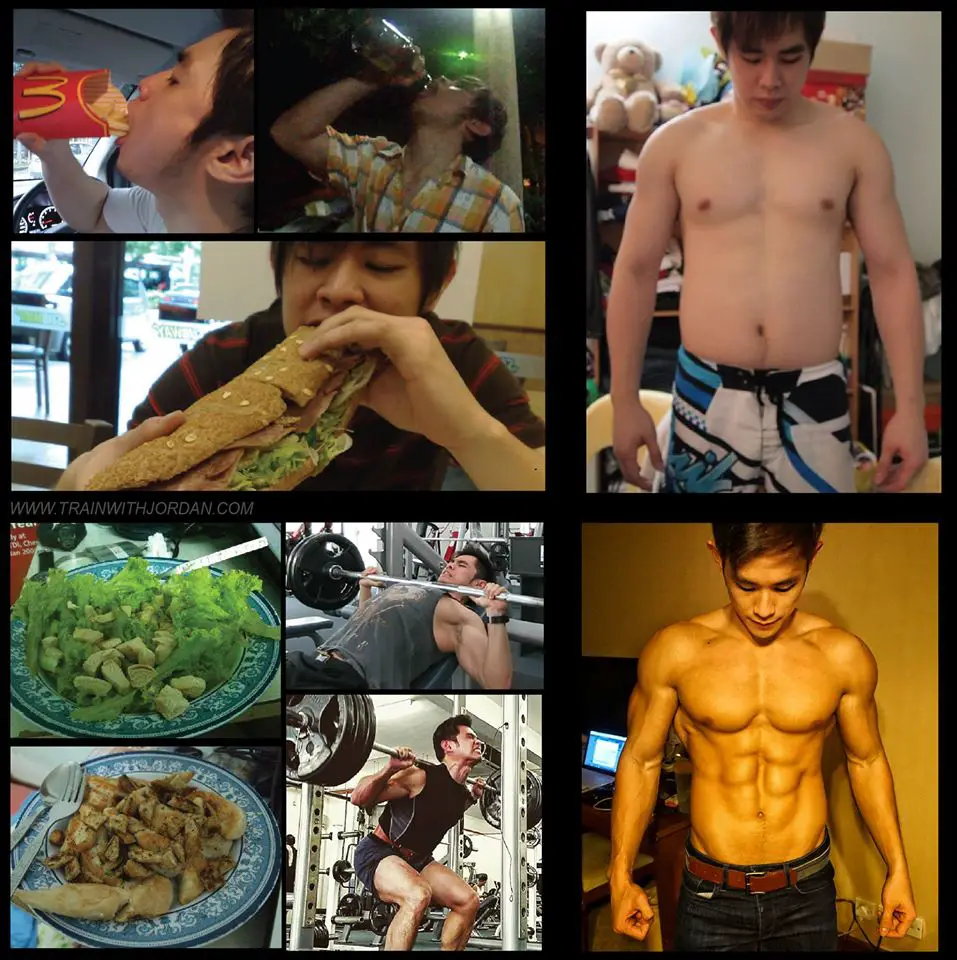 Caption: From top right, early image of Jordan while down right present healthy body structure(2016).
Photo Credit: facebook.com
Currently, Jordan is active in his social media and has been giving more fitness tips to his fan followers followed by motivation quotes to encourage the beginners and for the regular trainers. At present Yeon has focused more on hitting gym rather than regular workouts for more concrete results.
At the mean time, his male and female followers are enjoying his training goals and flocked in with positive response towards his initiation.
From a traditional fruit vendor to a social media star, the journey of Jordan is something which shall be forever cherished by him. But the success would have never been achieved if he had never started the hard work of maintaining a fitness level. We can all see how his hard showered him with wealth and fan followers. So, if you are a fitness crave and in need of a serious workout we suggest you track on the fitness king Jordan to have an exact six packs like him followed by his diet plan for a healthy and sound body.