Entertainment
Juli Annee, 25: Single Mom, Beautifully Took Absent Boyfriend's Place
The beautiful social media star, Julie Annee, has won the heart of many followers with her spellbinding looks and body.
However, her ravishing looks isn't the only thing that attracts her followers' attention, as her daughter frequently features on her Instagram which has made her fans curious to know about her child's father.
So to serve her fan's concern, today, we have mustered up the information about her daughter's father and the reason behind Julie's single parenting status.
Juli Annee Busy Parenting Her Daughter On Her Own
American model, Juli Annee's sleek looking body might fool us, but she already is a mother of her beautiful daughter. Even more surprising is the fact that she gave birth to her daughter, Kylianna when she was just 19 years of age!
The late teenage mom, somehow, handled the motherhood and raised her daughter by herself. She had shared the information about her daughter's father back in 2016, through the Instagram posts mentioning that Kyli's father moved to Palm Springs over two years ago then and is out of state. But she further expressed that, it does not matter whether he is in the country or not!
However, Juli didn't mention any further about the man who she shares her daughter with and didn't even provided the nature of the relationship that she shared with him. Therefore, it is unknown if she was just dating the man, or she had tied a marital knot with her daughter's father.
Despite her hushed up demeanor regarding her relationship status, Juli doesn't hold back on expressing what her daughter means to her. Juli's daughter is her top priority, and when her daughter was an infant, she used to stay by her side without even going to parties.
Well, as her daughter is now a six-year-old girl, she is as beautiful as her young mother. Juli usually shares her daughter's photo on her Instagram and keep her fans updated.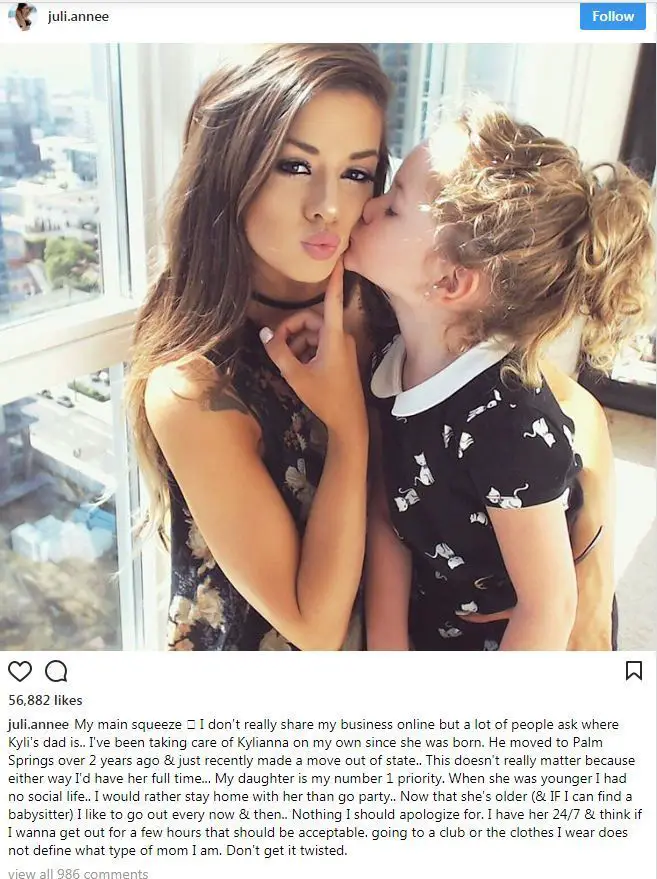 Juli Annee with daughter Kylie (Juli Anne's Instagram)
Meanwhile, though Juli is doing just right parenting Kylianna by herself; involvement of a significant other in her life might make things easy for Juli. So hopefully, Juli will give love another chance, just like fashion blogger, Savannah Soutas, and find a perfect boyfriend who could be an ideal father for Kylianna.
Juli's Annee's Life At Glance
Beautiful Star Juli Annee was born as Julianne Kissinger on 9th October 1992. She had attended Palomar College. Before achieving successful height in her career as a social media star, Juli used to work full-time as a manager at a frozen yogurt shop.
Moreover, Juli an Instagram model and famous Snapchat personality with over 4.9 million followers on her Instagram account now, has a bright future ahead of her.