Entertainment
Find Out Kimbella Vanderhee Age, Married Status & Kids Info In Detail
Love & Hip Hop: New York star Kimbella Vanderhee, age 35, embodies the phrase "ride or die chick" like no other woman. And, nobody understands this better than the East Coast rapper & her significant other of almost a decade, Juelz Santana.
So, before the Dipset member could agree on a plea deal with the law enforcement agency - promoted from the March 2018 firearm charges - he showed his appreciation to the mother of his two kids by asking to marry her.
As a means to double down on their commitment to each other, the Hip-Hop power couple officially tied the knot. Delve into Kimbella's biography to learn more about her married life including the plastic surgery!
Married Via Private Ceremony; Husband Faces Jail Sentence
Her husband Juelz couldn't have picked a better event to propose her.
Engaged at the Apollo Theater in New York City on 23rd November 2018 while celebrating the release of The Diplomats ninth studio album, her rapper husband popped the question on the stage, surrounded by fellow Dipset members. While on his one knee, he told the crowd in attendance:-
"This my lady. She's been rocking with me for a long, long time. She stuck it out with a n—a through the ups and downs. I love you, baby. You're my queen and I want to do this in front of everybody right here."
The news of the pair's engagement had come nine months after Juelz surrendered himself after a warrant got issued against him for trying to smuggle a firearm - a .38 handgun, to be more specific - onto an airplane at Newark Airport.
Celeb Of Same Age:- Paige Hathaway Wants Husband & Kids By Age 35! Model Craving For Family
In a plea deal agreed on December that year, Kimbella's husband got sentenced to 27 years in prison. As per the agreement, the Run it rapper would head to jail after performing the last show in Long Island.
But, before the show could even happen, she and her longtime partner decided to get married. On 10th January 2019, the duo tied the knot in New York in a private wedding ceremony attended by family and Hip-Hop heavyweights including Lil Kim, Joe Budden and the groom's pals Cam'ron & Jim Jones.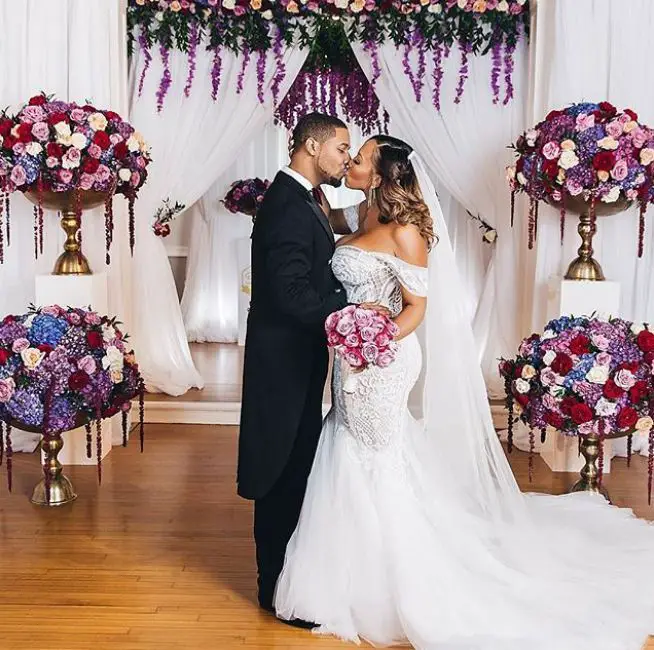 Kimbella kisses her husband, Juelz on the day of their wedding held on 10th January 2019 (Photo:- Kimbella Vanderhee's Instagram)
Rest assured, Kimbella & the kids won't be happy to see Juelz leave for jail after such an exuberant celebration.
Fellow Love and Hip Hop Star:- Amara La Negra And Usher Spotted Together! Dating Or Just Rumor?
Bio Unveils Kids & Plastic Surgery Details
The reality star's wedding bliss, however, should be short-lived as she won't be seeing her husband for atleast two years because of the incarceration.
But, she has very little to no time to mourn her husband's exile as she has parental obligations to look after their growing kids: Juelz, age 8, & Bella, age 6. Besides the two kids they share, Juelz bio reveals that he's also a father to a 15-year-old LaRon, his kid from a previous relationship.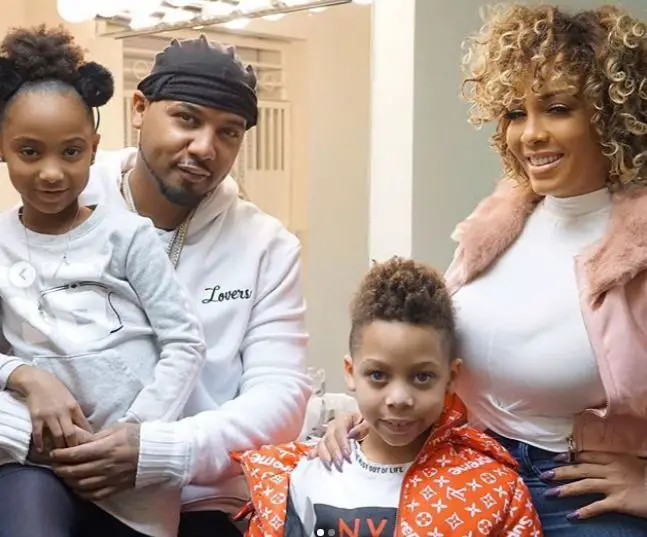 Kimbella poses next to her husband, Juelz and their kids for a family portrait (Photo:- Kimbella Vanderhee's Instagram)
As well as raising the kids, Kimbella is set to have her hands full with nourishing her still standing modeling career. Born on 13 October 1983 in Miami, the 35-year-old model-cum-reality star rose to fame around 2003 as an ebony model.
Bio You Might Enjoy:- Emilie Ullerup Is Married, Explicit Bio Reveals All There Is - Age, Height, More
Her modeling career reached new heights after going under the knife. Open about her plastic surgery history, the mother of two has had her breasts inflated, butt lifted, tummy tucked as well as nose done.