Entertainment
Know About Sara Haines' Personal Life: Husband, Married Life, and Family
If you have watched Good Morning America, then you might know her. What we are talking about is none other than Sara Haines, lifestyle anchor of NBC. I guess you have a lot of queries regarding her personal life. Don't you? Let's discuss right away.
Sara Haines remains quiet when media raises questions relating to her love affairs. That's why her name was never linked to any men.There is no information available regarding her past relationships. She had always enjoyed individual and peaceful life.
Married Life, Husband, and Children?
Sara Haines and Max Shifrin met on OKCupid for the first time. Later, Sara Haines married Max Shifrin on November 22, 2014, in the Bahamas.
After eight months of the marital relationship, Sara Haines announced her pregnancy. Sara Haines and Max welcomed their first baby boy together on March 5 and named that little guy Alec Richard Shifrin. Haines shared part of the experience live from the hospital before the delivery.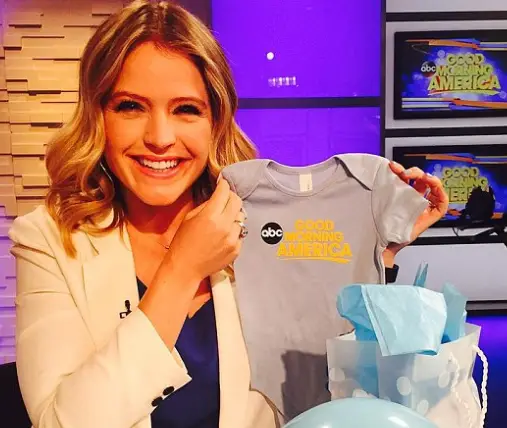 Caption: Sara Haines was announcing that she was expecting a baby on September 6.
Photo Credit: Dailymail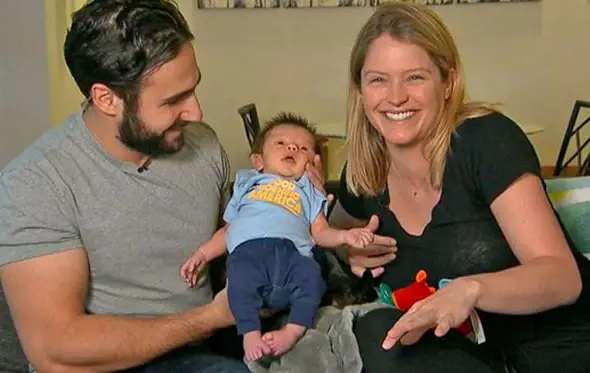 Caption: From left to right, Husband Max, Alec and Sara Haines.
Photo Credit: abcnews.go.com
Congratulations to them !!
Luckily, these two love birds have not had any rumors about divorce. They share a special marital bond. Sara Haines is a pet lover and has two Chihuahuas.
Sara Haines on her new step has taken the job to co-host of 'The View' since September and as one of her co-host announced the news on air, she clapped in excitement and verbally expressed it too. She said,
"I slept funny," she explains in a phone interview. "So, here I have this big day I've been waiting and preparing for...I thought, I hope they sit me somewhere I won't have to look to the left!"
Sara Haines Pregnant With Second Child:
On the set of 'View,' Sara announced that she is pregnant once again. The 39-year-old host revealed that her second child is a girl and she seems excited to have a daughter.
"We are so excited to add to our little family, I was hoping for a girl, but Max is a little scared, I think."
Says the View Host who further talked about her husband is preparing himself to father a daughter this time stating,
"He's feeling a bit nervous about how to parent as a father to a little girl, Max has been surrounded by mostly male relatives. He has a brother, all male cousins and only nephews."
Sara has been hiding her pregnant for quite some while, and now she has announced that it is impossible keeping it a secret, considering her baby bump is becoming more and more visible. She also talked about her experience of becoming a pregnant woman and her cravings for various food currently saying,
"With baby Alec, I was nauseous but never to the point it imposed on my daily life, It was my first pregnancy and I think the adrenaline of being on national TV overtook the feeling of being really nauseous. This time, I'm super sick. I have to eat through the commercial breaks and they bring me rice crackers and ginger ale. Nothing overrides the nausea. Pizza and bagels were my go-to foods with Alec. I crave weird things [now]. Rice crackers have saved me, and sour candies have helped."
Caption: Sara Haines announces her second pregnancy.
Sara Haines's Short Bio:
Sara Haines was born on September 18, 1977, (age 39) is a correspondent for ABC News. She attended college in Northhampton and received a degree in Government. Before joining ABC News, Haines was best known for her role on the fourth hour of NBC's Today Show, alongside Kathie Lee Gifford and Hoda Kotb, a position she held for four years, from May 2009 until August 2, 2013.