Entertainment
Thomas Rhett's Wife Lauren Akins Wiki, Age, Pregnant, Baby Details
Lauren Akin is all ready to welcome a third baby with her husband, Thomas Rhetts.
The news has been brewing from 23rd July 2019, when Lauren and Thomas first revealed that they were pregnant once again. Through an Instagram post, the entire family could be seen together, sharing a happy moment.
In the first photo, their daughters could be seen cradling Lauren's small bump. Over time, Lauren and Thomas took to Instagram to share the progress of the baby.
In October, it was no longer just photographic moments that the couple shared. At the 2019 CMT Artist of the Year awards in Nashville, Lauren came to support her husband's career showcasing the beautiful growing baby bump in front of media and paparazzi.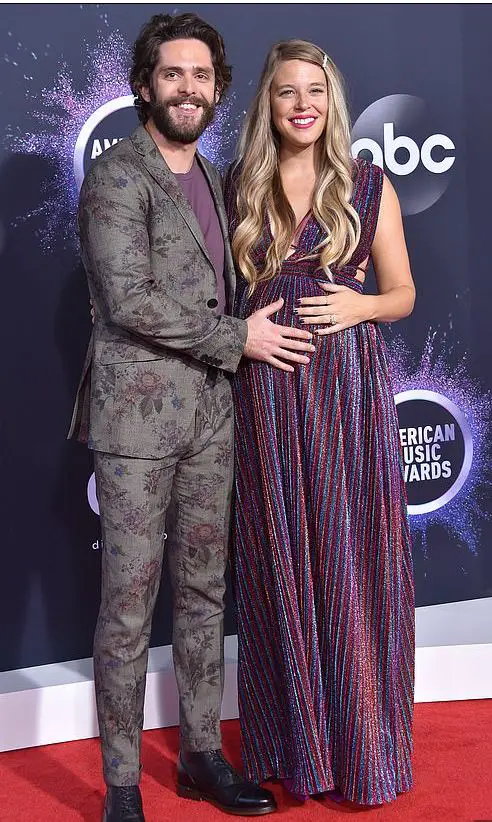 Lauren Akin's with husband Thomas Rhetts on 14 November 2019 (Photo: dailymail.co.uk)
Since then, in every encounter with the media, her husband can be seen caressing the growing baby bump. The pair seems over the moon to welcome their third child.
Lauren's Wiki And Lovestory With Thomas Rhetts
Lauren Akin is an Instagram star and also a philanthropist with a nursing degree who came into prevalence through her marriage to country singer Thomas Rett.
The two first crossed paths in the first grade but only became friends on the sixth. Lauren and Thomas even dated for six months during high school, but things didn't pan out during that time. Their brief romance ended, but they remained good friends.
You May Like:- Anna Faris Engaged, Relationship, Boyfriend, Dating
After graduating high school, the pair went on to attend different colleges and got into some serious relationships.
The two almost got married to other people. It was Lauren's dad who put them back together. On a phone call, her father asked Thomas to confess his feeling for Lauren. Her father's exact words were,
'If you don't come over here tonight and tell Lauren how you feel about her, then I'm going to tell her how you feel about her,"
It seems Thomas was head over heels for his longtime friend and once a romantic partner. After the push from Lauren's father, he didn't hesitate to tell Lauren about his feelings.
After the country singer made his move, the love-birds dated for about six months before getting married on 12 October 2012 at the Front Porch Farms in Charlotte, Tennessee.
Details About Their Children
Lauren and Thomas are parents to daughters: Willa Gray Akins and Ada James Akins. Ada is their first biological child born on 12 August 2017, while Willa is their adopted baby. The married pair adopted her from Uganda a few months before the birth of Ada.
Yet About Another Pregnancy:- Danielle Panabaker Pregnant, Baby, Husband, Height
As for the little bundle of joy they are yet to welcome, she is going to be the third daughter of the family. The third time parents-to-be have yet to come up with a name or reveal the due date of their daughter. But with their first pregnancy announcement in July, its speculated Lauren is set to welcome the baby in early 2020.
Facts About Lauren
Lauren was born on 8th November 1989.
Her husband's job is a musician

and is a renowned country singer known for singles like Die A Happy Man & Star Of The Show.
He once stopped his concert once for a selfie with a cancer survivor.
Lauren stands at a height of 5 feet 8 inches (1.72 m).