Entertainment
Lyle Trachtenberg Divorced Whoopi Goldberg In 1995, Later Married Actress-Turned-Marketing Director
The former American actor/ ITSE union organizer, Lyle Trachtenberg was married to the thirteen-time Emmy Award nominee, Whoopi Goldberg, who was not in love with him.
Lyle's married life with Whoopi ultimately failed, and they went through a divorce, and later, his ex-wife talked about her failed marriages writing a book.
After his divorce with Whoopie, tabloids didn't cover much about him leaving the audience to spread the false rumors about his death.
In this article, let us learn about the life of Lyle Trachtenberg, his wife, kids, bio information, and his whereabouts.
Ex-Wife Whoopi Goldberg Speaks About Divorce, Life
The hard-hitting blue-collar veteran, Lyle Trachtenberg got married to the Hollywood actress, Whoopi Goldberg on 1 October 1994 after dating her for nine months.
The marriage is said to have lasted only for a year. In 1995, the duo reportedly ended their married life.
The famous television host/actress, Whoopie previously married Alvin Martin in 1973. They split up in 1979.
Alvin and Whoopi's daughter is none other than the American producer and actress, Alexandra Martin, @Dean1Alex, who was born when Goldberg was just a teen.
After Alvin, the The View moderator tied the knot with the cinematographer, David Claessen on 1 September 1986, and they divorced two years later in 1988.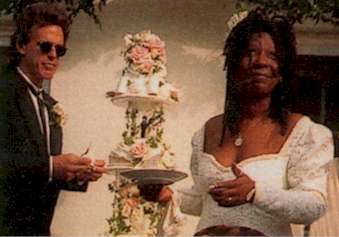 Lyle Trachtenberg and Whoopi Goldberg cut their wedding cake on 1st October 1994 (Photo: angelfire.com)
On the talk show Piers Morgan Tonight in April 2011, Lyle ex-wife, Whoopi Goldberg opened about her past failed marriages and stated that she didn't love any of her past husbands. She also said that she should have never got married. She said,
"I suppose you have to actually be in love with the person you marry. You have to be committed to them. I don't have that commitment. I'm committed to my family. No, I wasn't in love with my husbands. It's the truth. I wanted to feel normal and it seemed to me if I was married I'd have a much more normal life."
During the talk show interview, the famous movie, The Lion King actress Whoopi also retrospected that she was never ready for serious commitments, stating,
"That's not a good reason to get married. You have to actually want a life with someone through ups and downs and I discovered that wasn't for me."
However, on the talk show, she did reveal that she was once in love with a man when she was asked whether the mystery man was her ex-boyfriend Ted Danson, an American actor. She said,
"(I was in love) once. A man. You're asking me if I was in love with Ted? Is that the man I'm talking about? No. No (you don't know him) and that's the beauty. I snuck a couple in on y'all! It was a long time ago. We talk all the time - he's got two great kids and a great wife."
She also further added that she was never a frequent dater, indicating,
"I never was much of a dater. I'm not a real go-out kind of person. I'm a singular person."
Later, In an interview with Dailymail on 11 November 2014, Goldberg briefed about balancing expectations and true love with other aspects of life, saying,
"I've realized there are certain things you have to come to terms with in life, like managing your own expectations, telling the truth, reconciling true love with other aspects of your life, including wealth or even celebrity."
Again, in an interview in January 2017, Whoopi revealed that she was the reason behind her failed marriages, saying,
"It took me some time but I realised that trying to turn myself in to something I wasn't ready for a man wasn't his fault. It was mine. My marriages failed and I was the common denominator. My commitment was never that strong. I can say now that I was never really in love. The realisation freed me up."
In the interview, the media magnate also added that her family was the most critical aspect of her life, stating,
"I have many relationships - with my daughter, my grandkids, and now my great-granddaughter - and they come first
Lyle's ex-wife Whoopi Goldberg also wrote a book titled, If Someone Says 'You Complete Me' Run!, about her failed relationships in 2015.
Well, the reason for the failure of Whoopie and Lyle's marriage seems to be the lack of mutual love, according to the famous television personality, but the union representative stance on the matter remains unclear.
The American period drama movie, The Color Purple actress, Whoopi Goldberg, a prominent Trump critique, has three grandchildren and one great-granddaughter through her daughter Alexandra.
The View veteran reportedly enjoys a staggering net worth of $45 million US dollars, according to the website celebritynetworth.com. She is one of the few entertainers to have won an Oscar, an Emmy, a Grammy, and a Tony award; also collectively known as the EGOT.
Lyle Trachtenberg Marries Actress-Turned Marketing Director
Similar to Whoopi, Lyle has also been lucky in the family department.
The union representative, Lyle, @THETRACK54 has been married to former actress Adrianna Belan, who was born in Canada.
They have two daughters together namely, eldest daughter Gabriella Trachtenberg and youngest daughter Natasha Trachtenberg.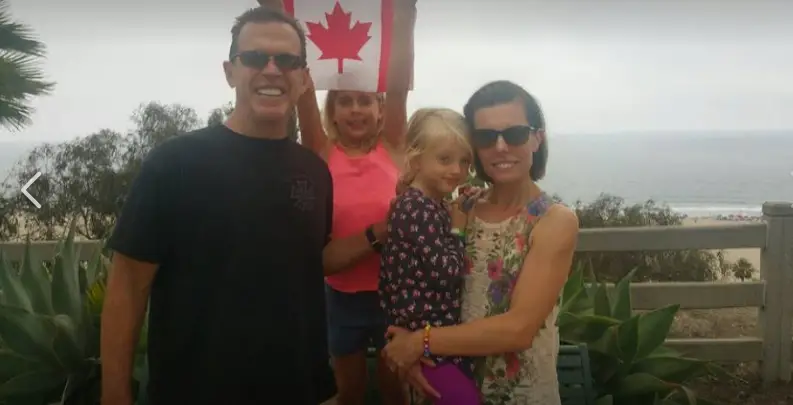 Whoopi Goldberg's ex-husband Lyle Trachtenberg with his girlfriend-turned-wife and kids (Photo: Adriana's Belan Facebook)
The happy family of 4 went together to a march organized by the International Alliance of Theatrical Stage Employees, a United States-based labor union, in March 2018.
Lyle's former actress wife Adriana has been working as the Director of Marketing for the company named, Timothy Cline Insurance, according to her LinkedIn profile.