Entertainment
Maddie Poppe Rocking American Idol Stage After The Voice Flunk; Finalist For Title
Maddie Poppe is one of the three contestants who made their way to the finals of ABC's reboot of American Idol in 2018.
Before she walked down the stage of the American Idol in 2018, she had been a part of The Voice, a four-time Emmy Award-winning singing competition. Here we present you her singing journey.
Exits The Voice
It is not known to many that Maddie failed an audition on The Voice at the age of 17 back in 2015.
The Clarksville native gushed about her The Voice failure during an interview with the wcfcourier.com on 26 March 2018. She said that she was not allowed to choose a song for her audition. Instead, she was given Dog Days are Over by Florence and the Machine. She couldn't nail it enough for the judges to turn around and chose her.
She also stated that she was glad things didn't work on The Voice. The 20 years old also admitted that she was not good at singing at the time. She said,
I was a terrible singer at that song — it was not good, I'm not making excuses, I just wasn't ready.
Consequently, she learned from the experience and landed a stint on American Idol. Things might have turned different, and perhaps she would not have been able to amass all the attention on American Idol if she hadn't learned from her shoddy performance on The Voice.
Nails Triumph On American Idol
Maddie, who started singing from a young age, auditioned for the 16th season of American Idol with the song Rainbow Connection in March 2018.
Rising star Maddie Poppe sings Rainbow Connection in her American Idol audition (Video: Published on 11 March 2018)
With the affirmation of all three judges, Lionel Richie, Luke Bryan and Katy Perry, Maddie became a contestant in the show.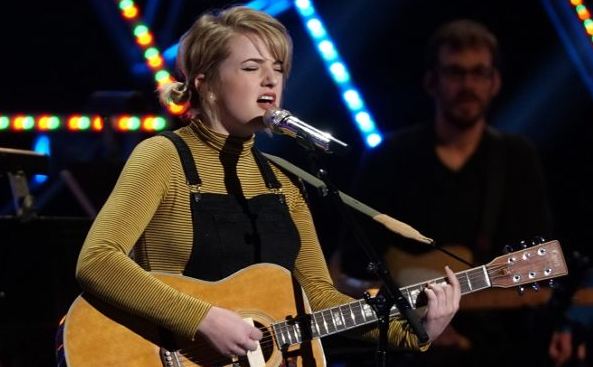 Maddie Poppe sings in the stage of American Idol (Photo: 2Paragraphs.com)
She never faltered to take a risk and prove her aptitude in the show. One such instance was in the Hollywood Round when Maddie performed a solo song that she wrote herself, "Don't Ever Let Your Children Grow Up."
The judges were so pleased by the performance that Katy Perry got into tears and commented that Maddie's singing reminded her of herself. She also complimented Maddie saying she and the newcomer write "a little bit of the same style."
During Maddie's time in the show, she even showed her appreciation for her parents. She tributed the song, God Only Knows to her mom, Tonya, in the auspicious occasion of the Mother's day on 13 May 2018.
In the same episode, Maddie along with Caleb Lee Hutchinson and Gabby Barrett got chosen as the ultimate three finalists of the 16th season.
Sensational Concert At Hometown
After Maddie became one of the top finalists, the television show went the to her hometown, Clarksville, Iowa. And there was a huge audience waiting to see her back home on 15 May 2018. She was overjoyed to meet her parents and siblings finally.
During the home tour, Maddie received a proclamation from Iowa's Mayor Val Swinton before she headed for a parade and eventually for her live concert in Allison.
The concert was flooded with a vast number of people, including Maddie's's grandmother, Janet Vonderhaar. Amazingly, Maddie sang "Homeward Bound" with her beloved father mesmerizing the massive crowd with her voice. She also introduced her father as the one who taught her to play guitar before.
Maddie Poppe sings with her dad at Clarksville, Iowa (Published on 15 May 2018)
Not only with her singing talents, but Maddie has also accumulated followers and well-wishers with her sweet spirit and down-to-earth personality.
As of 2018, Maddie is currently single. Many want to steal her heart and be her boyfriend for life, but she is now focusing on to win the competition and pursue a career in music. If she wins the competition, she will enjoy a record deal with Hollywood Records and a prize money of $250,000.
Will Maddie Poppe Win American Idol?
Maddie appears to be a lady with a focused determination for her career, and she is now so close to fulfilling her dream. According to goldberry.com, she is now the second favorite to possibly win the show behind country singer Gabby Barrett. As per the source, Gabby has the odds of 6/5, Maddie has the odds of 19/10, and Caleb has the odds of 11/1.
So, all luck to the 20 years old!